Below listed is only some that are available for charter in various ports around the world – mono hulls, sailing catamarans as well as gulets.
Please contact us directly at Nicholson Yacht Charter and Services for the latests information of the yachts whereabouts and planned charter destinations and a selection of additional options.
Where you looking for another size?
Sailing Yachts between 30 – 50 meter / 98 – 164′
Please click on the image to view their on-line brochure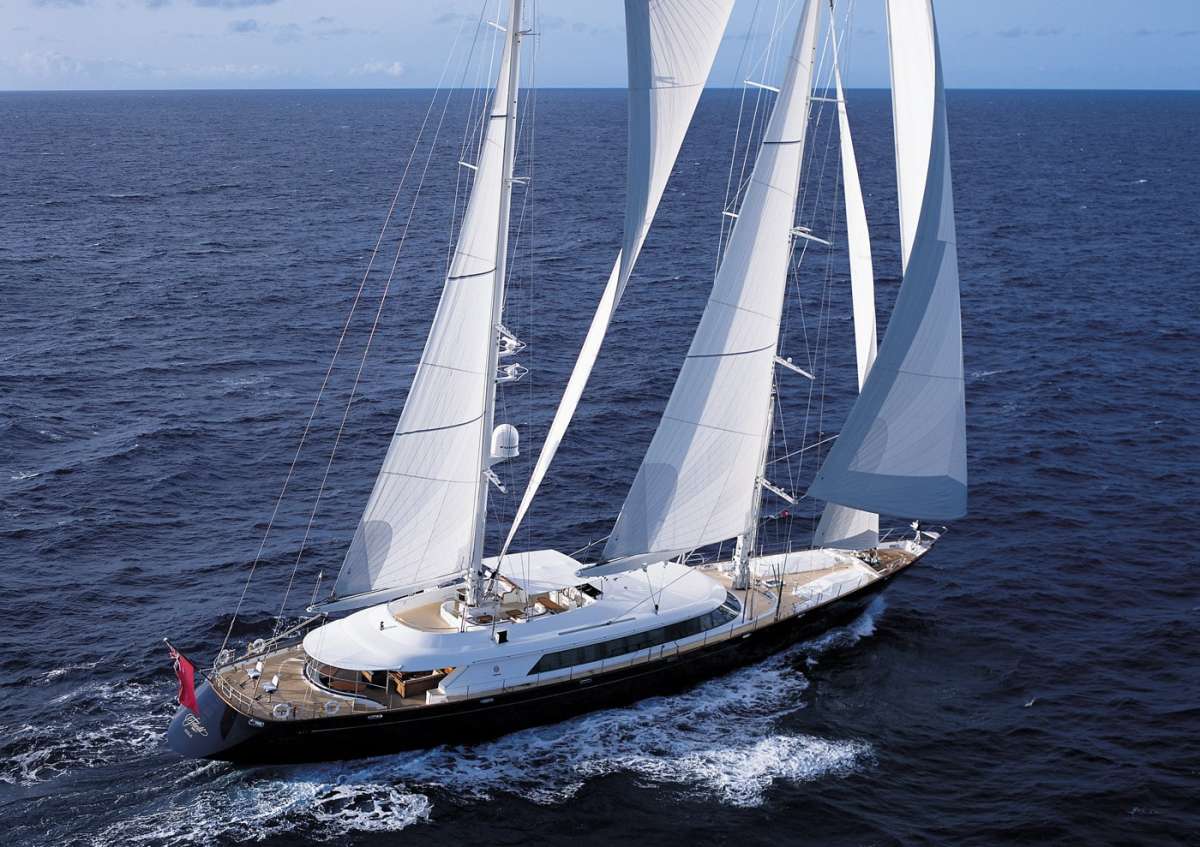 ALMYRA II
Size: 49.8 m
Sleeps: 12 Guests in 5 cabins
Prices*: $175,000 to $190,000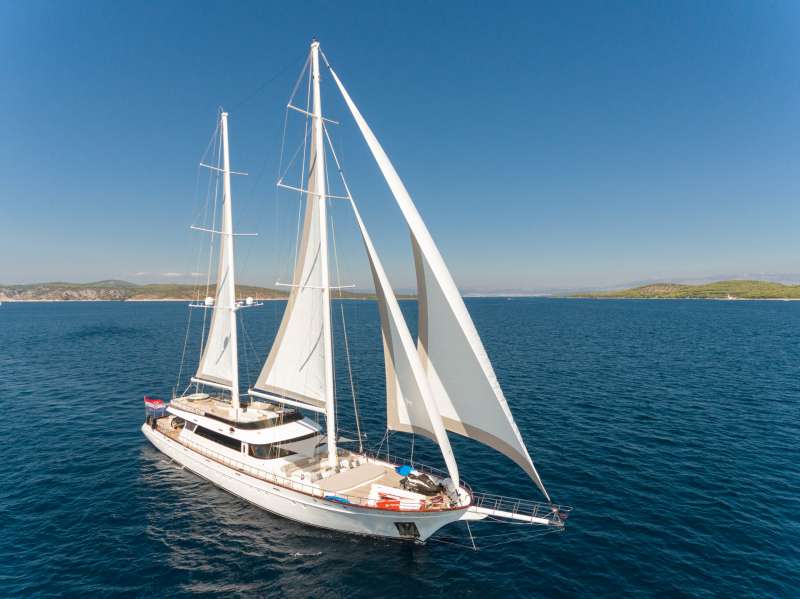 LADY GITA
Size: 49.3 m
Sleeps: 12 Guests in 6 cabins
Prices*: €85,000 to €100,000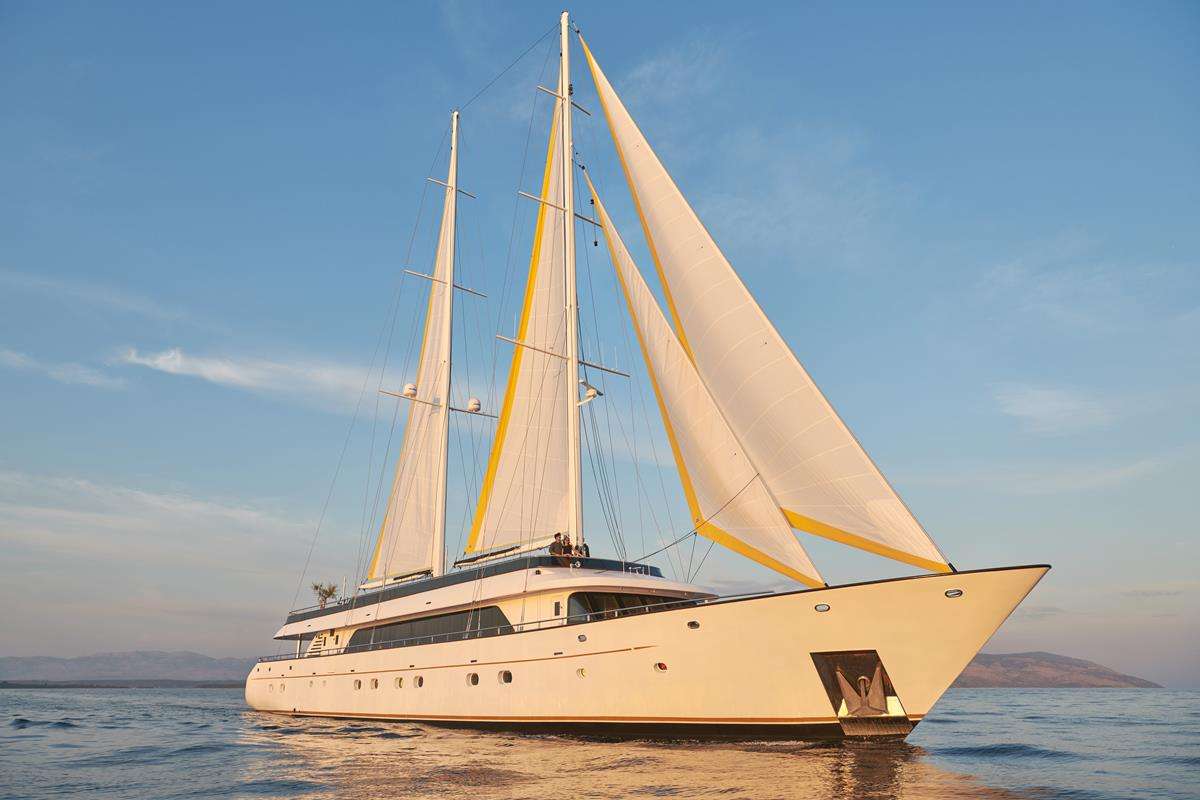 ANIMA MARIS
Size: 49.0 m
Sleeps: 12 Guests in 6 cabins
Prices*: €85,000 to €90,000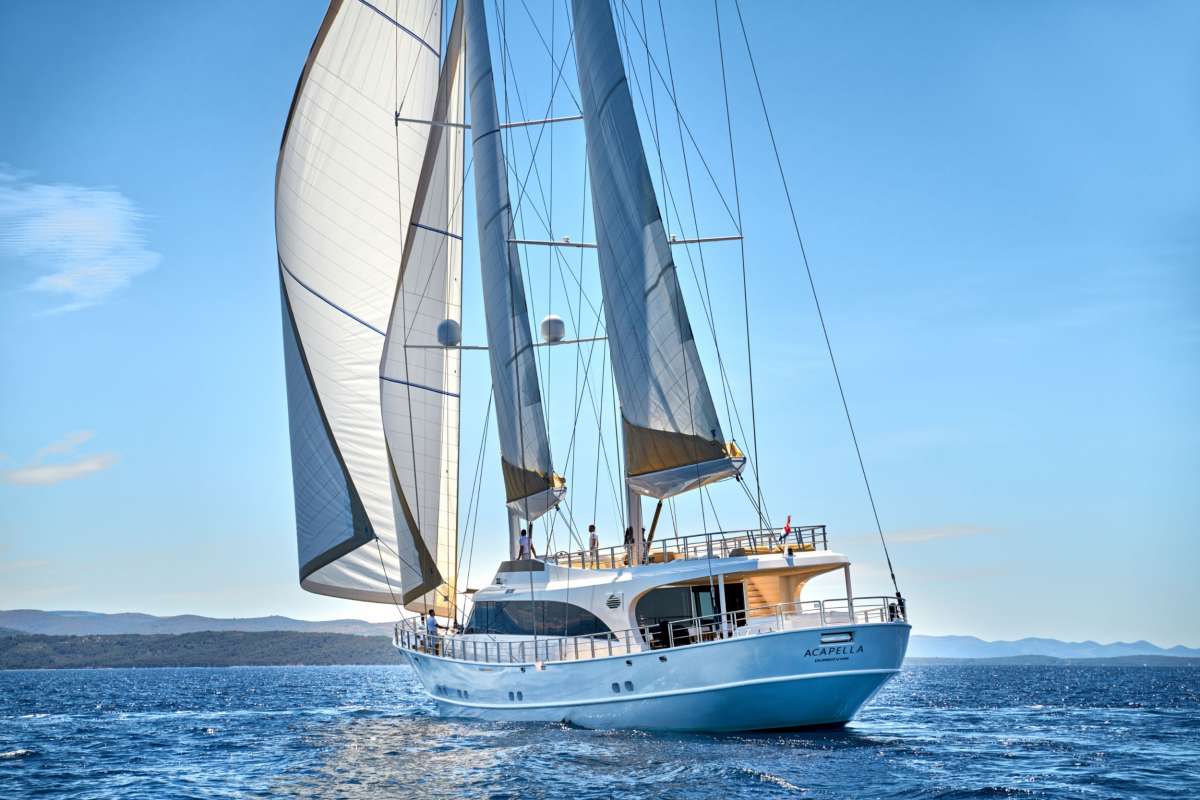 ACAPELLA
Size: 49.0 m
Sleeps: 12 Guests in 5 cabins
Prices*: €82,000 to €92,000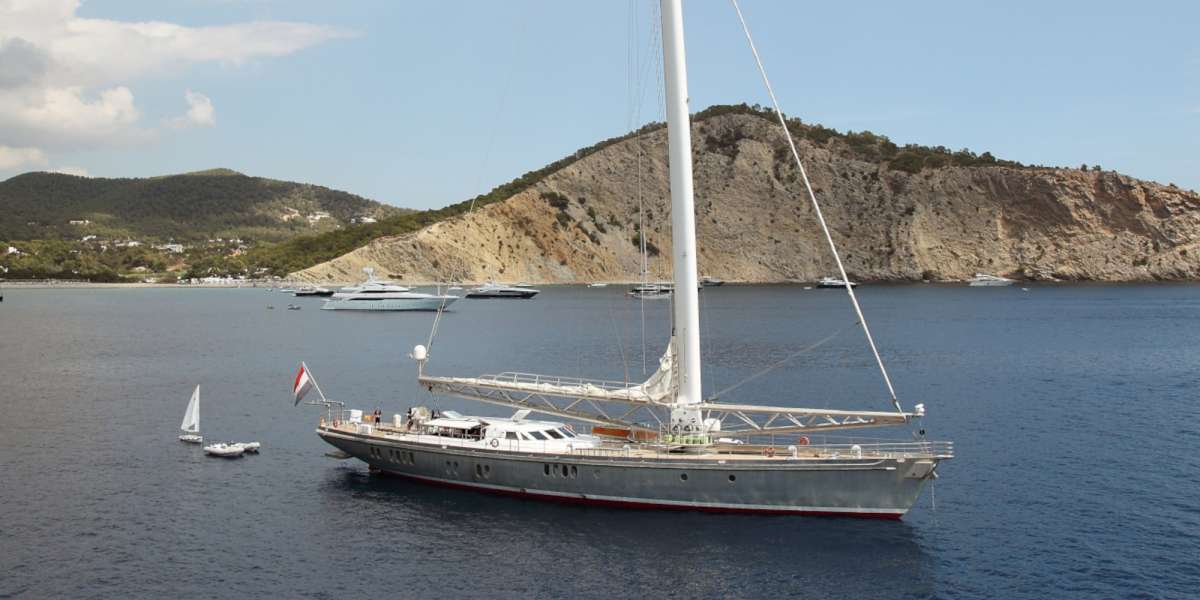 DWINGER
Size: 48.5 m
Sleeps: 11 Guests in 6 cabins
Prices*: €70,000 to €75,000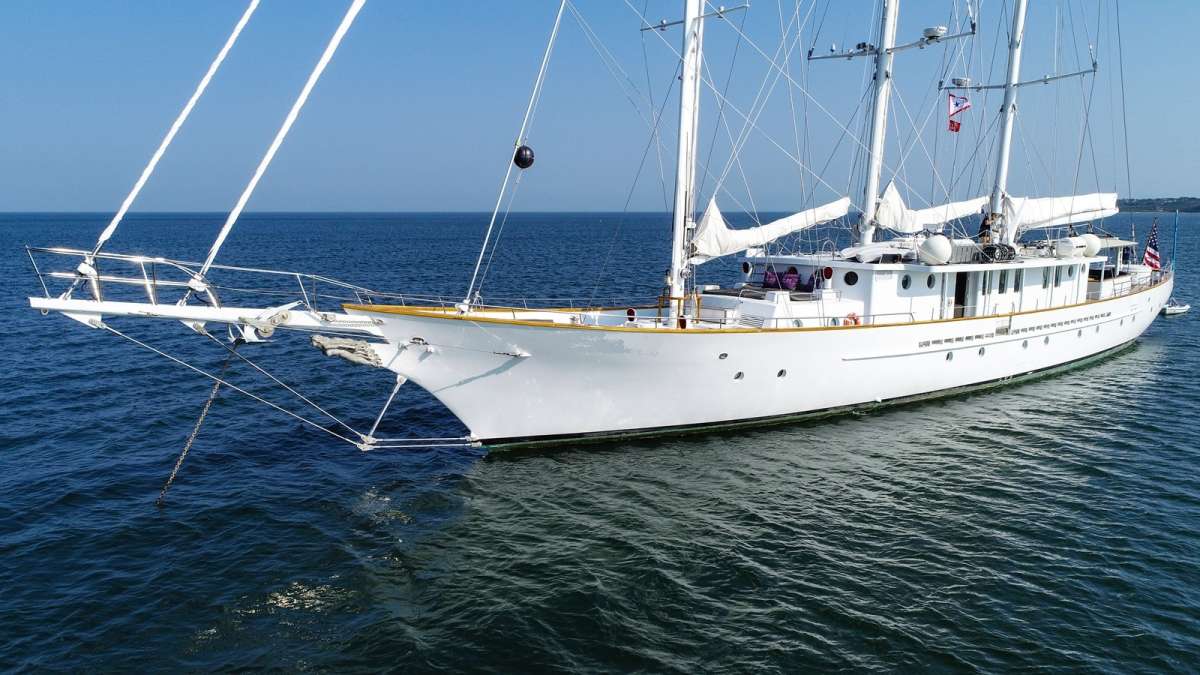 ARABELLA
Size: 157 Ft
Sleeps: 36 Guests in 18 cabins
Prices*: $80,000 to $89,000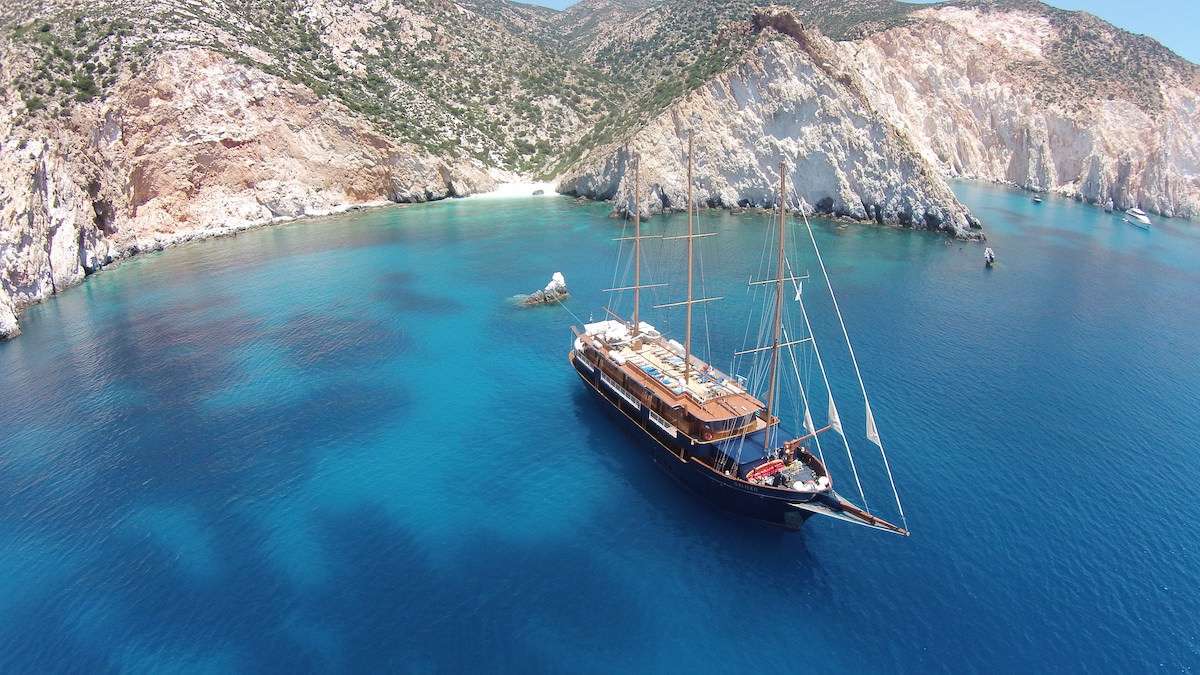 GALILEO
Size: 48.0 m
Sleeps: 49 Guests in 24 cabins
Prices*: €92,000 to €166,700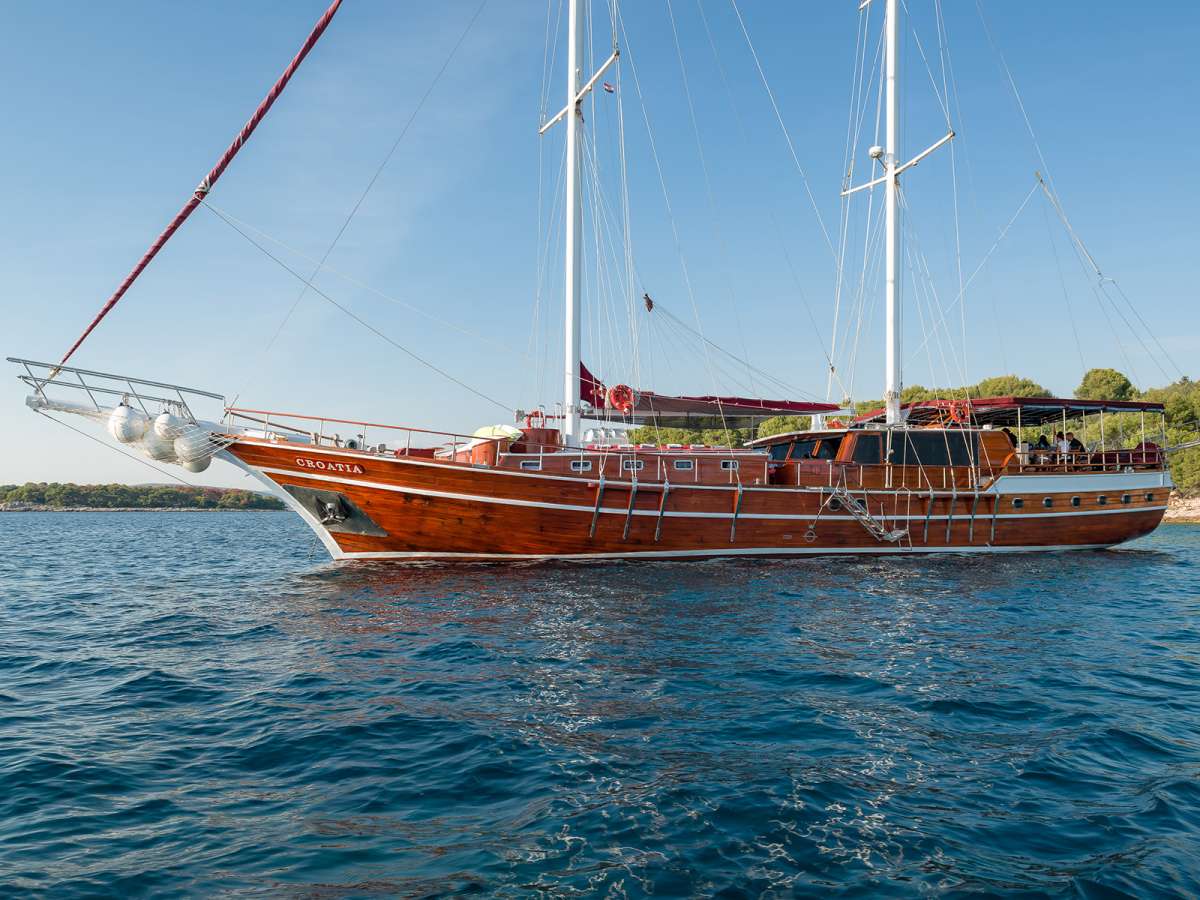 GULET CROATIA
Size: 32.0 m
Sleeps: 14 Guests in 7 cabins
Prices*: €15,000 to €22,500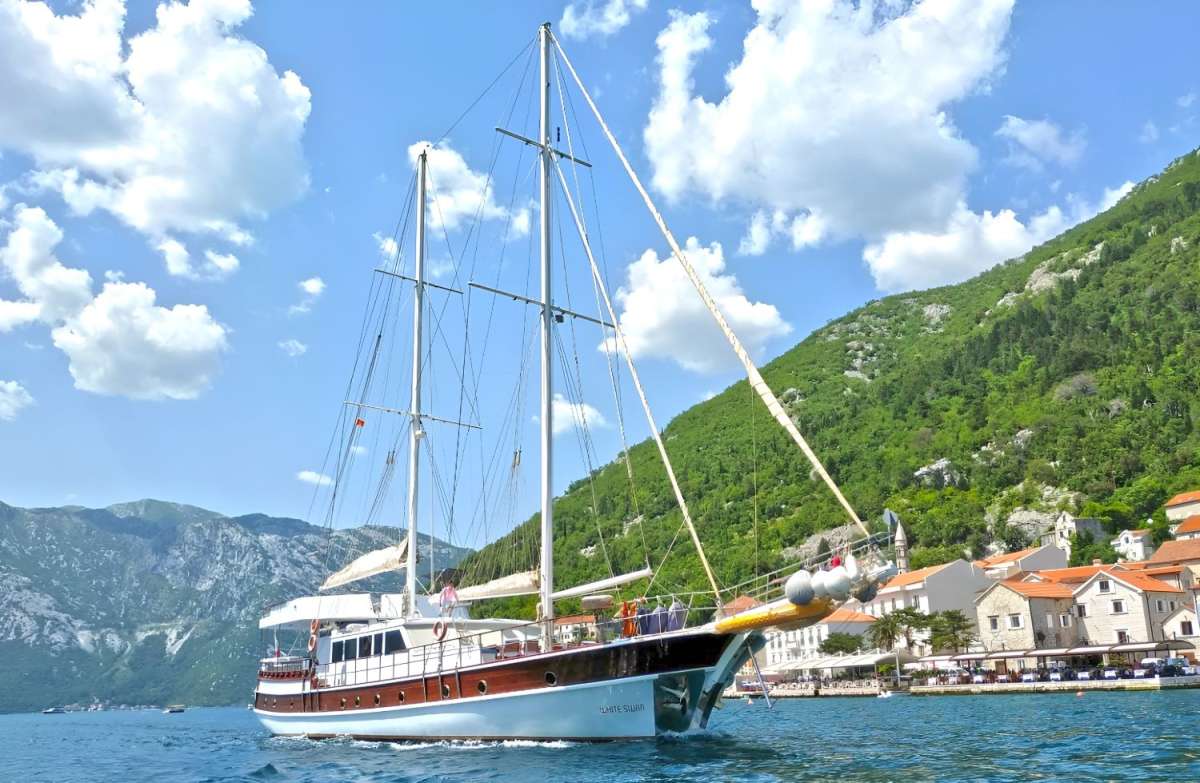 WHITE SWAN
Size: 32.0 m
Sleeps: 12 Guests in 6 cabins
Prices*: €21,000 to €24,500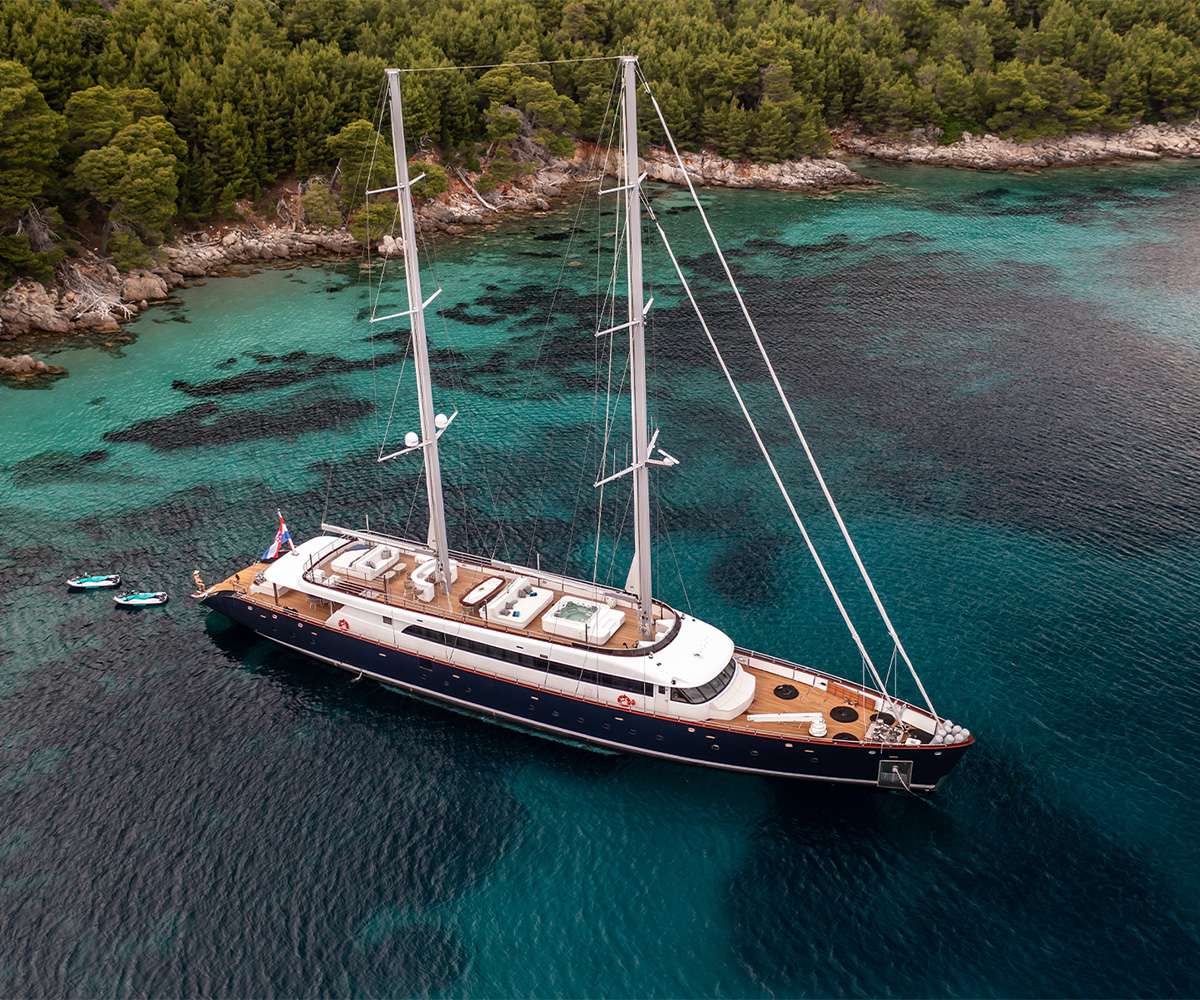 NOCTURNO
Size: 48.2 m
Sleeps: 12 Guests in 6 cabins
Prices*: €78,000 to €84,000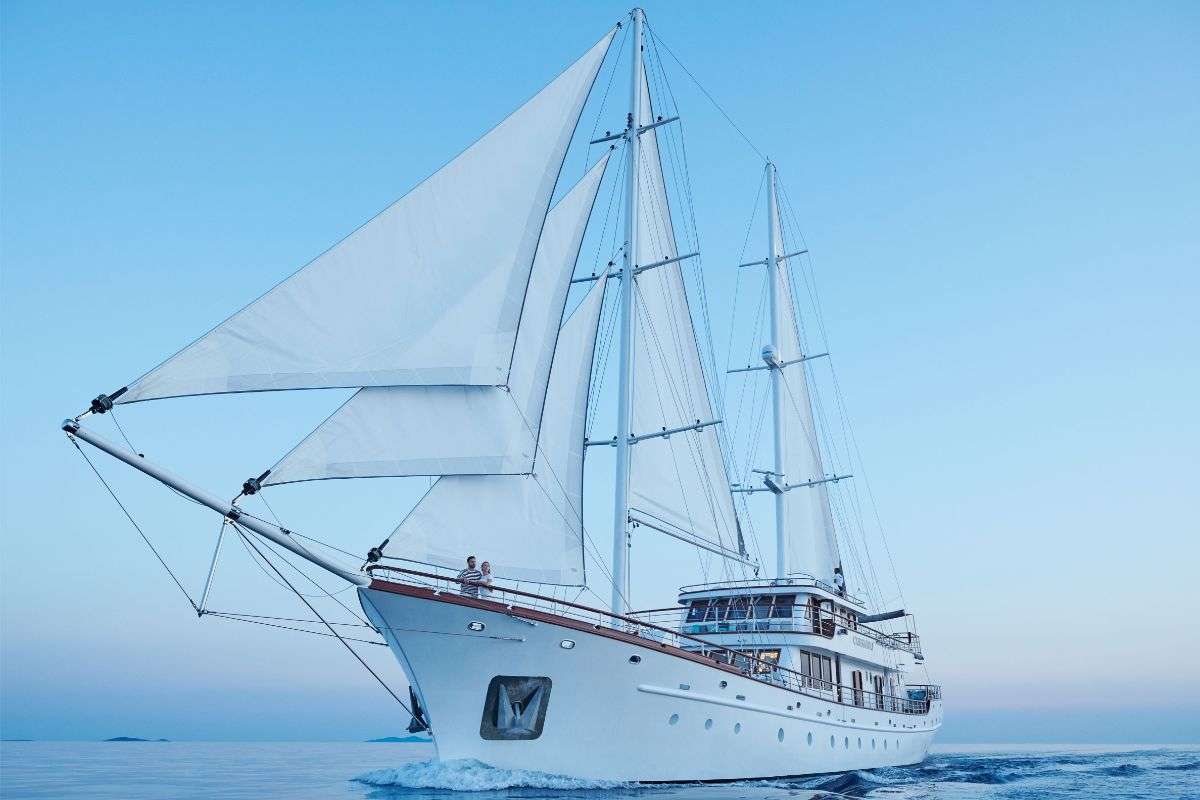 CORSARIO
Size: 48.0 m
Sleeps: 12 Guests in 6 cabins
Prices*: €68,000 to €74,000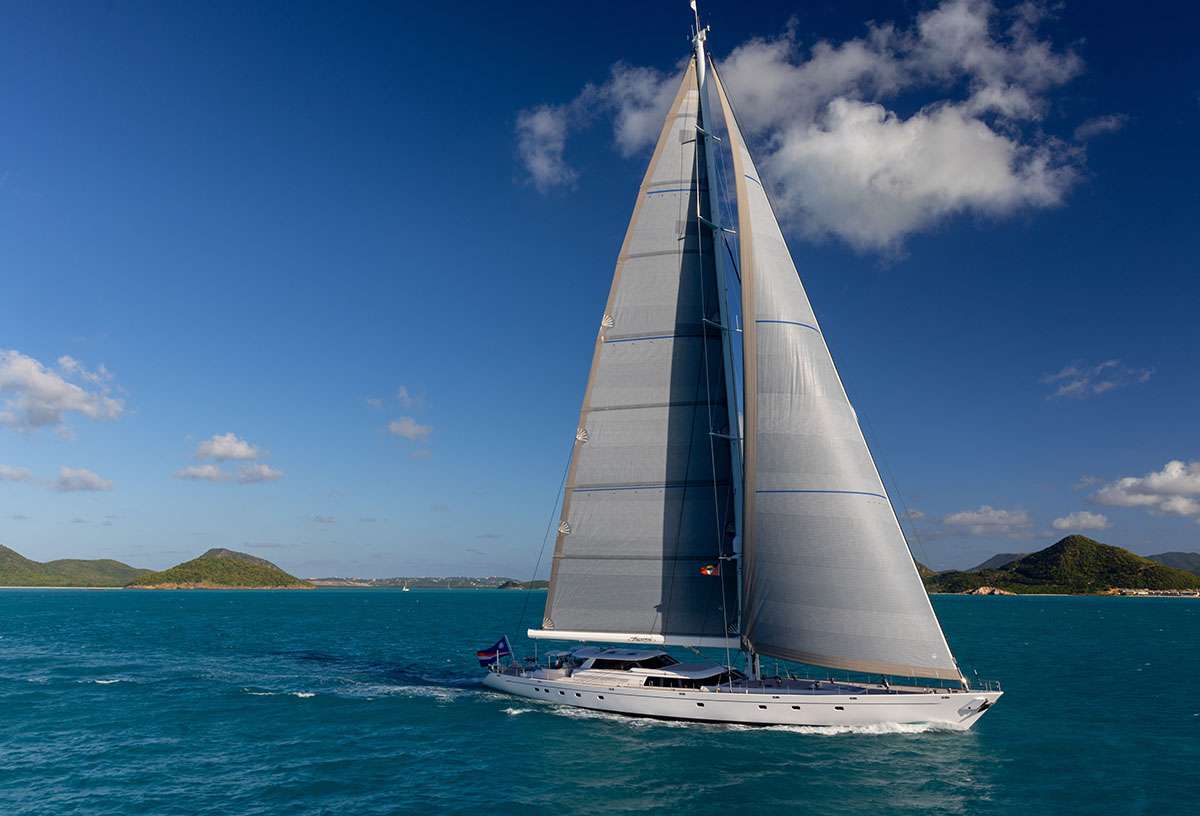 HYPERION
Size: 47.4 m
Sleeps: 6 Guests in 3 cabins
Prices*: $91,000 to $112,000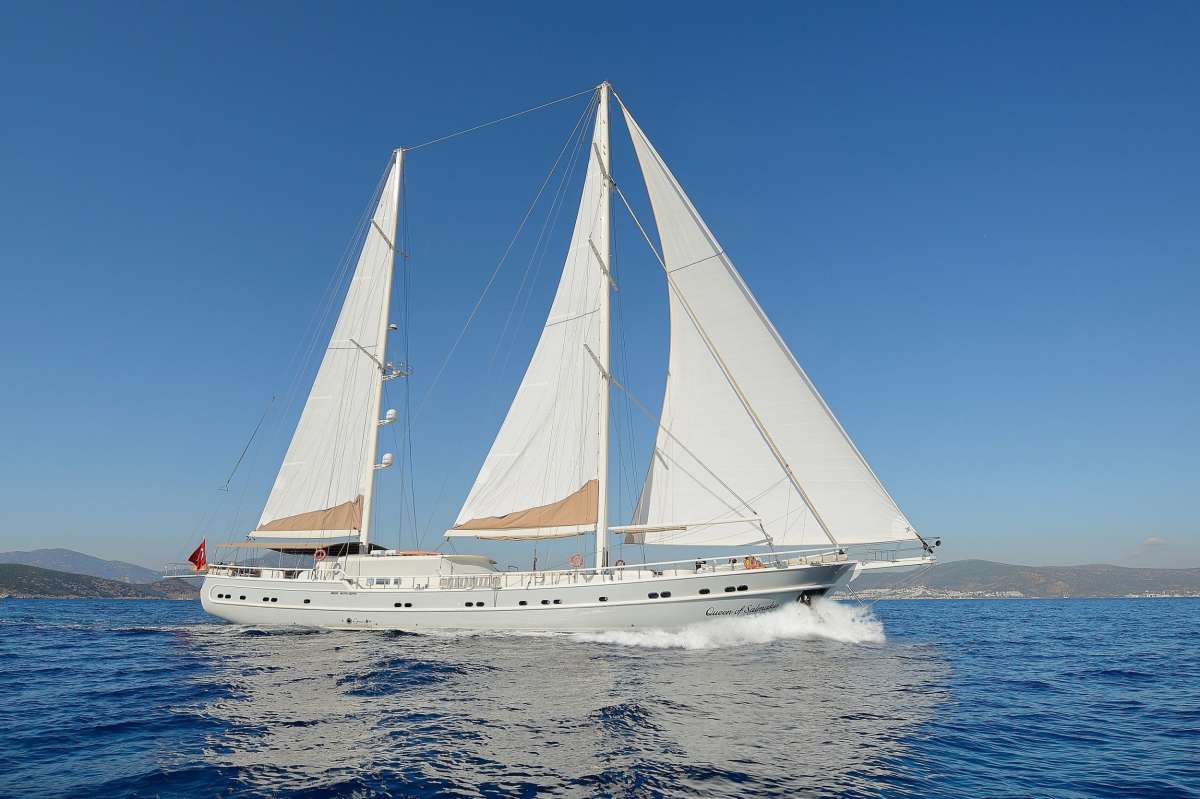 QUEEN OF SALMAKIS
Size: 44.0 m
Sleeps: 18 Guests in 8 cabins
Prices*: €38,500 to €69,500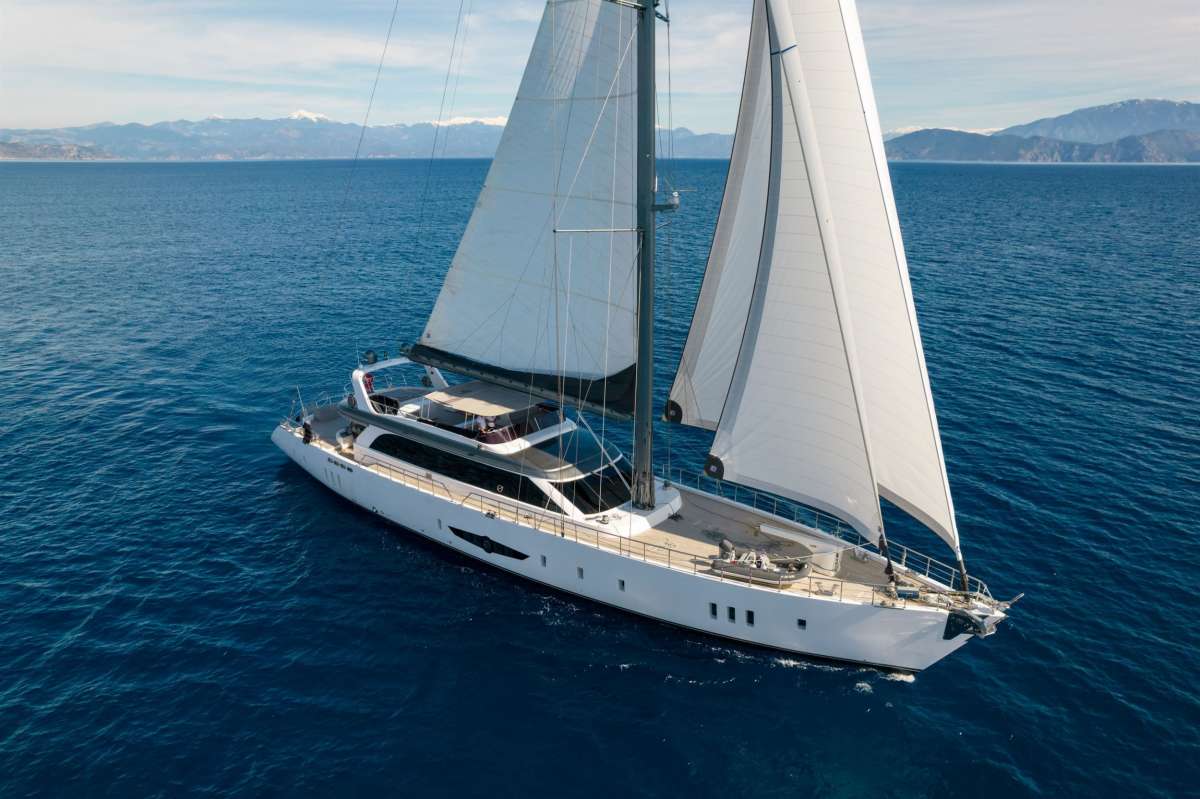 SON OF WIND
Size: 147 Ft
Sleeps: 12 Guests in 6 cabins
Prices*: €56,000 to €63,000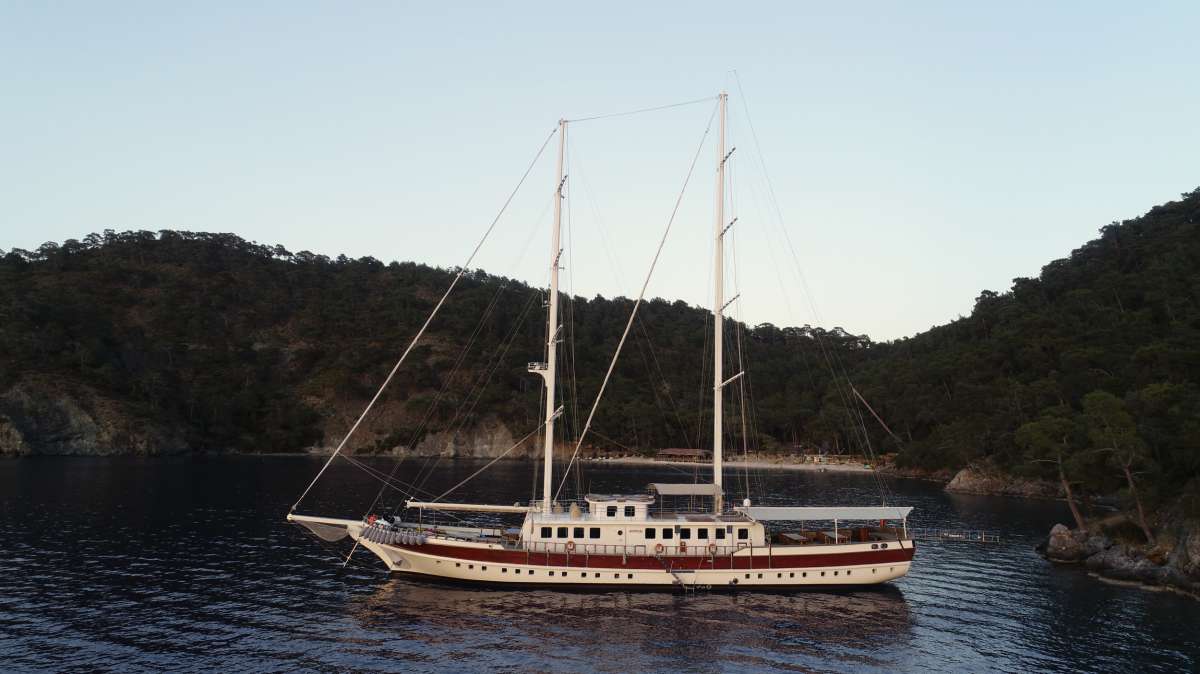 TERSANE 8
Size: 147 Ft
Sleeps: 28 Guests in 15 cabins
Prices*: €26,000 to €38,000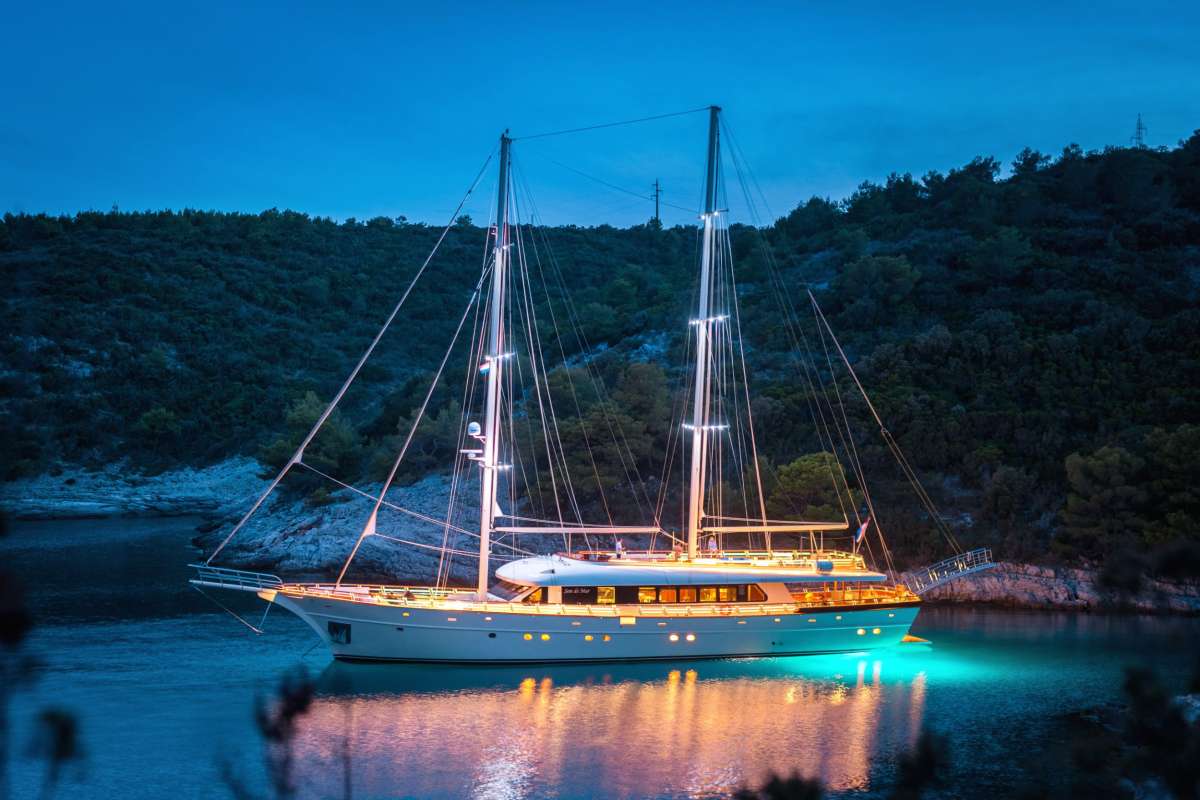 SON DE MAR
Size: 45.0 m
Sleeps: 12 Guests in 6 cabins
Prices*: €59,500 to €69,300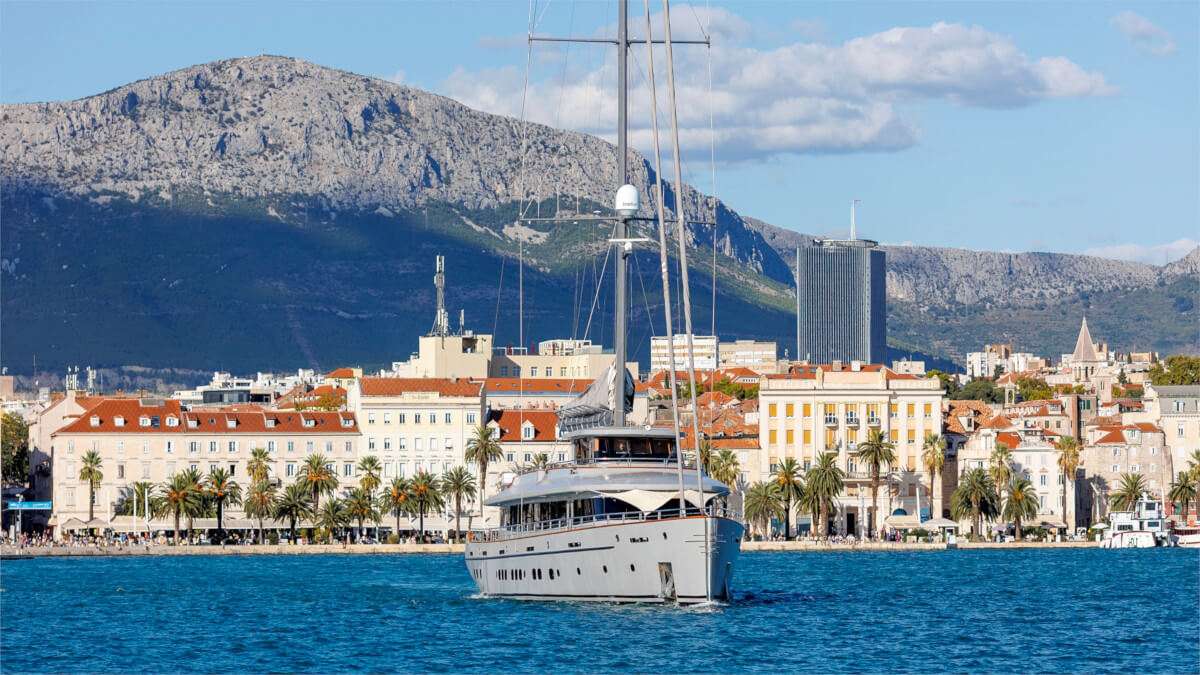 LIFE IS GOOD
Size: 45.0 m
Sleeps: 14 Guests in 7 cabins
Prices*: €82,000 to €88,000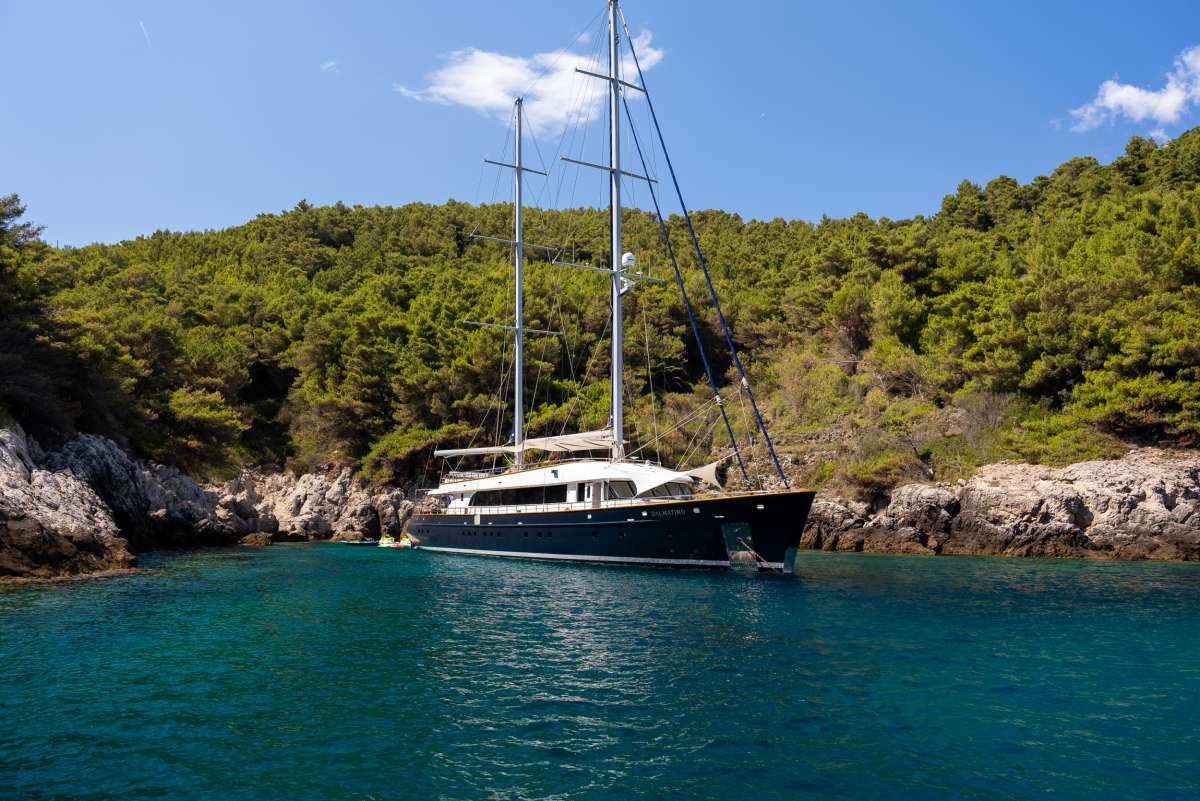 DALMATINO
Size: 43.5 m
Sleeps: 12 Guests in 6 cabins
Prices*: €69,000 to €75,000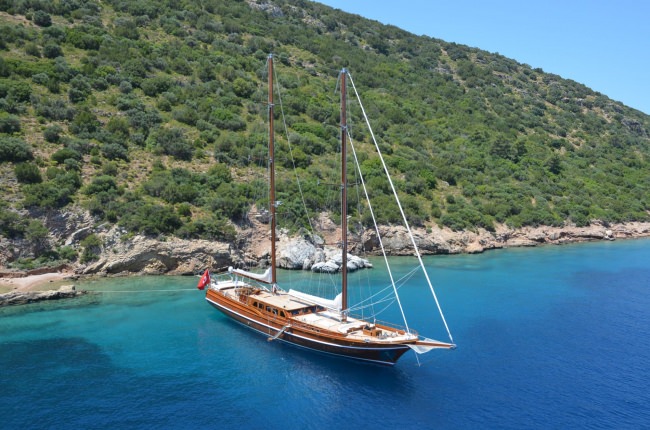 CAKIRYILDIZ
Size: 43.0 m
Sleeps: 10 Guests in 5 cabins
Prices*: €40,000 to €59,500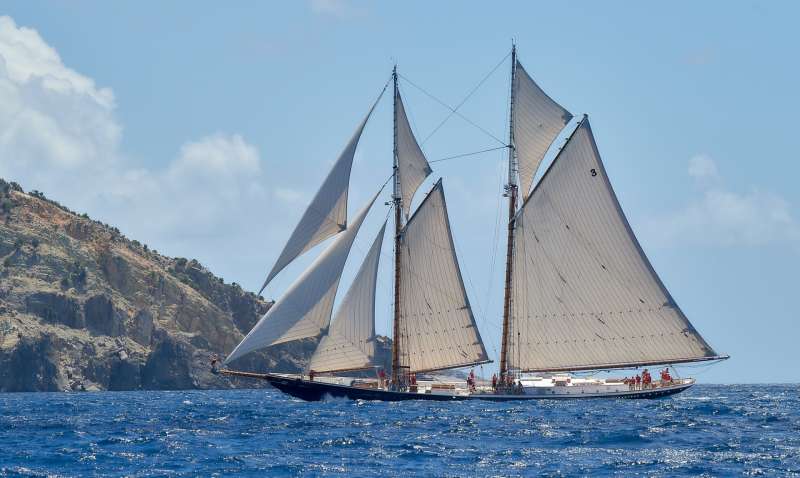 COLUMBIA
Size: 141 Ft
Sleeps: 12 Guests in 4 cabins
Prices*: $65,000 to $68,000
BABACAN
Size: 43.0 m
Sleeps: 12 Guests in 6 cabins
Prices*: €17,500 to €25,000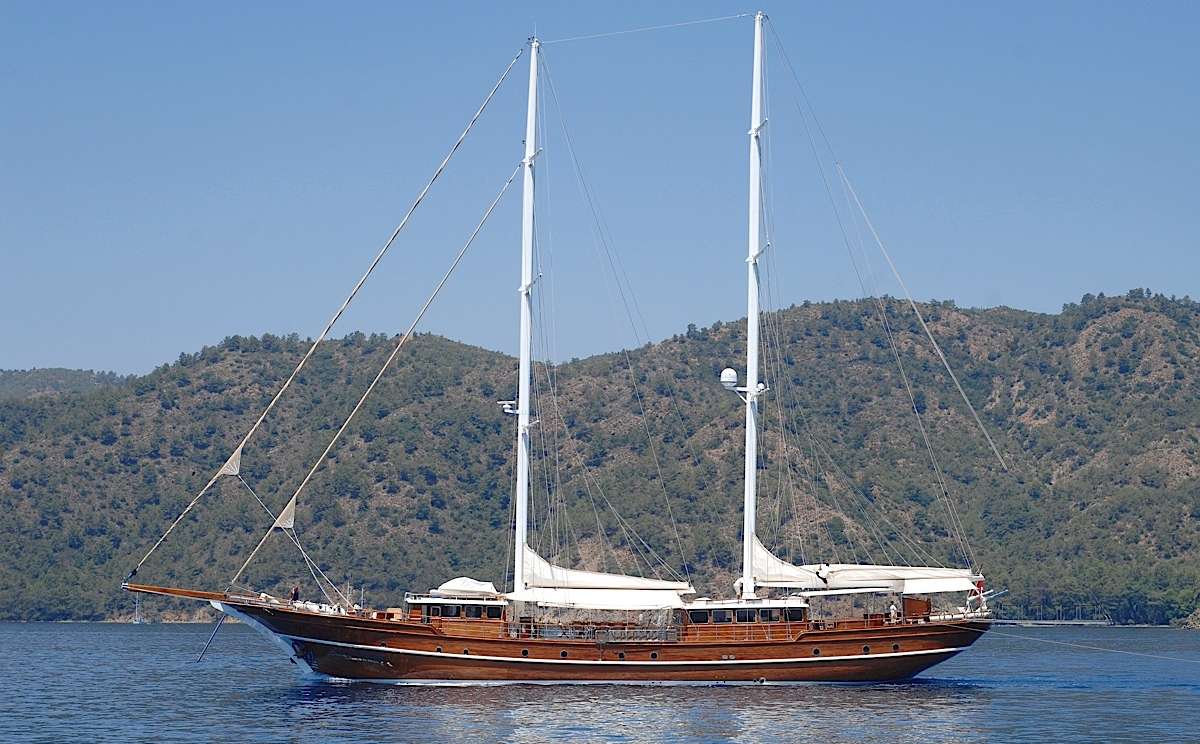 MARE NOSTRUM
Size: 43.0 m
Sleeps: 12 Guests in 6 cabins
Prices*: €70,000 to €70,000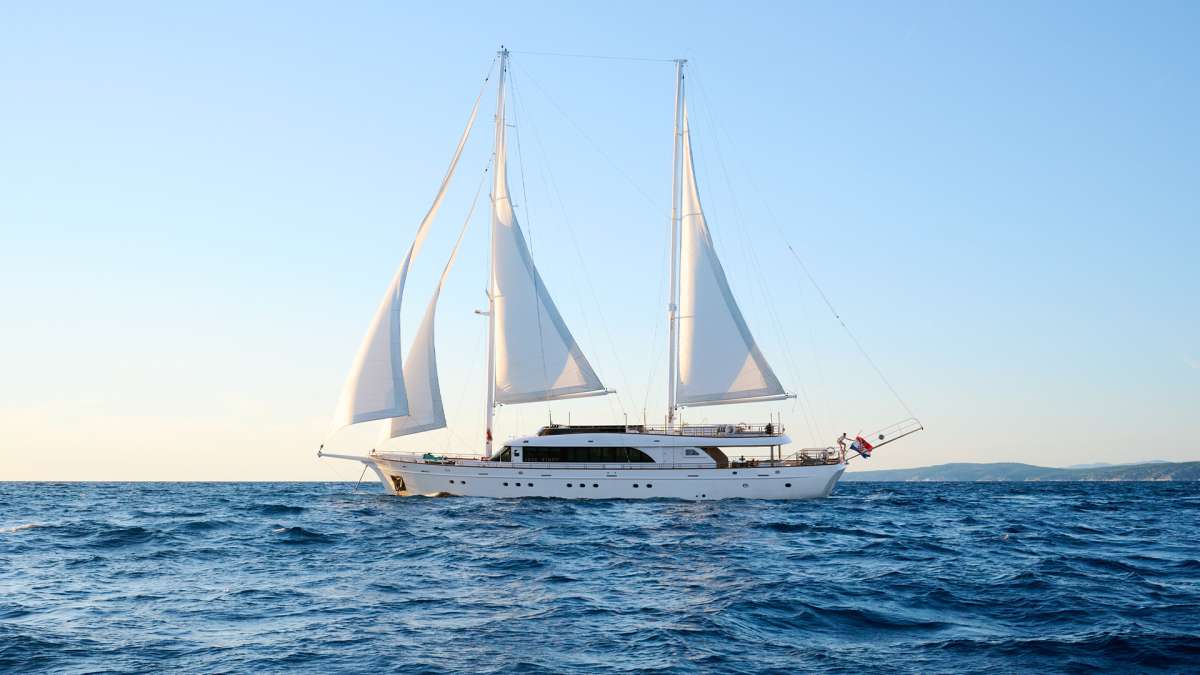 LOVE STORY
Size: 43.3 m
Sleeps: 12 Guests in 6 cabins
Prices*: €67,000 to €72,000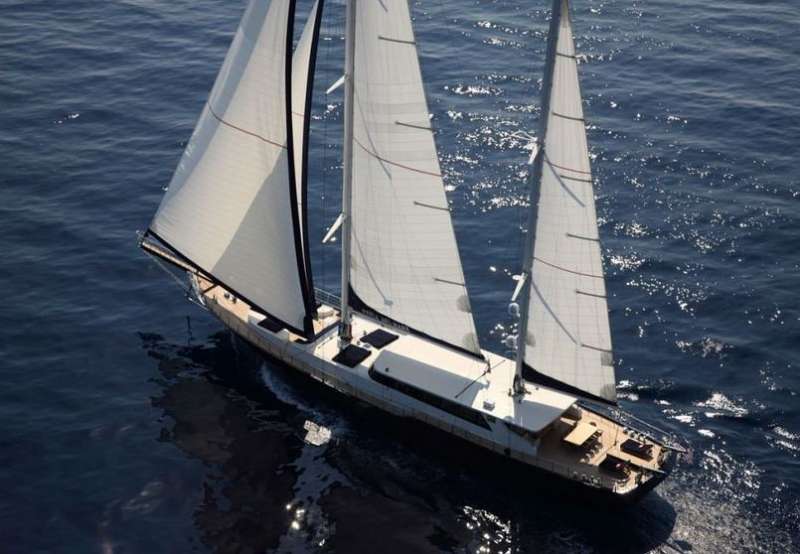 PERLA DEL MARE
Size: 42.2 m
Sleeps: 12 Guests in 6 cabins
Prices*: €45,000 to €65,000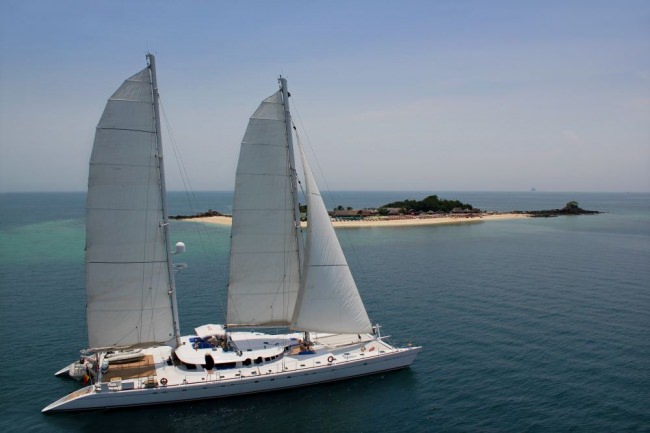 DOUCE FRANCE
Size: 42.2 m
Sleeps: 12 Guests in 6 cabins
Prices*: €96,000 to €106,000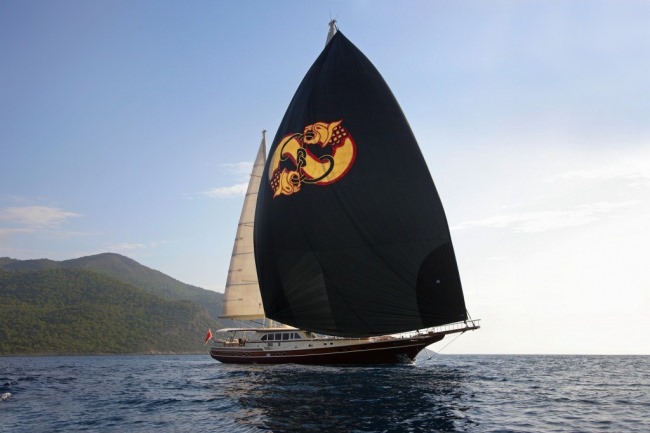 DAIMA
Size: 42.0 m
Sleeps: 10 Guests in 5 cabins
Prices*: €78,000 to €88,000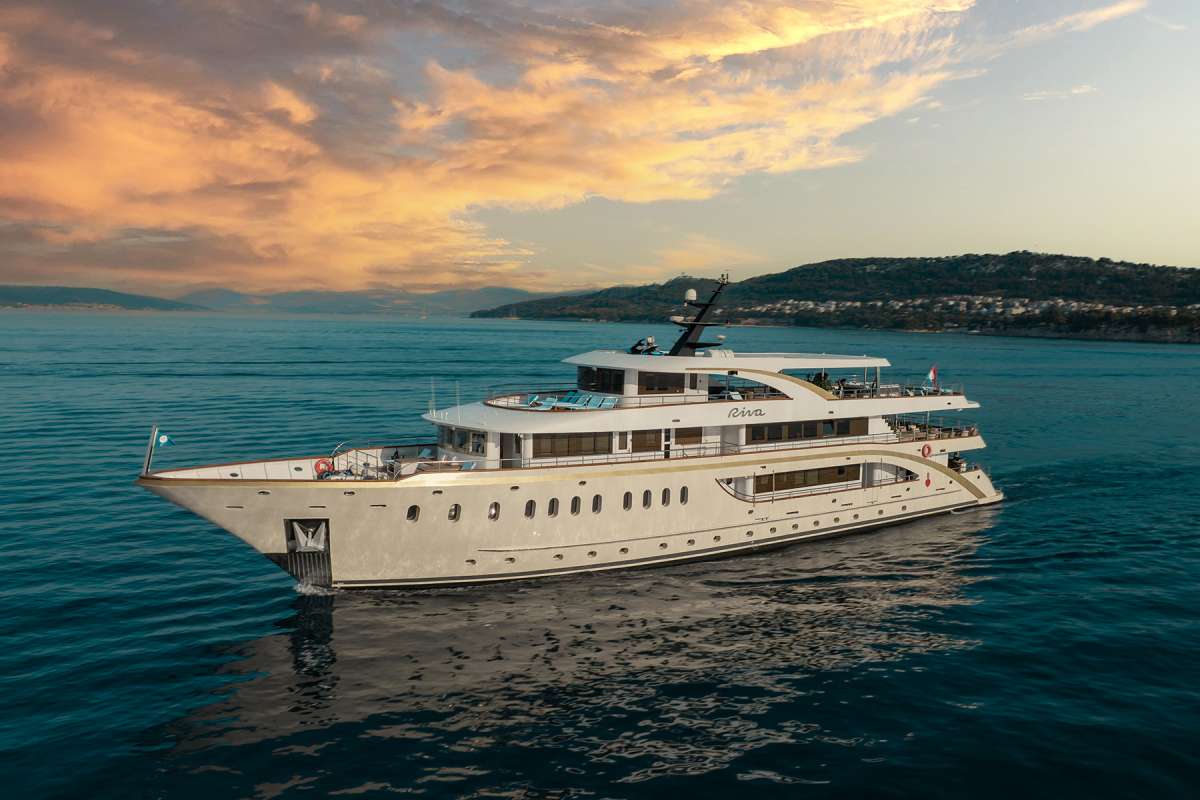 GULET DRAGON FLY
Size: 41.0 m
Sleeps: 10 Guests in 5 cabins
Prices*: €28,000 to €45,500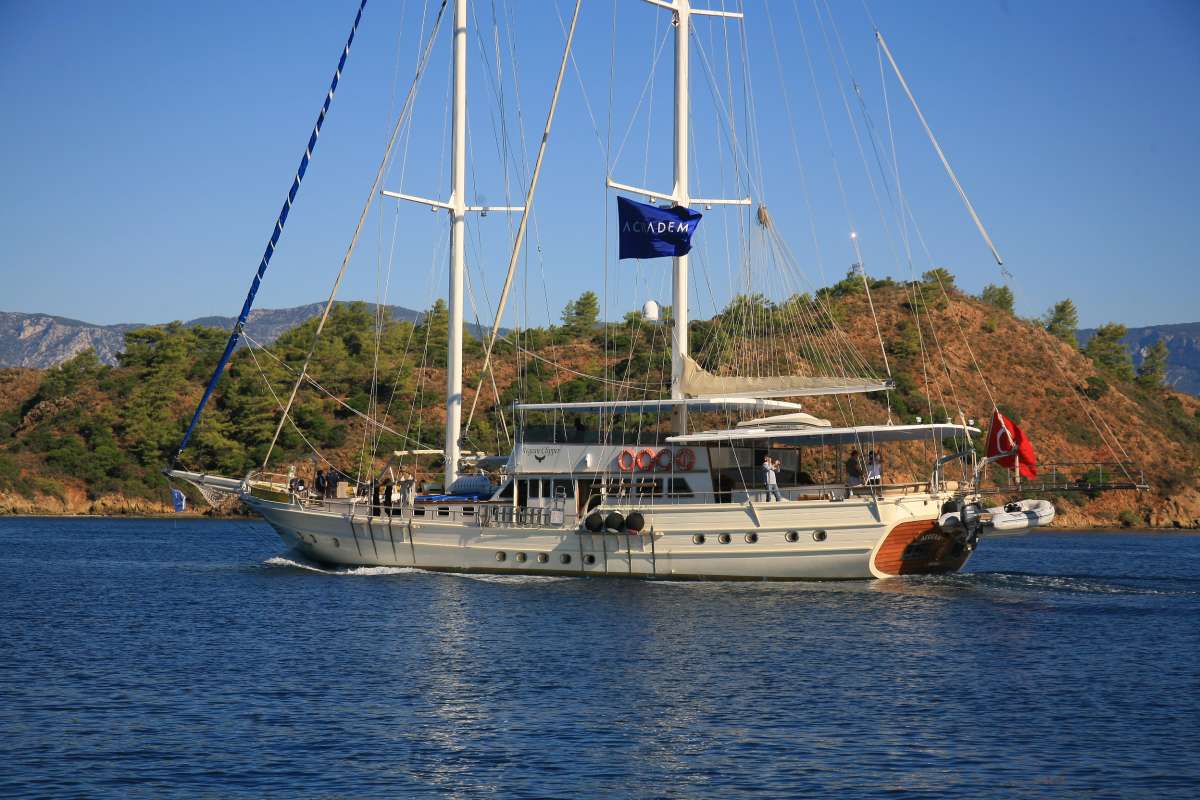 AEGEAN CLIPPER
Size: 41.0 m
Sleeps: 22 Guests in 11 cabins
Prices*: €18,500 to €22,750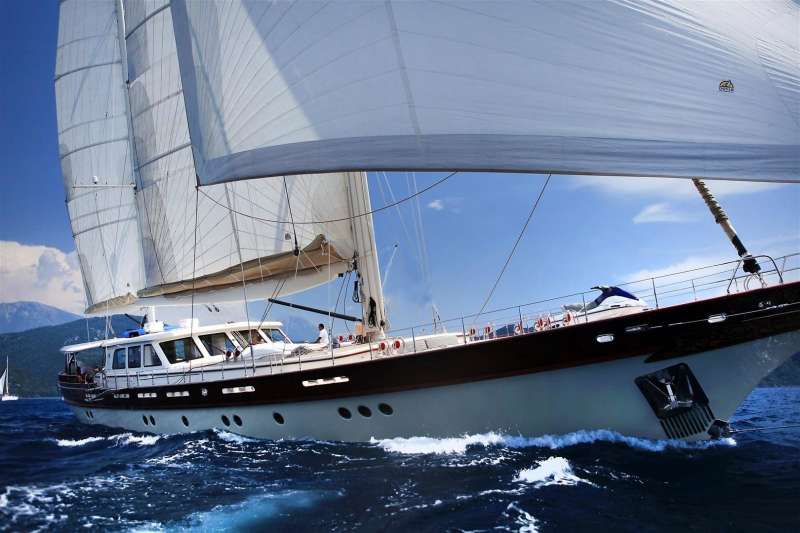 ZELDA
Size: 40.4 m
Sleeps: 10 Guests in 5 cabins
Prices*: €45,000 to €56,000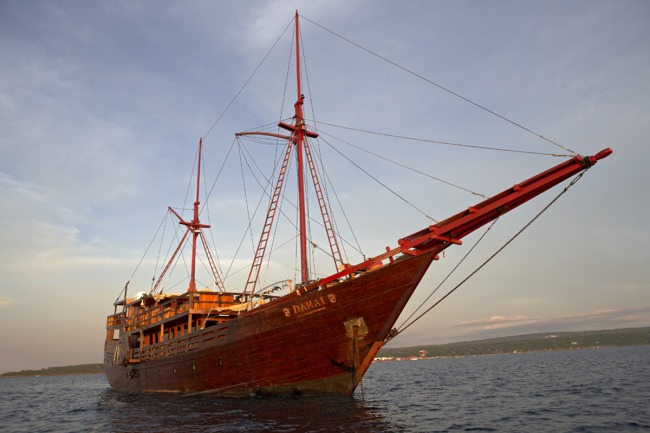 DAMAI
Size: 40.0 m
Sleeps: 12 Guests in 7 cabins
Prices*: $43,000 to $43,000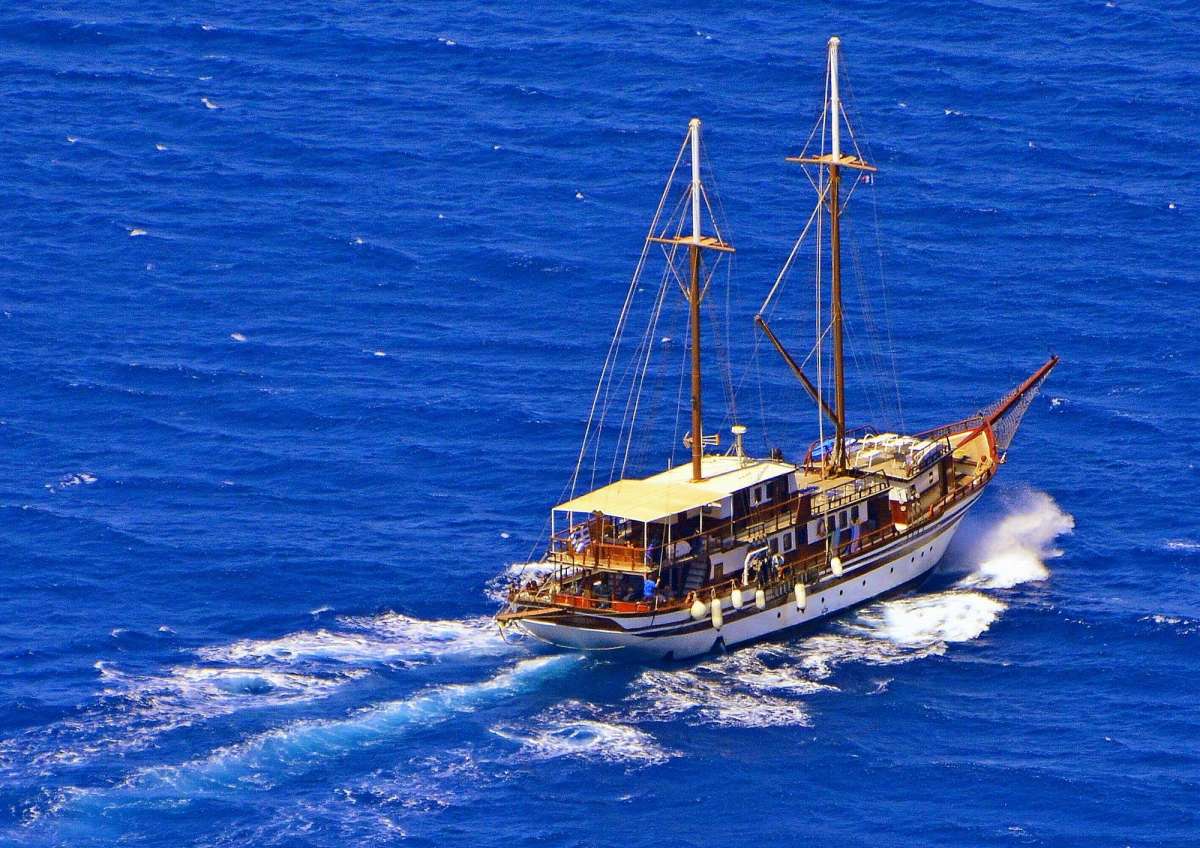 AEGEOTISSA II
Size: 40.0 m
Sleeps: 24 Guests in 12 cabins
Prices*: €27,000 to €27,000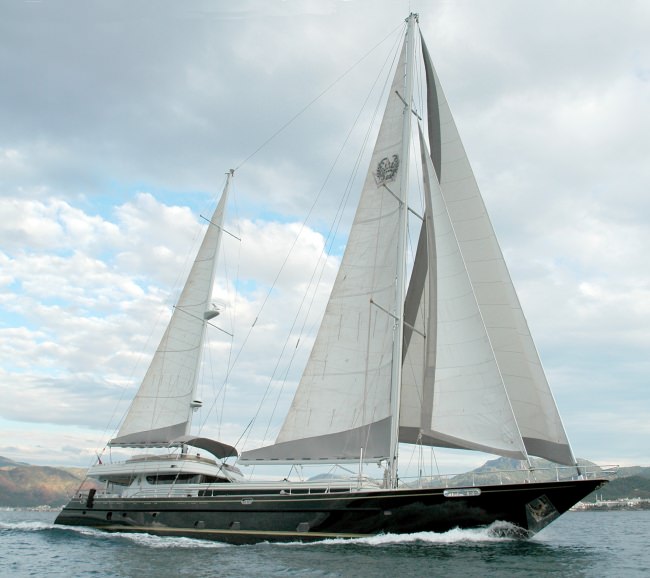 SUHEYLA
Size: 40.0 m
Sleeps: 12 Guests in 6 cabins
Prices*: €42,000 to €49,000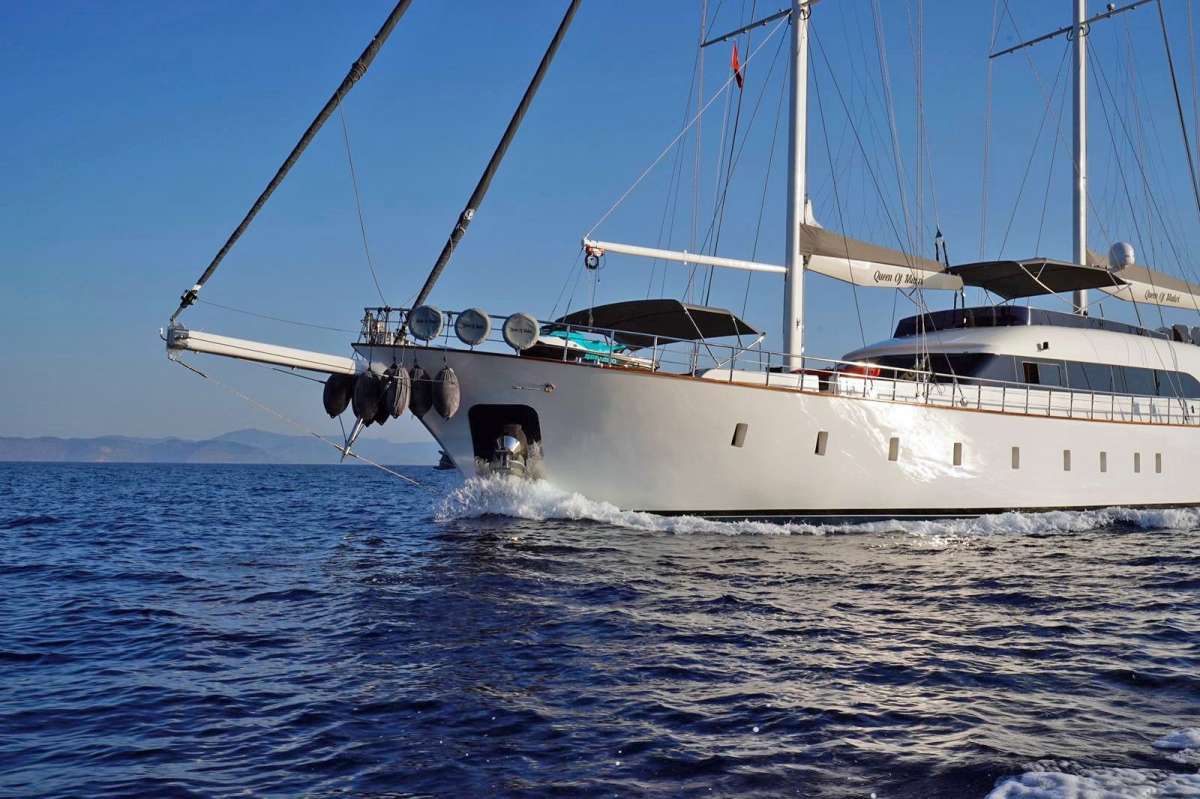 QUEEN OF MAKRI
Size: 40.0 m
Sleeps: 12 Guests in 6 cabins
Prices*: €42,000 to €59,500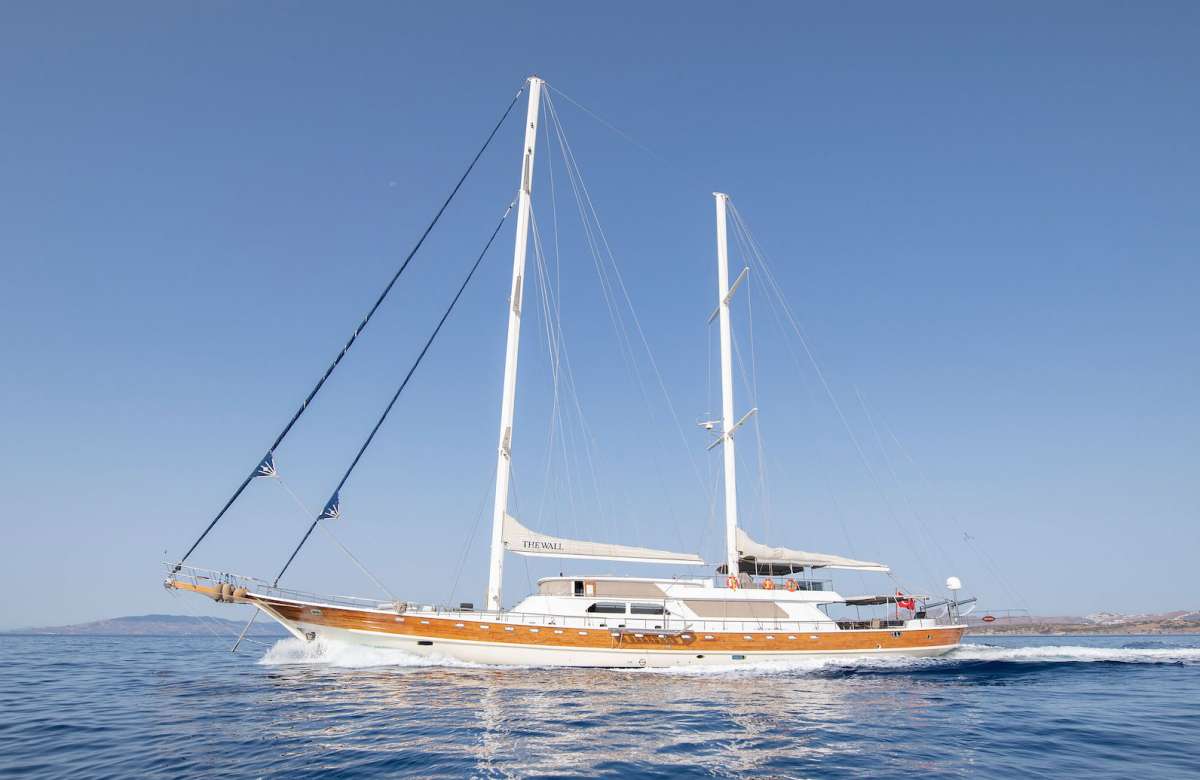 THE WALL
Size: 40.0 m
Sleeps: 12 Guests in 6 cabins
Prices*: €49,000 to €67,900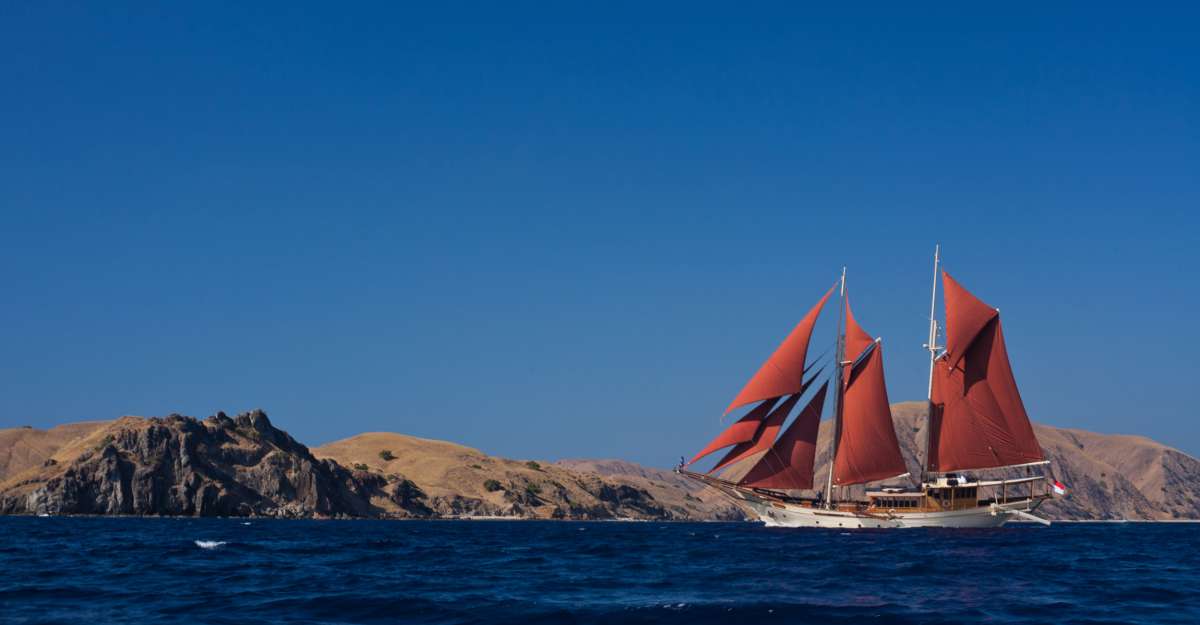 SI DATU BUA
Size: 131 Ft
Sleeps: 6 Guests in 3 cabins
Prices*: $84,000 to $84,000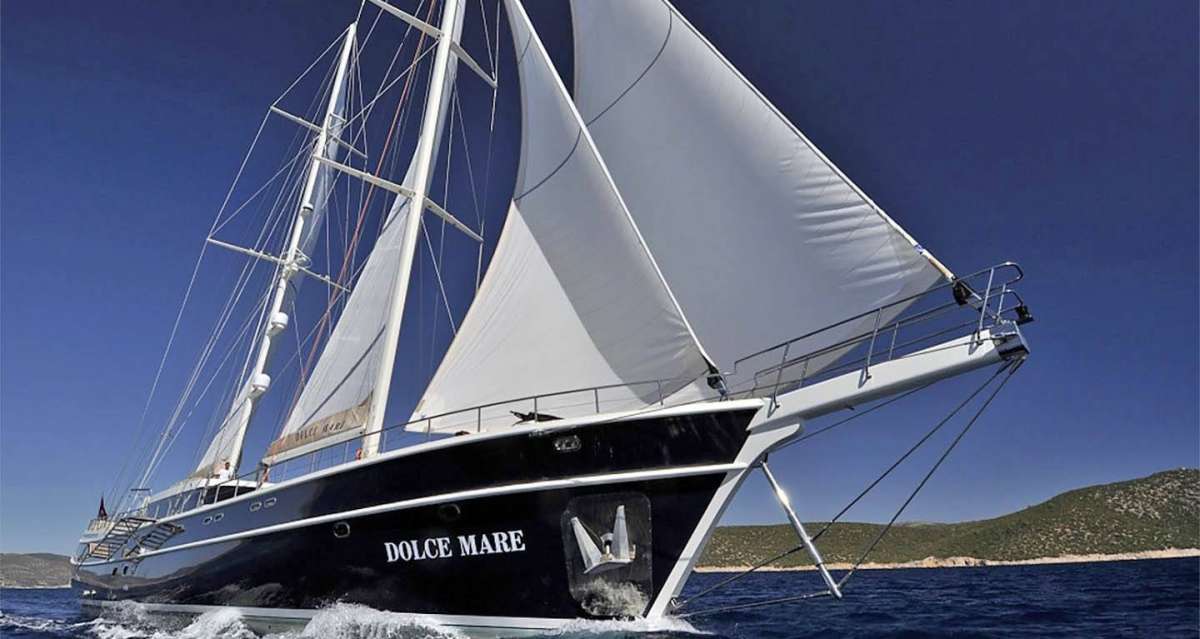 DOLCE MARE
Size: 40.0 m
Sleeps: 12 Guests in 6 cabins
Prices*: €32,500 to €54,000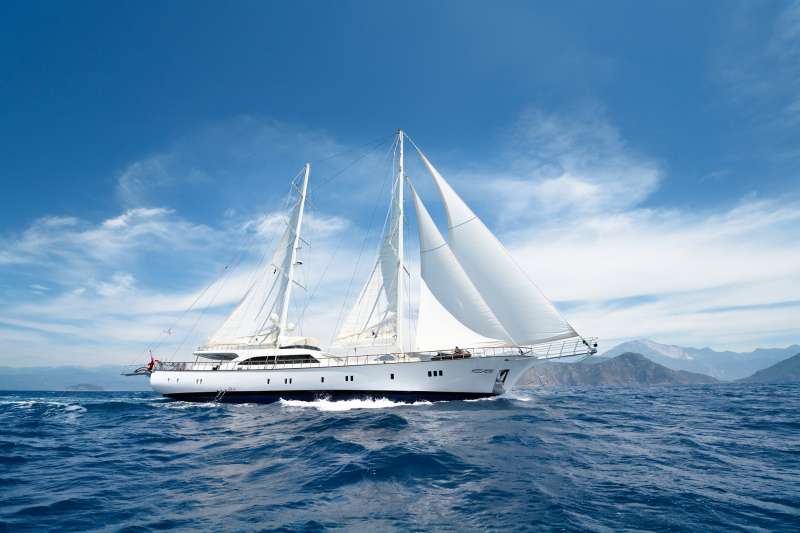 ALESSANDRO 1
Size: 40.0 m
Sleeps: 10 Guests in 5 cabins
Prices*: €38,000 to €48,000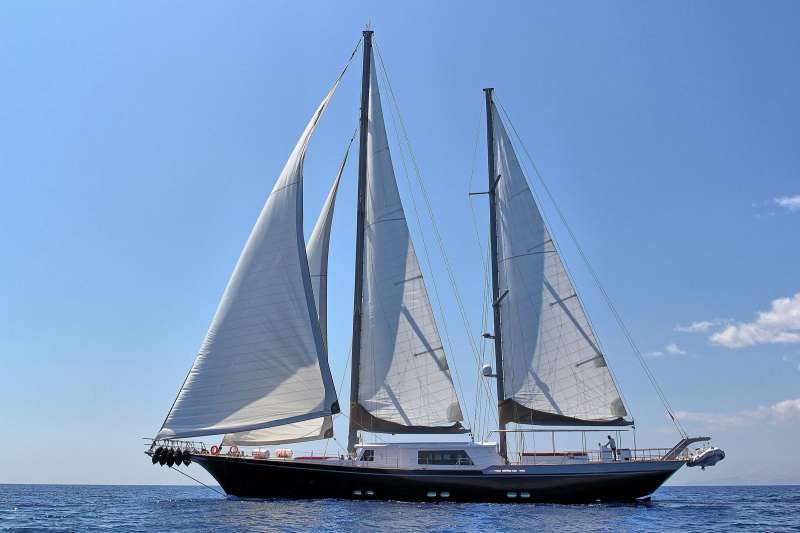 MOSS
Size: 40.0 m
Sleeps: 10 Guests in 5 cabins
Prices*: €60,000 to €61,250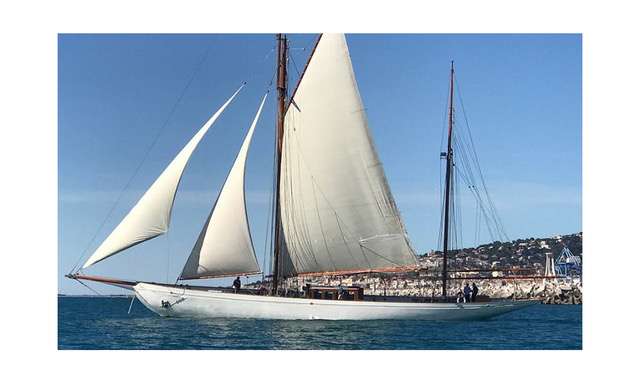 BLACK SWAN
Size: 40.0 m
Sleeps: 10 Guests in 5 cabins
Prices*: €42,000 to €42,000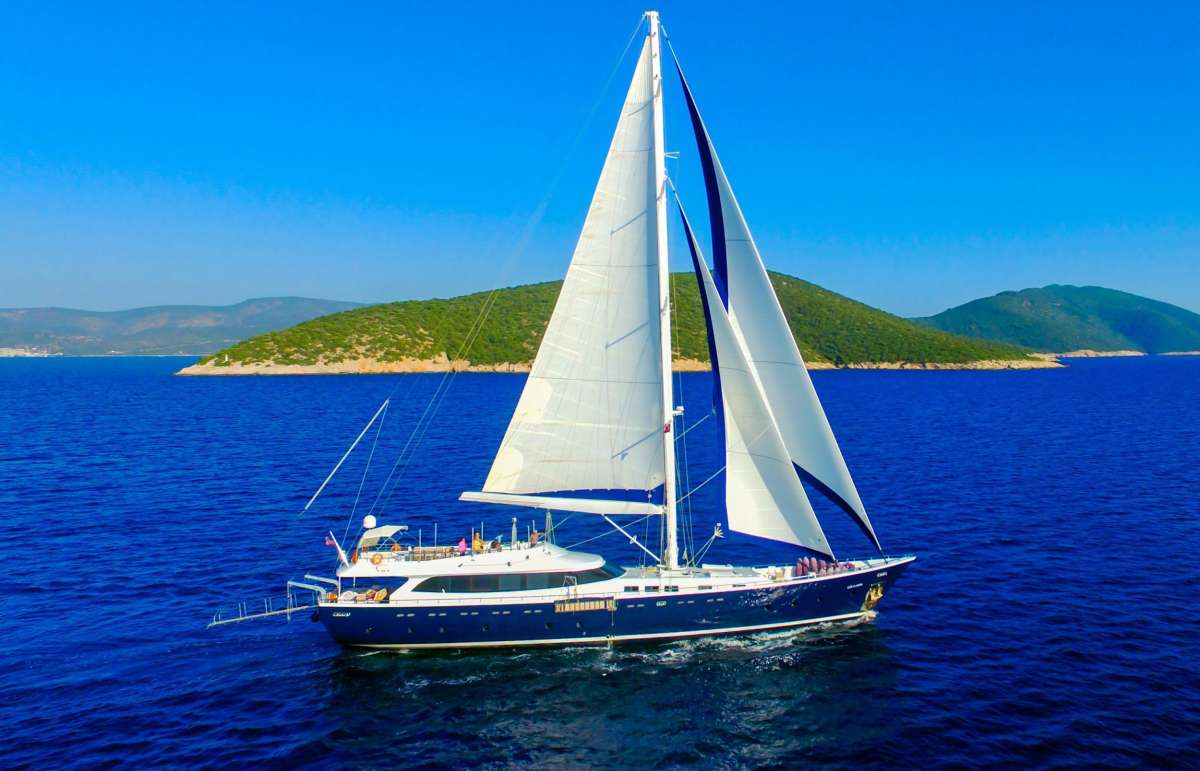 GULMARIA
Size: 40.0 m
Sleeps: 12 Guests in 6 cabins
Prices*: €56,000 to €70,000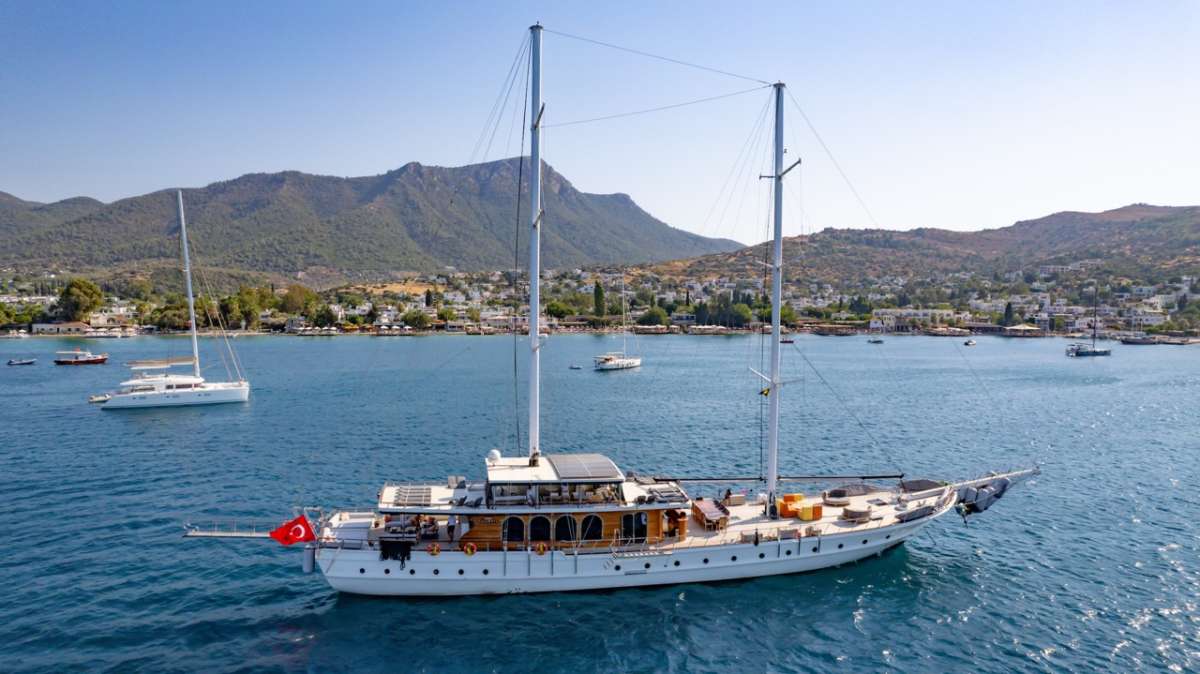 CAUSTIC
Size: 40.0 m
Sleeps: 12 Guests in 6 cabins
Prices*: €50,000 to €60,000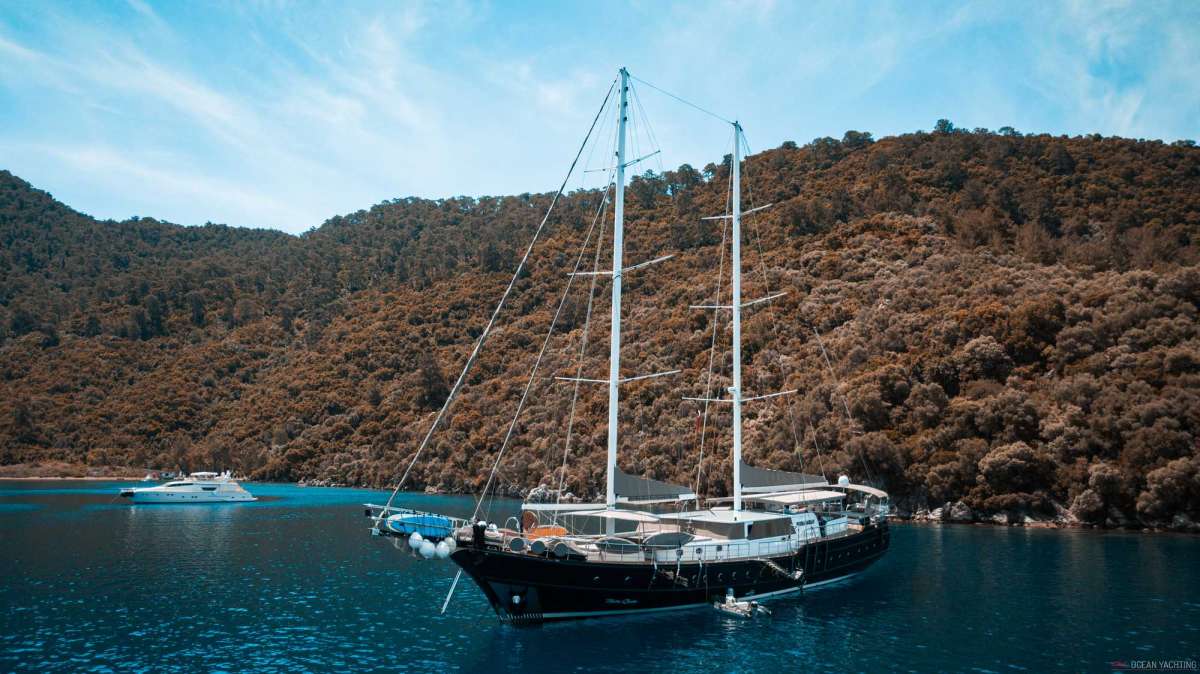 NEVRA QUEEN
Size: 40 m
Sleeps: 20 Guests in 10 cabins
Prices*: €35,000 to €49,000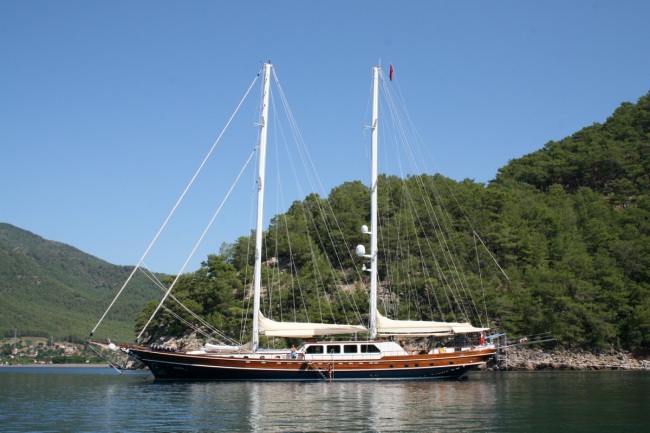 KAYA GUNERI V
Size: 130.0 Ft
Sleeps: 12 Guests in 6 cabins
Prices*: €26,250 to €43,750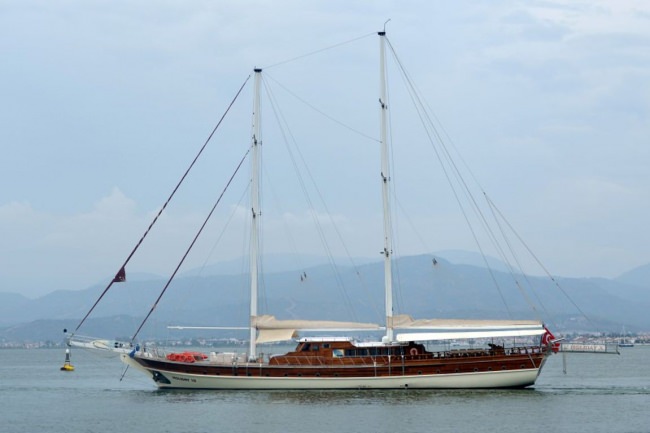 HOLIDAY X
Size: 39.0 m
Sleeps: 22 Guests in 10 cabins
Prices*: €24,500 to €31,500
LE PIETRE
Size: 39.0 m
Sleeps: 8 Guests in 4 cabins
Prices*: €50,000 to €60,000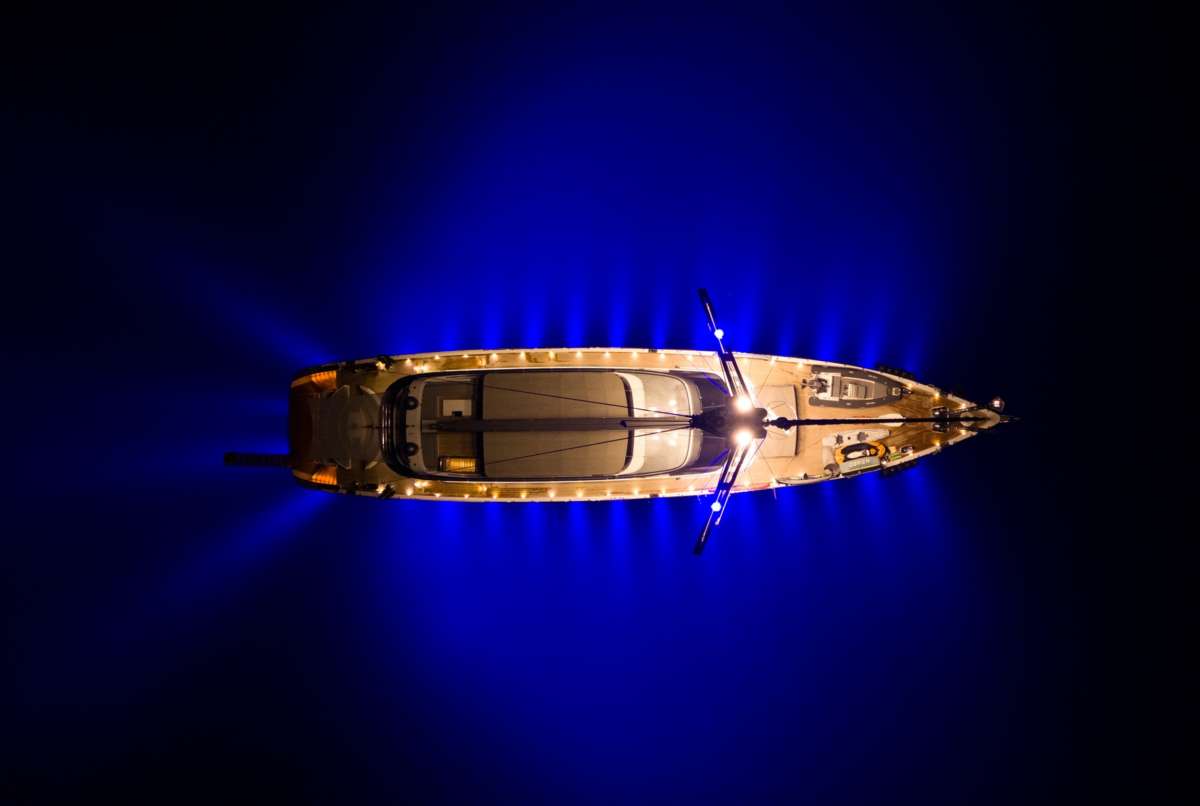 LONG ISLAND
Size: 39.0 m
Sleeps: 10 Guests in 5 cabins
Prices*: €45,500 to €63,000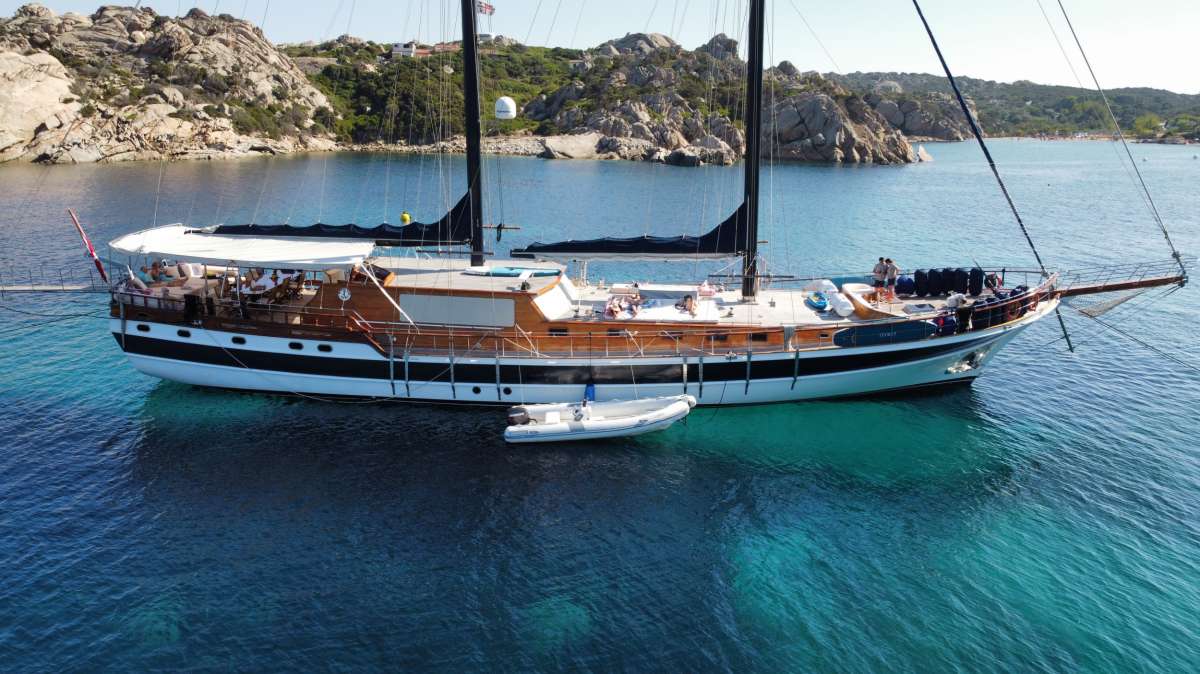 ELIANORA
Size: 39.0 m
Sleeps: 12 Guests in 6 cabins
Prices*: €30,000 to €38,000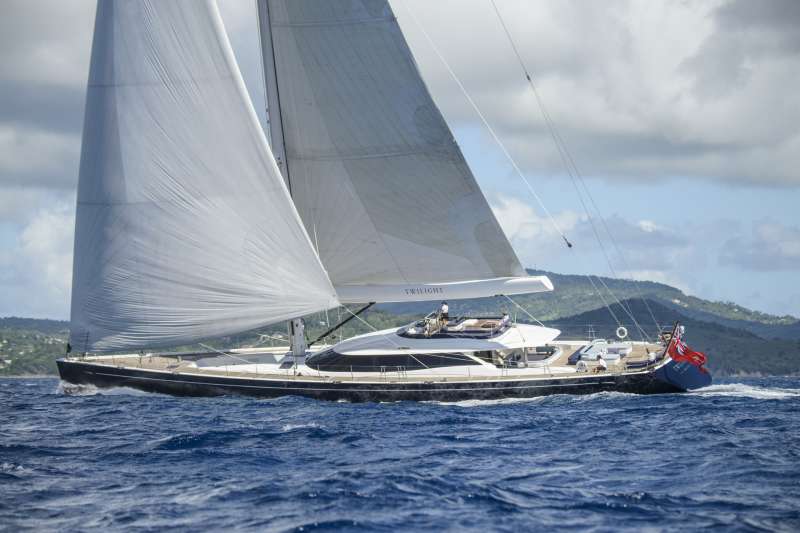 TWILIGHT
Size: 38.1 m
Sleeps: 8 Guests in 4 cabins
Prices*: €100,000 to €110,000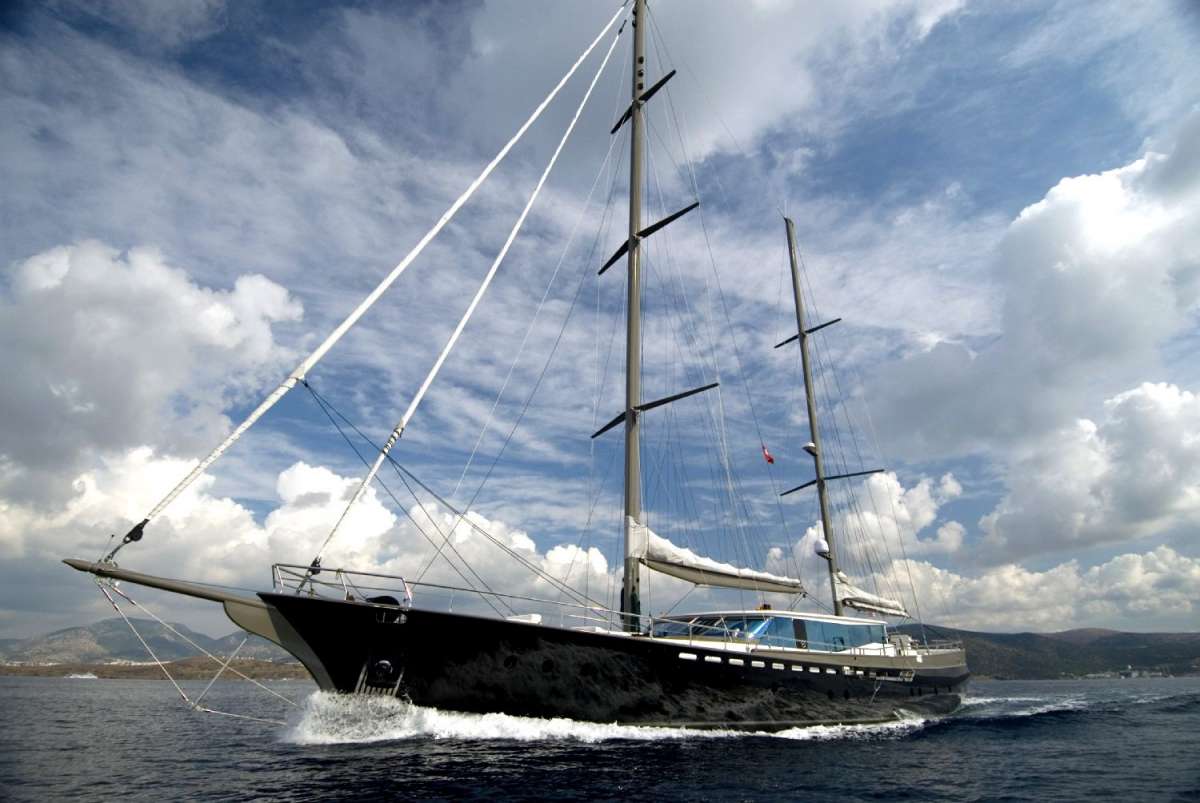 TIGRA
Size: 38 m
Sleeps: 10 Guests in 5 cabins
Prices*: €30,000 to €38,000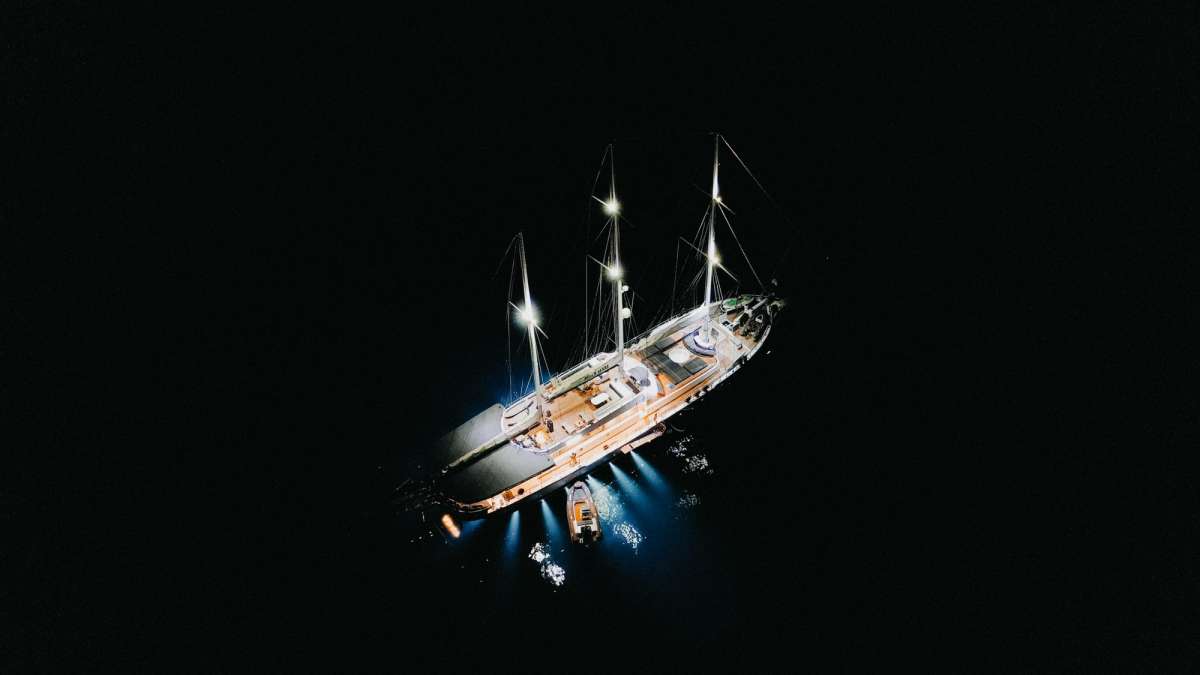 BELLAMARE
Size: 38.0 m
Sleeps: 12 Guests in 6 cabins
Prices*: €31,500 to €49,000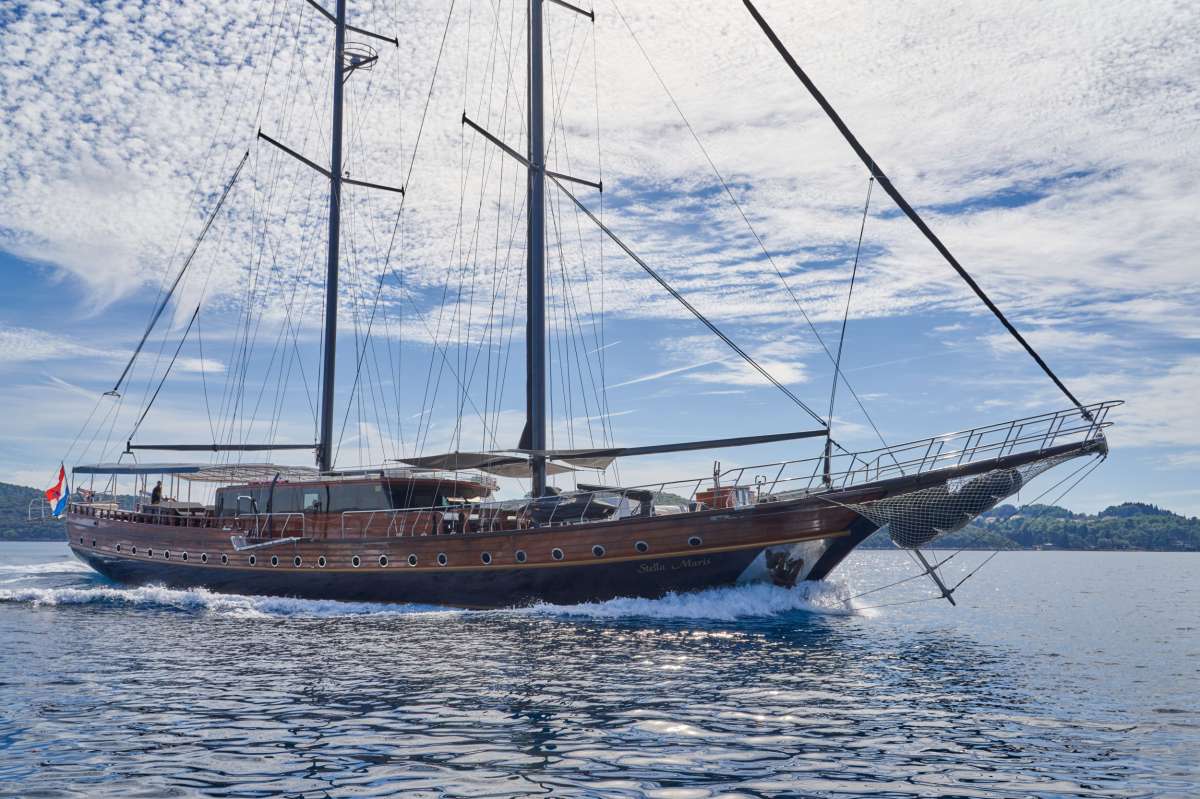 STELLA MARIS
Size: 38.0 m
Sleeps: 16 Guests in 8 cabins
Prices*: €40,000 to €45,000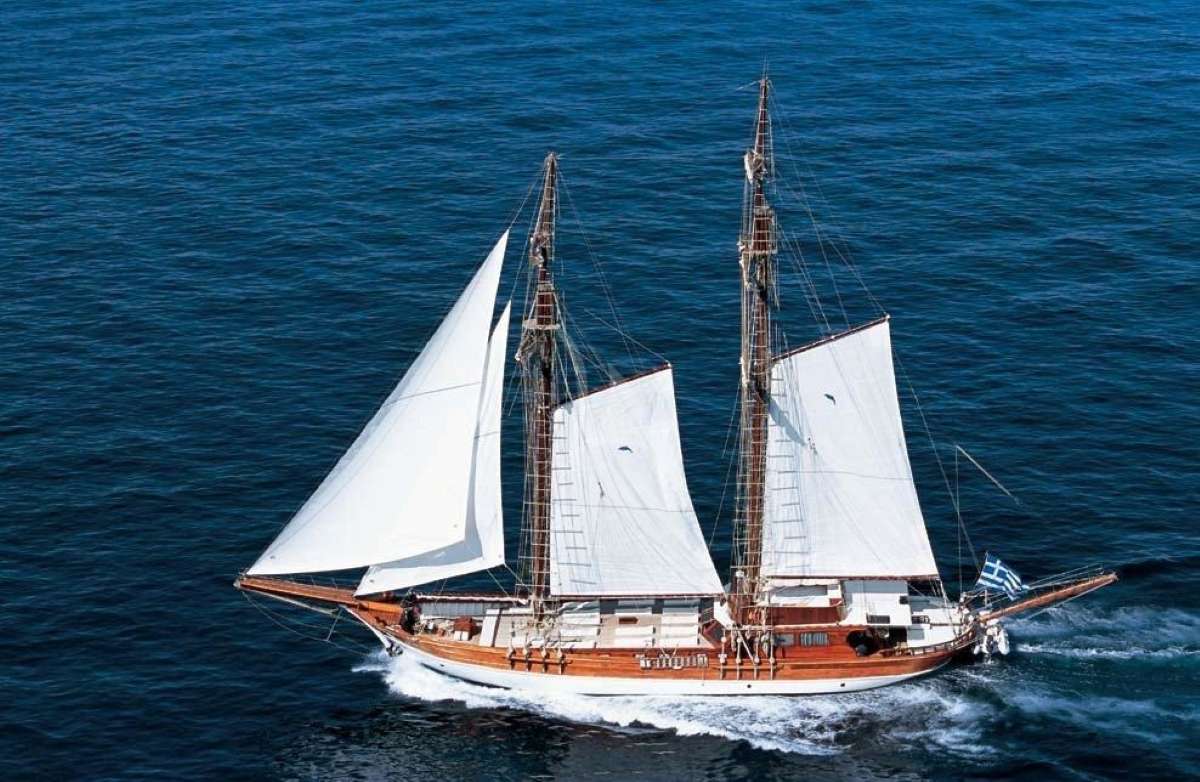 MATINA
Size: 38.0 m
Sleeps: 20 Guests in 8 cabins
Prices*: €41,300 to €48,300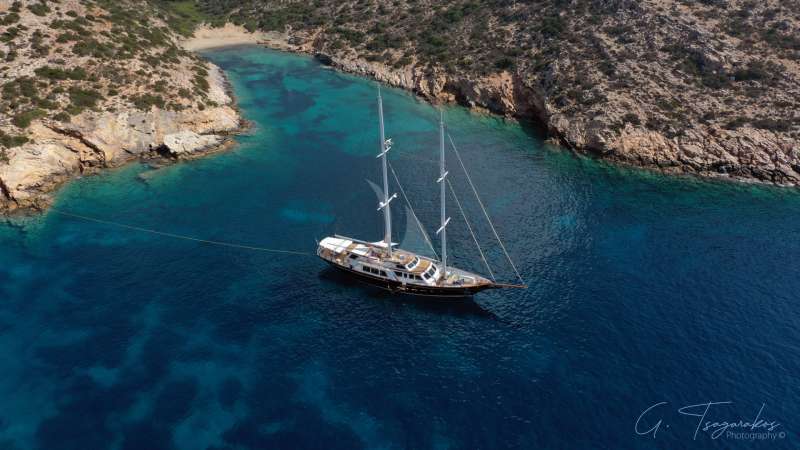 ALTHEA
Size: 37.5 m
Sleeps: 10 Guests in 5 cabins
Prices*: €39,500 to €44,000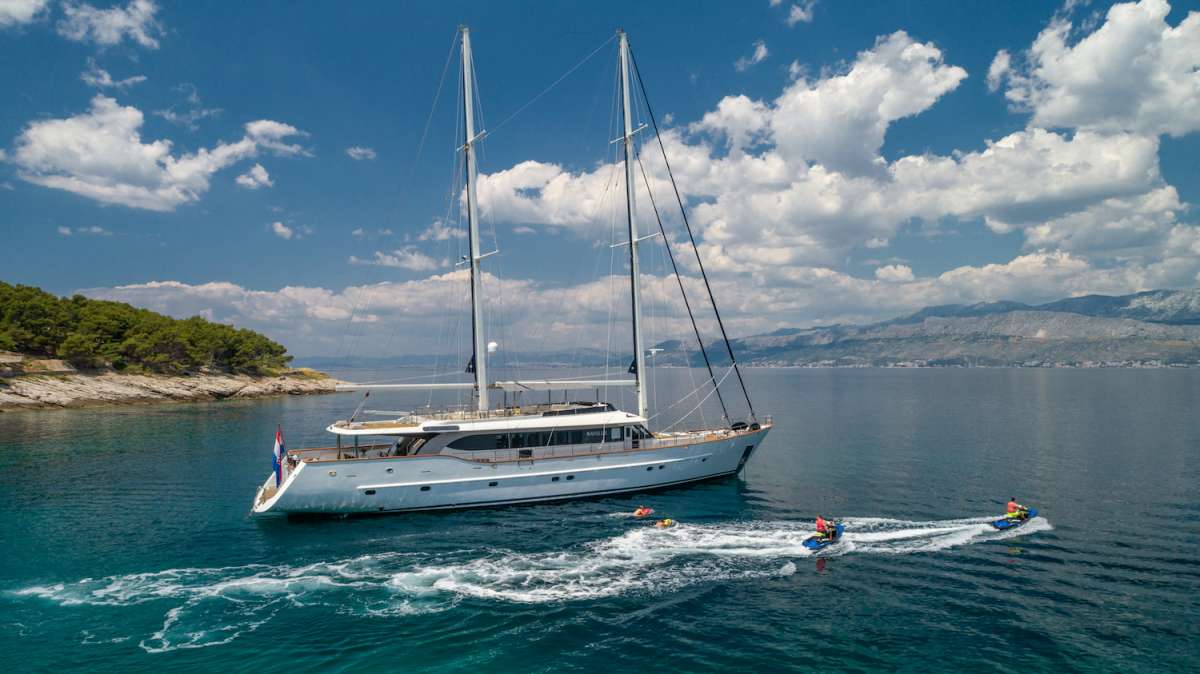 NAVILUX
Size: 37.3 m
Sleeps: 12 Guests in 6 cabins
Prices*: €46,000 to €54,000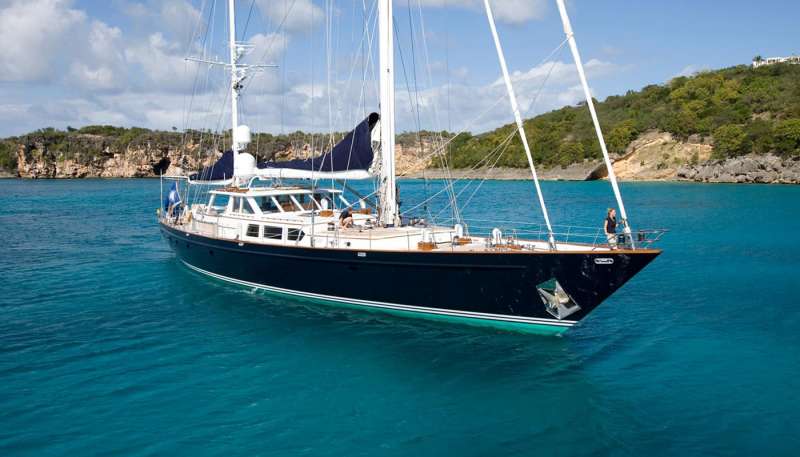 AXIA
Size: 37.0 m
Sleeps: 6 Guests in 3 cabins
Prices*: €46,000 to €55,000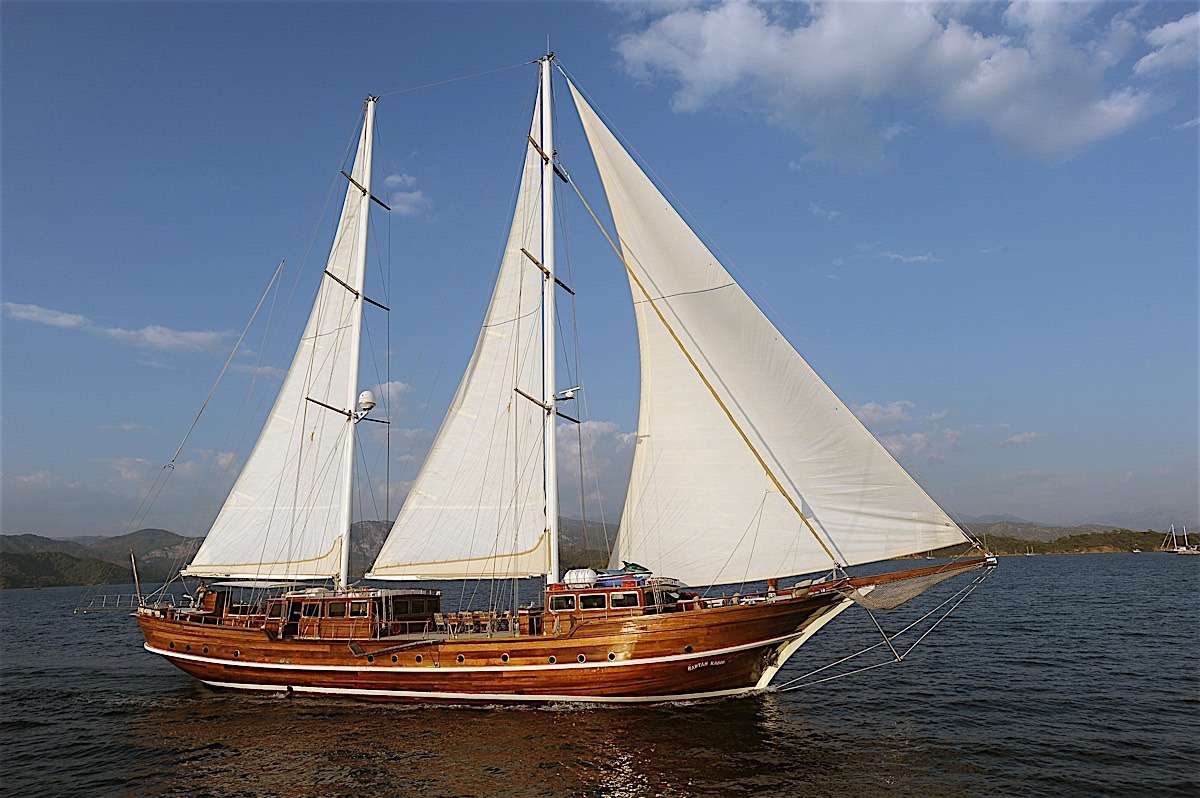 KAPTAIN KADIR
Size: 121 Ft
Sleeps: 12 Guests in 6 cabins
Prices*: €40,000 to €40,000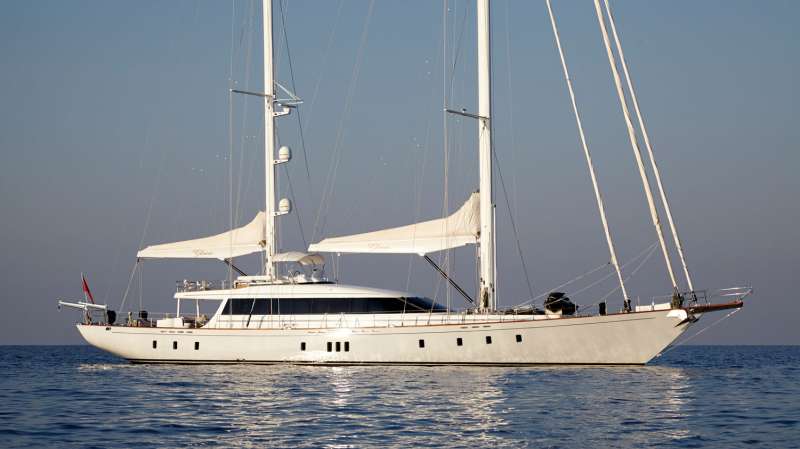 GLORIOUS II
Size: 36.0 m
Sleeps: 8 Guests in 4 cabins
Prices*: €28,000 to €38,500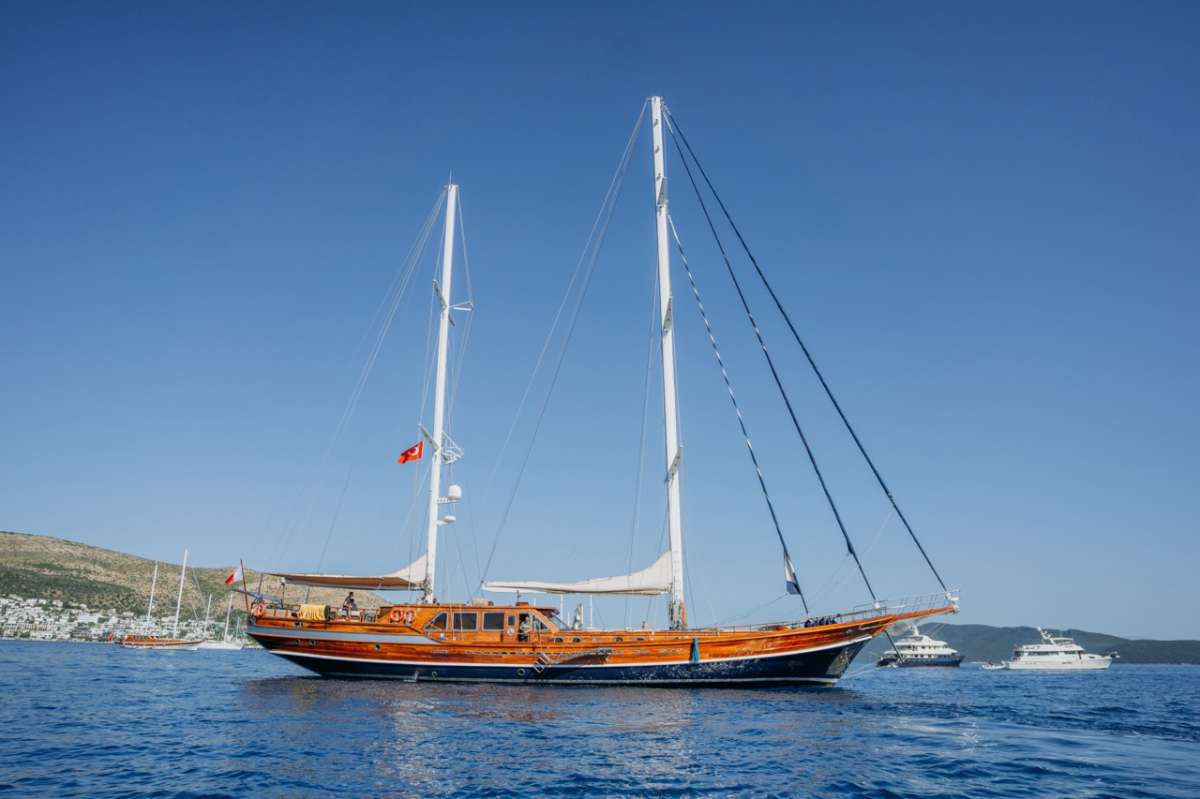 QUEEN OF DATCA
Size: 36.0 m
Sleeps: 10 Guests in 5 cabins
Prices*: €32,300 to €42,000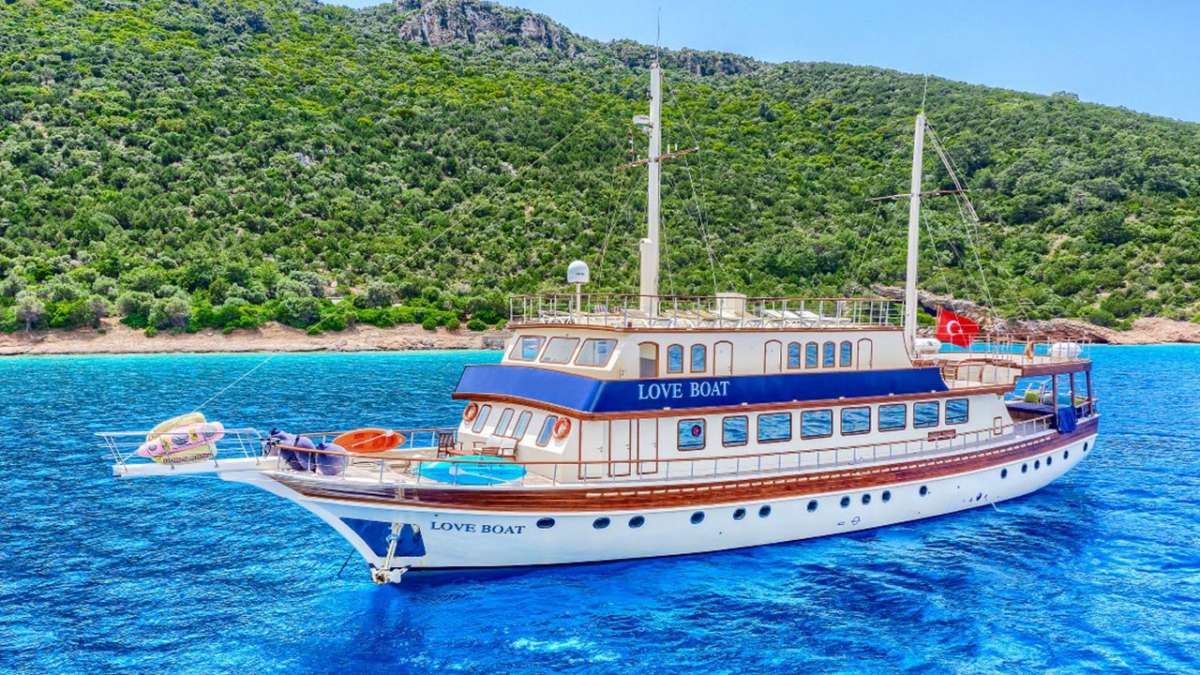 LOVE BOAT
Size: 36.0 m
Sleeps: 36 Guests in 16 cabins
Prices*: €28,500 to €45,000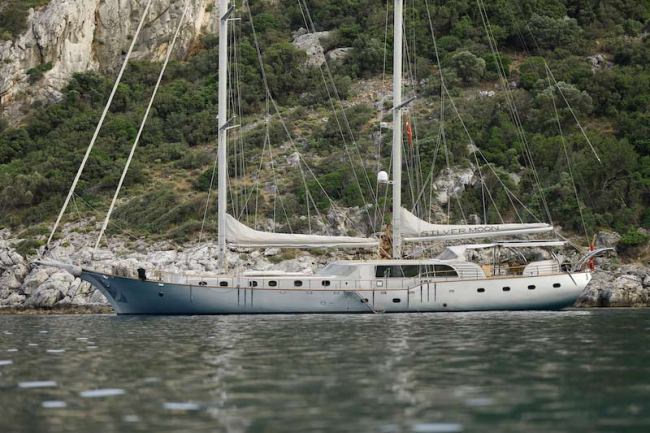 SILVERMOON
Size: 36.0 m
Sleeps: 8 Guests in 4 cabins
Prices*: €30,000 to €35,000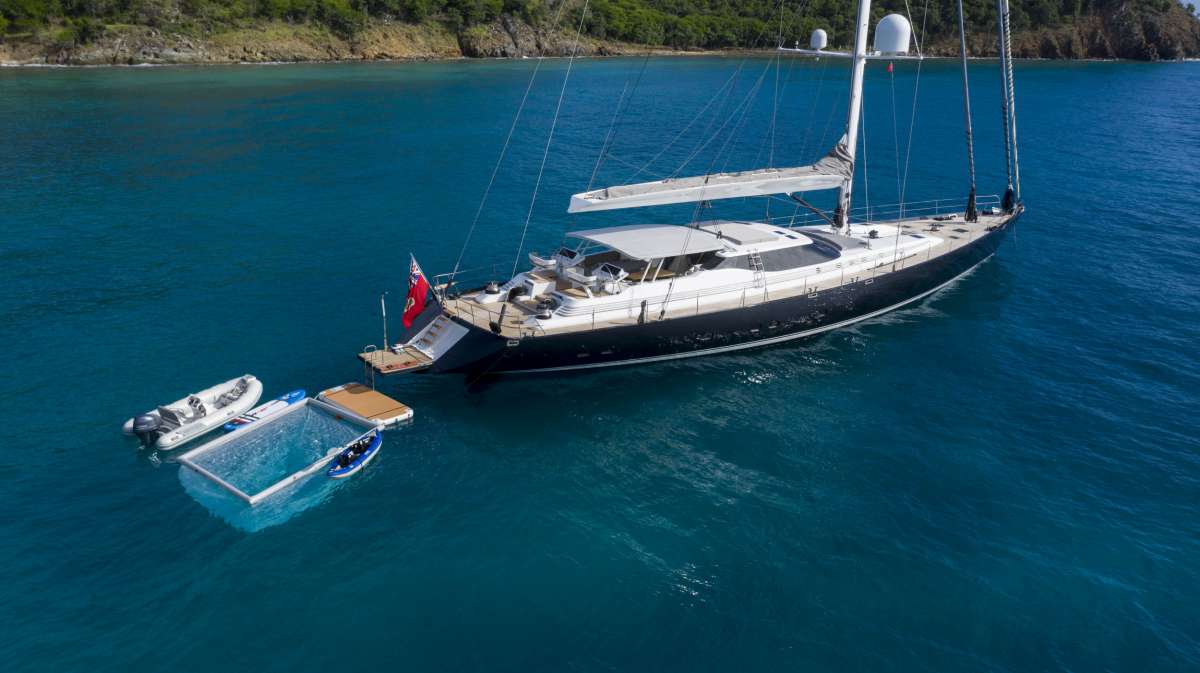 RADIANCE
Size: 121.5 Ft
Sleeps: 8 Guests in 4 cabins
Prices*: $89,500 to $89,500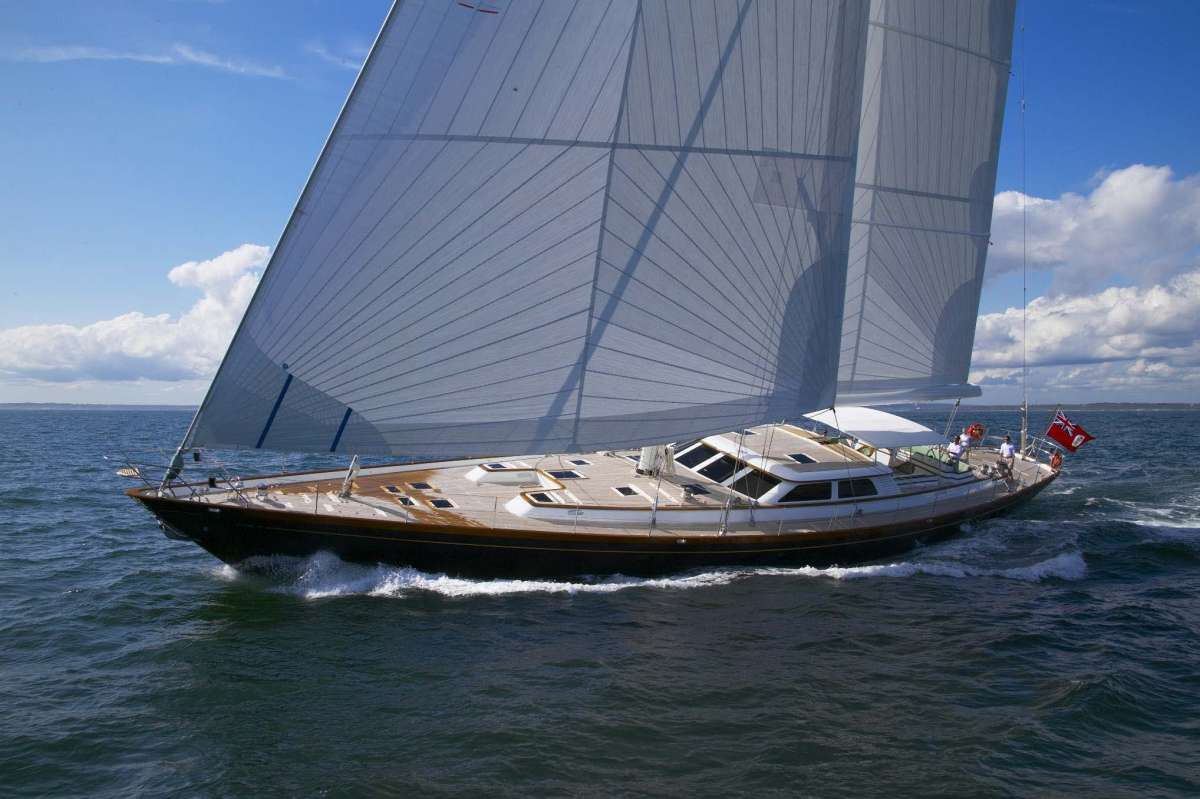 WHISPER
Size: 116.3 Ft
Sleeps: 6 Guests in 3 cabins
Prices*: $65,000 to $70,000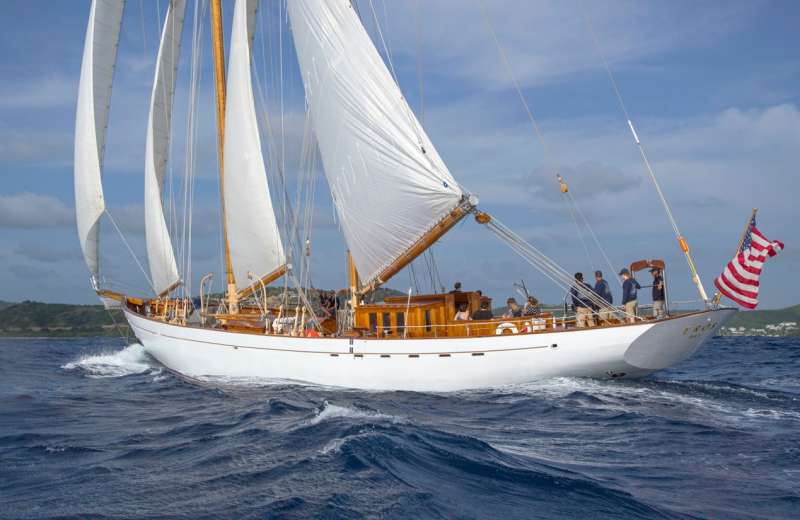 EROS
Size: 115.0 Ft
Sleeps: 8 Guests in 4 cabins
Prices*: $44,000 to $49,000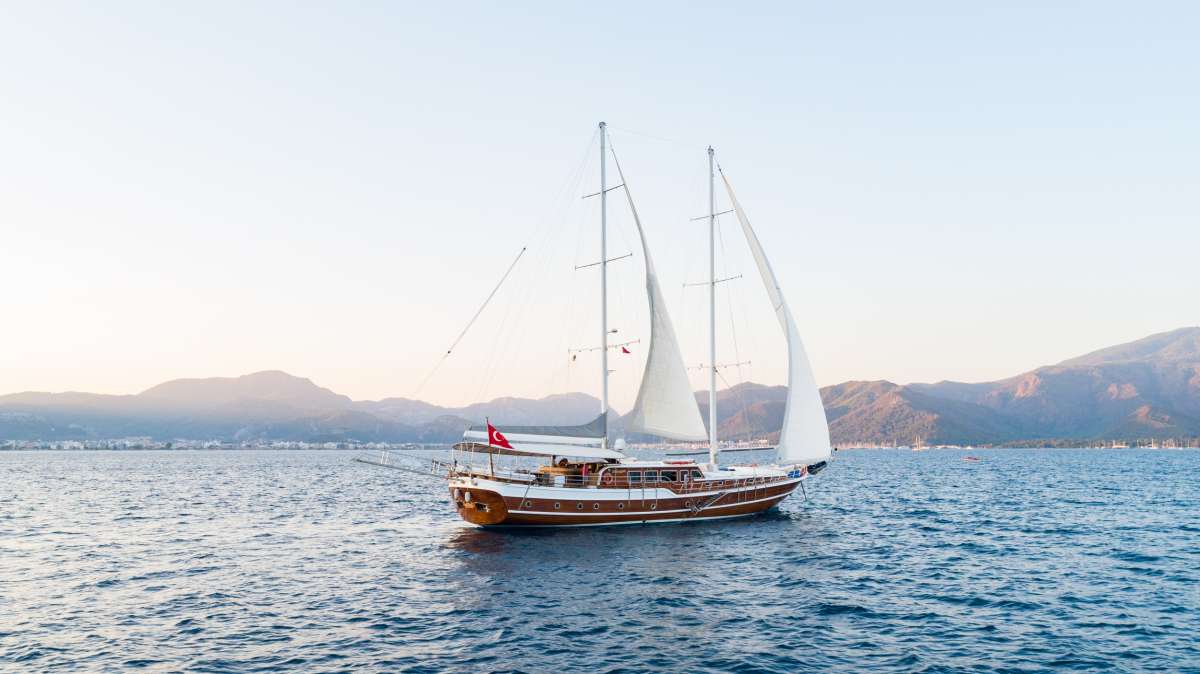 S NUR TAYLAN
Size: 35.0 m
Sleeps: 18 Guests in 8 cabins
Prices*: €21,000 to €32,500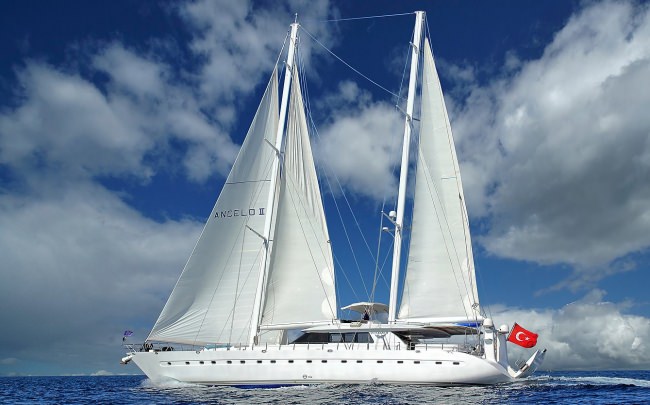 ANGELO II
Size: 35.2 m
Sleeps: 14 Guests in 7 cabins
Prices*: €21,000 to €28,000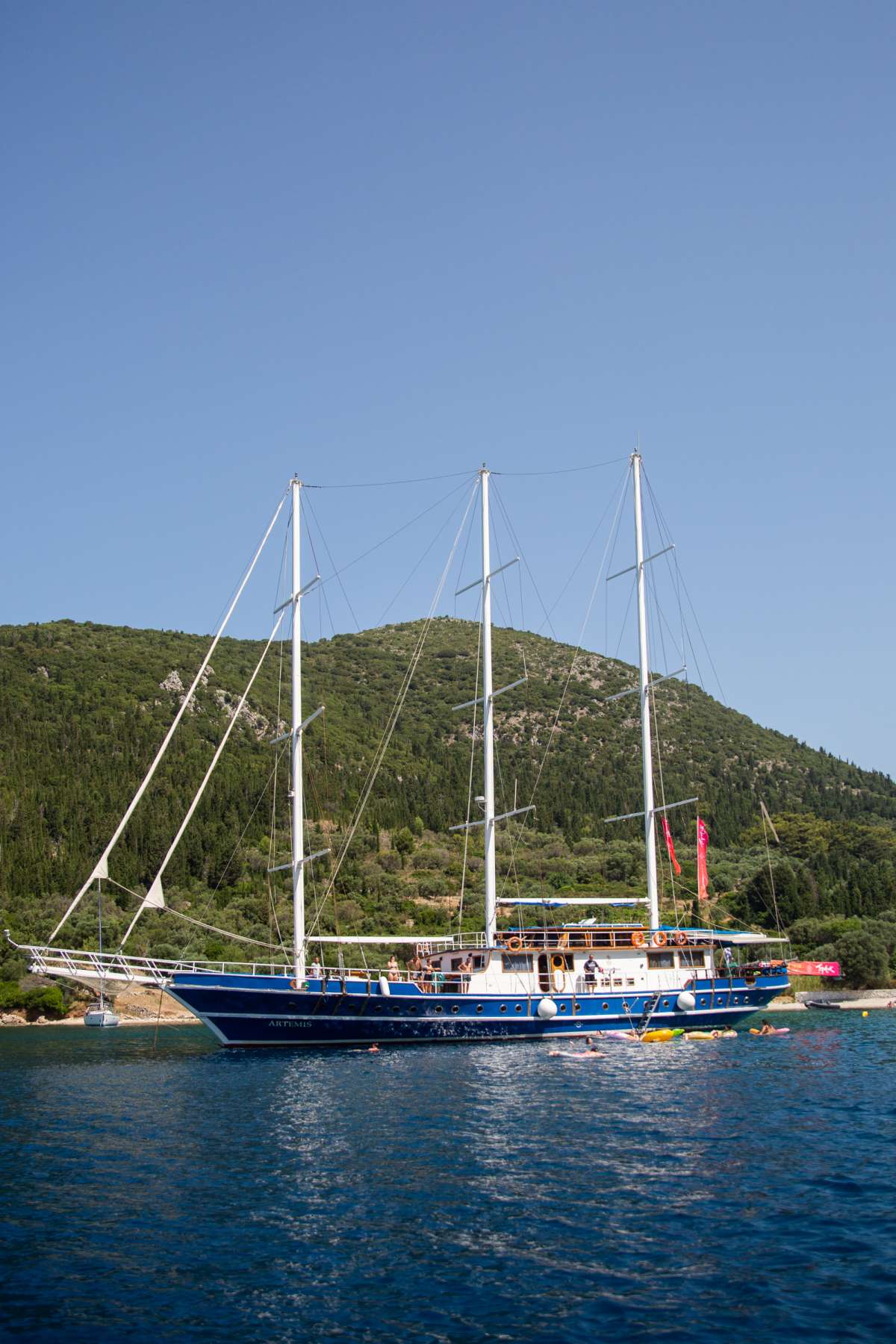 M/S ARTEMIS
Size: 35.0 m
Sleeps: 46 Guests in 6 cabins
Prices*: €17,500 to €21,000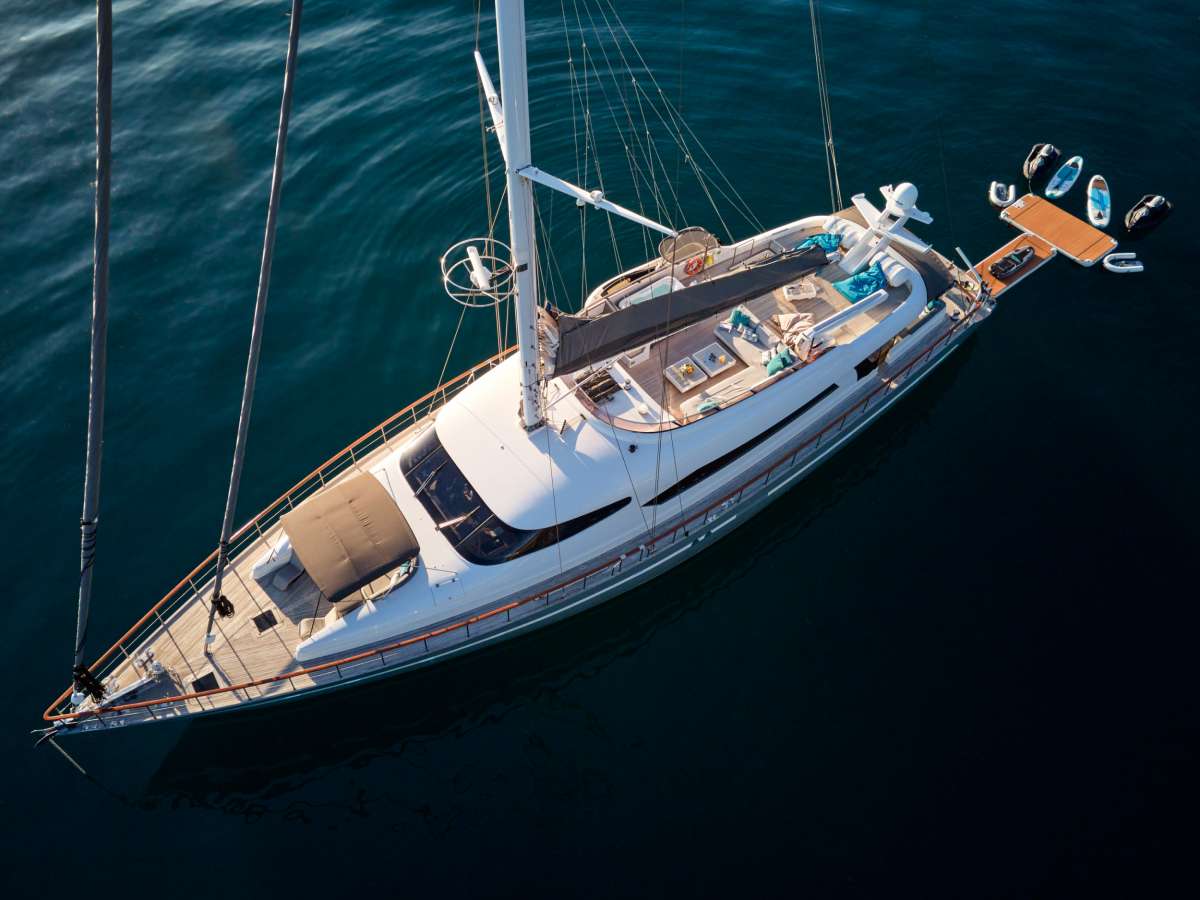 SAN LIMI
Size: 34.8 m
Sleeps: 8 Guests in 4 cabins
Prices*: €35,000 to €45,000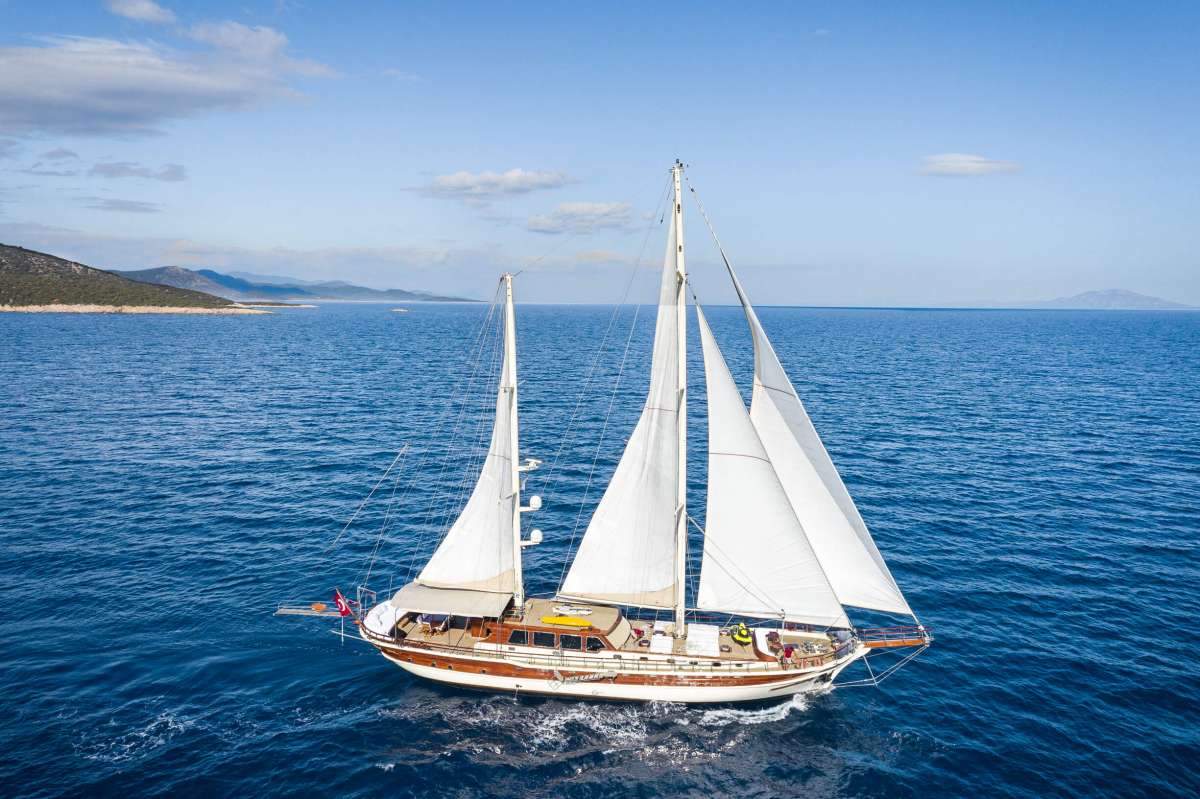 ESTRELLA DE MAR
Size: 34 m
Sleeps: 12 Guests in 5 cabins
Prices*: €18,900 to €28,000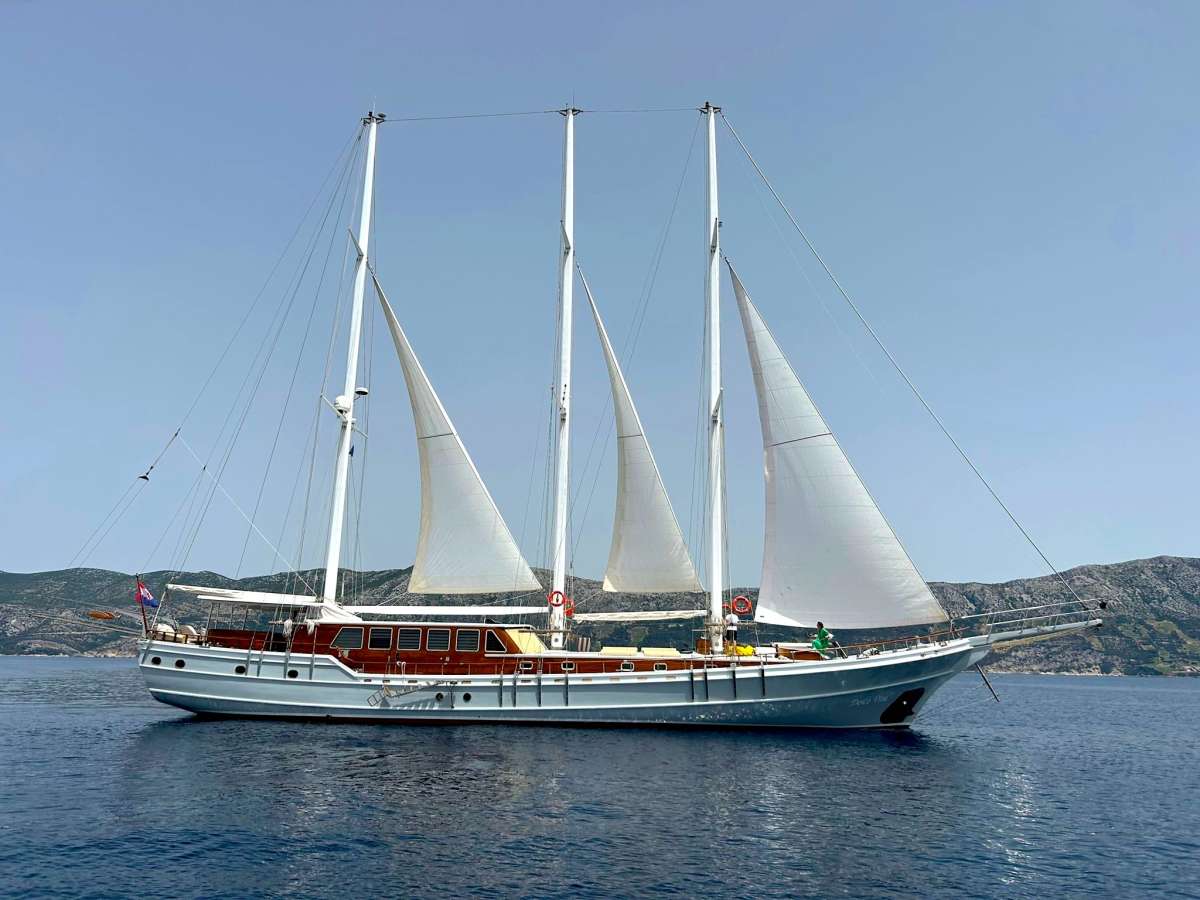 DOLCE VITA
Size: 34.0 m
Sleeps: 10 Guests in 5 cabins
Prices*: €31,000 to €37,000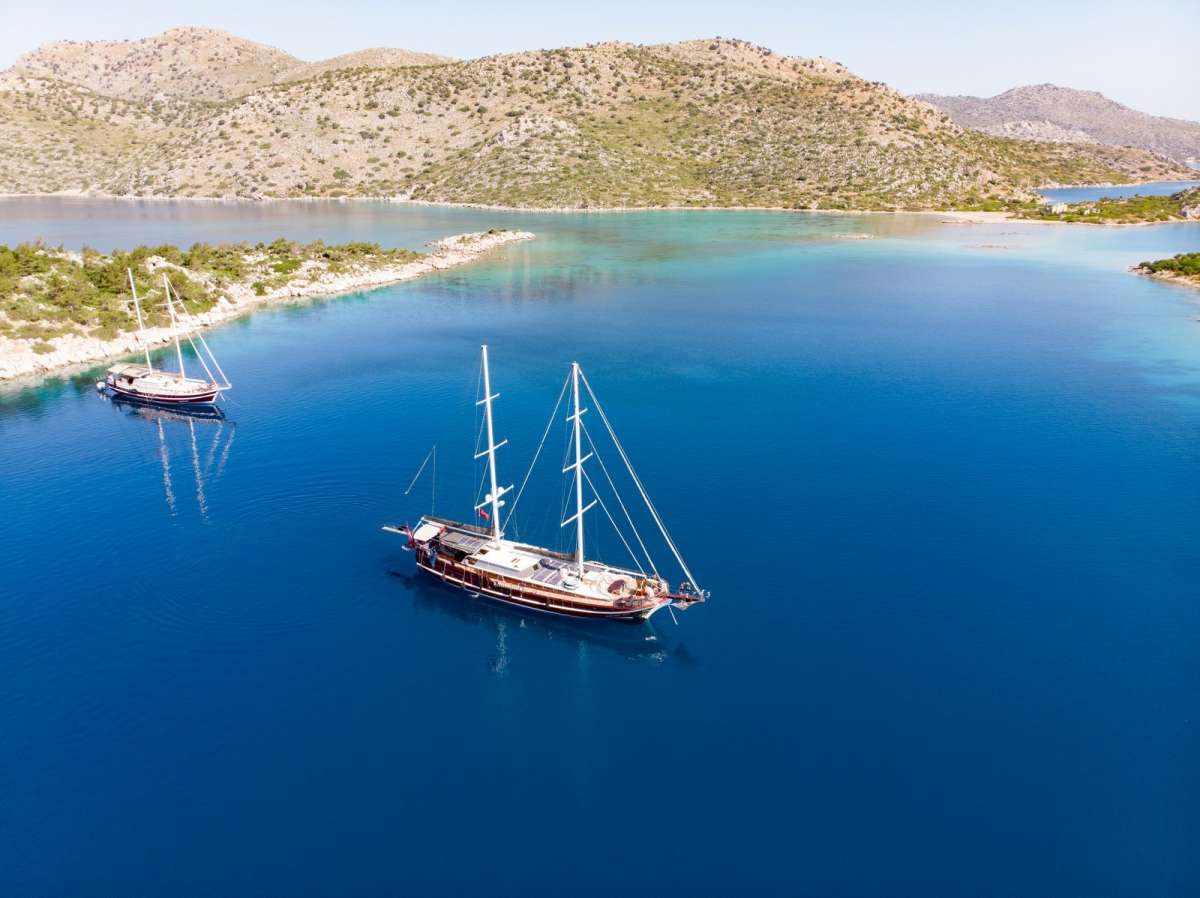 KAPTAN MEHMET BUGRA
Size: 34.0 m
Sleeps: 18 Guests in 8 cabins
Prices*: €26,250 to €40,250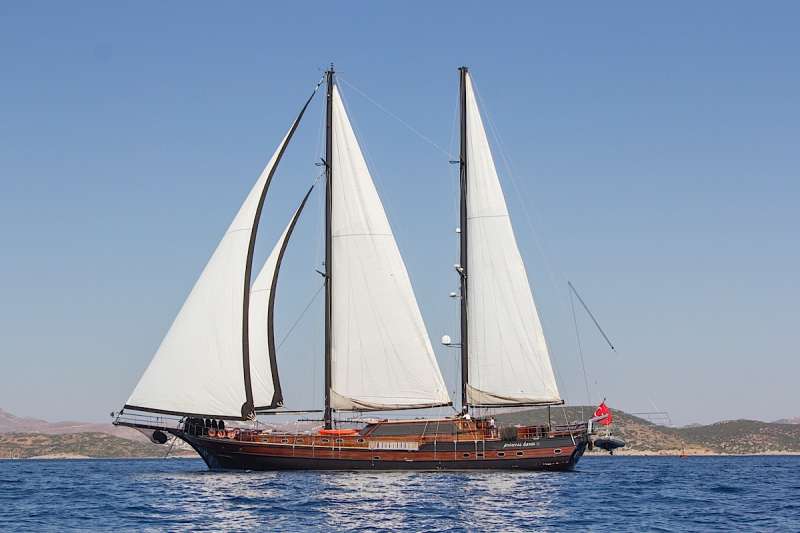 PRINCESS KARIA II
Size: 34.0 m
Sleeps: 12 Guests in 6 cabins
Prices*: €28,000 to €35,000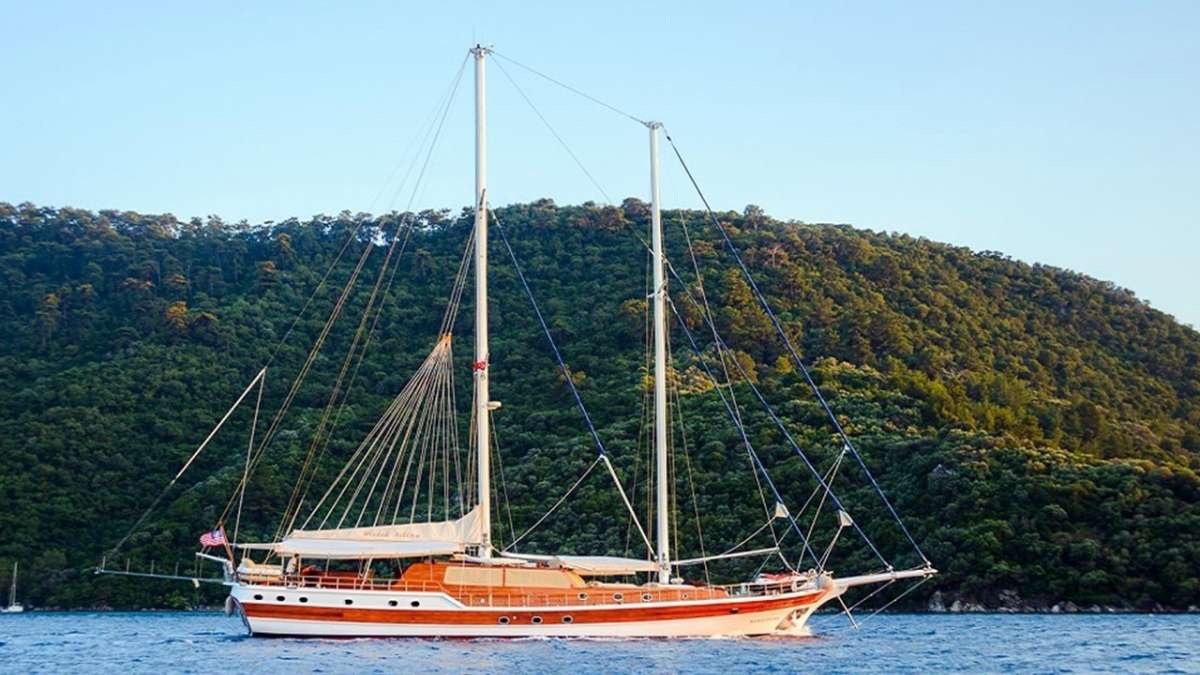 WICKED FELINA
Size: 34.0 m
Sleeps: 10 Guests in 5 cabins
Prices*: €17,500 to €23,800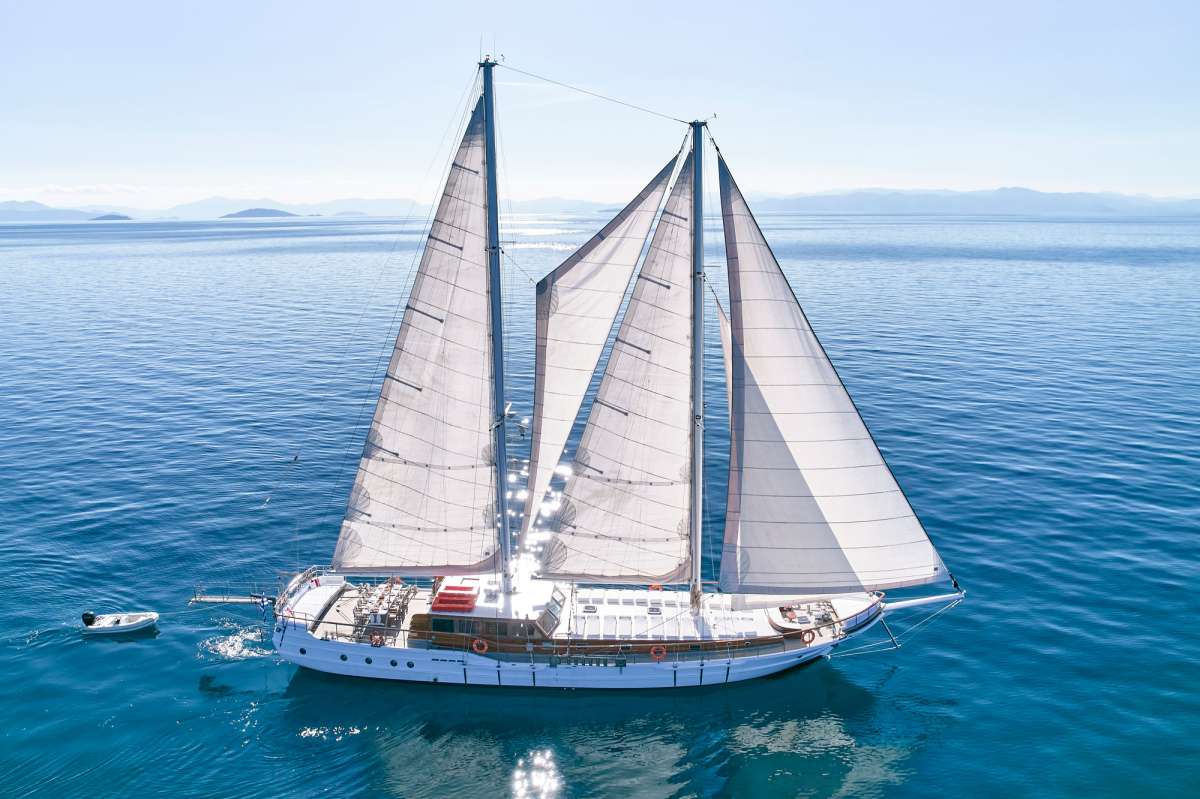 WHITE PEARL
Size: 34.0 m
Sleeps: 12 Guests in 6 cabins
Prices*: €37,800 to €42,000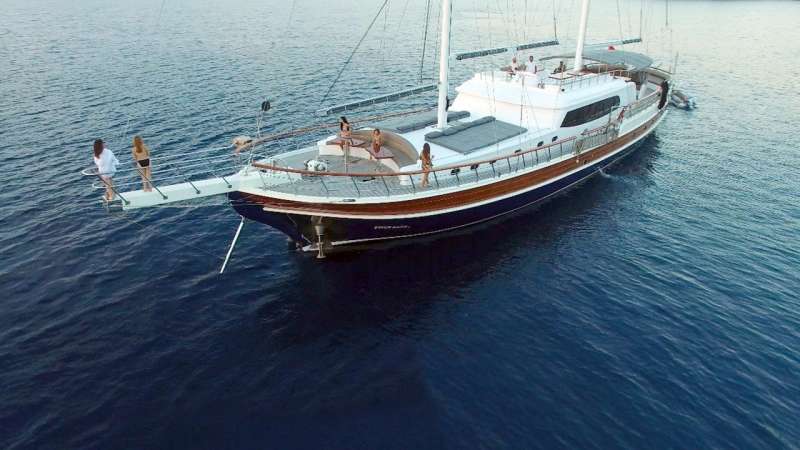 SADIYE HANIM
Size: 34.0 m
Sleeps: 12 Guests in 6 cabins
Prices*: €18,000 to €21,000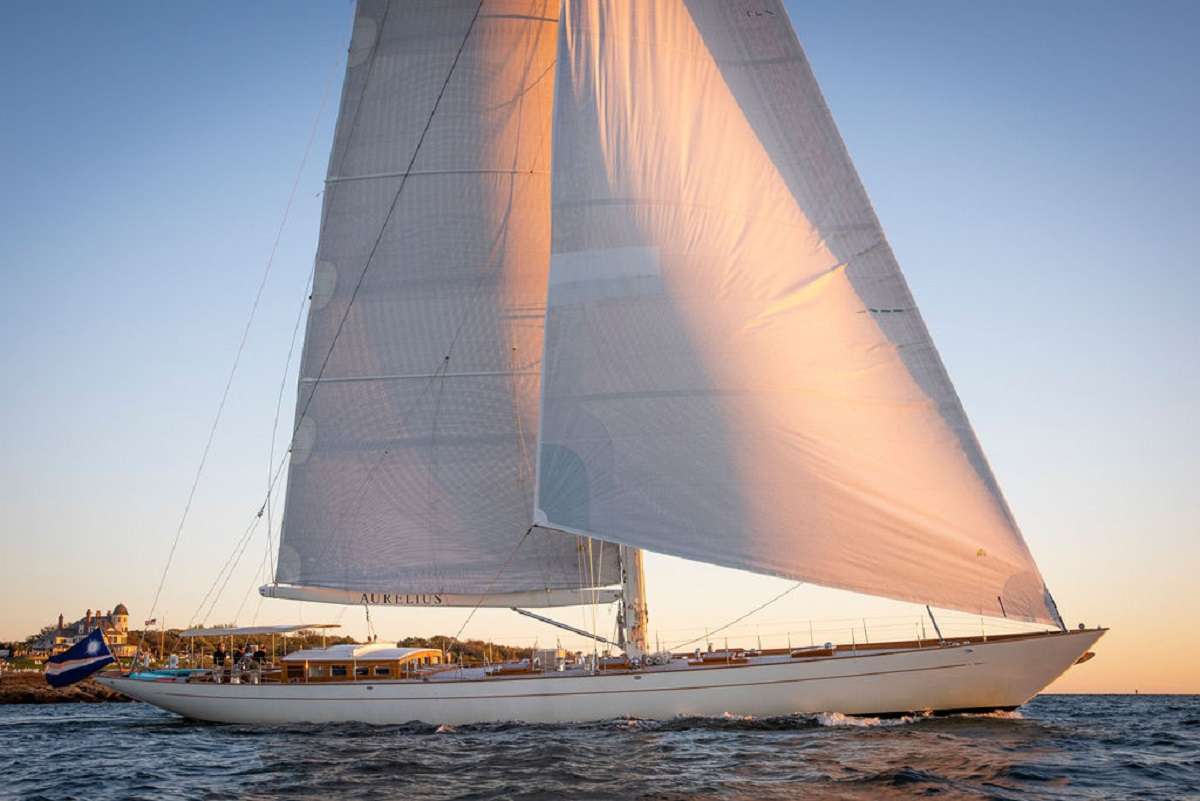 AURELIUS III
Size: 111.0 Ft
Sleeps: 6 Guests in 3 cabins
Prices*: $64,000 to $64,000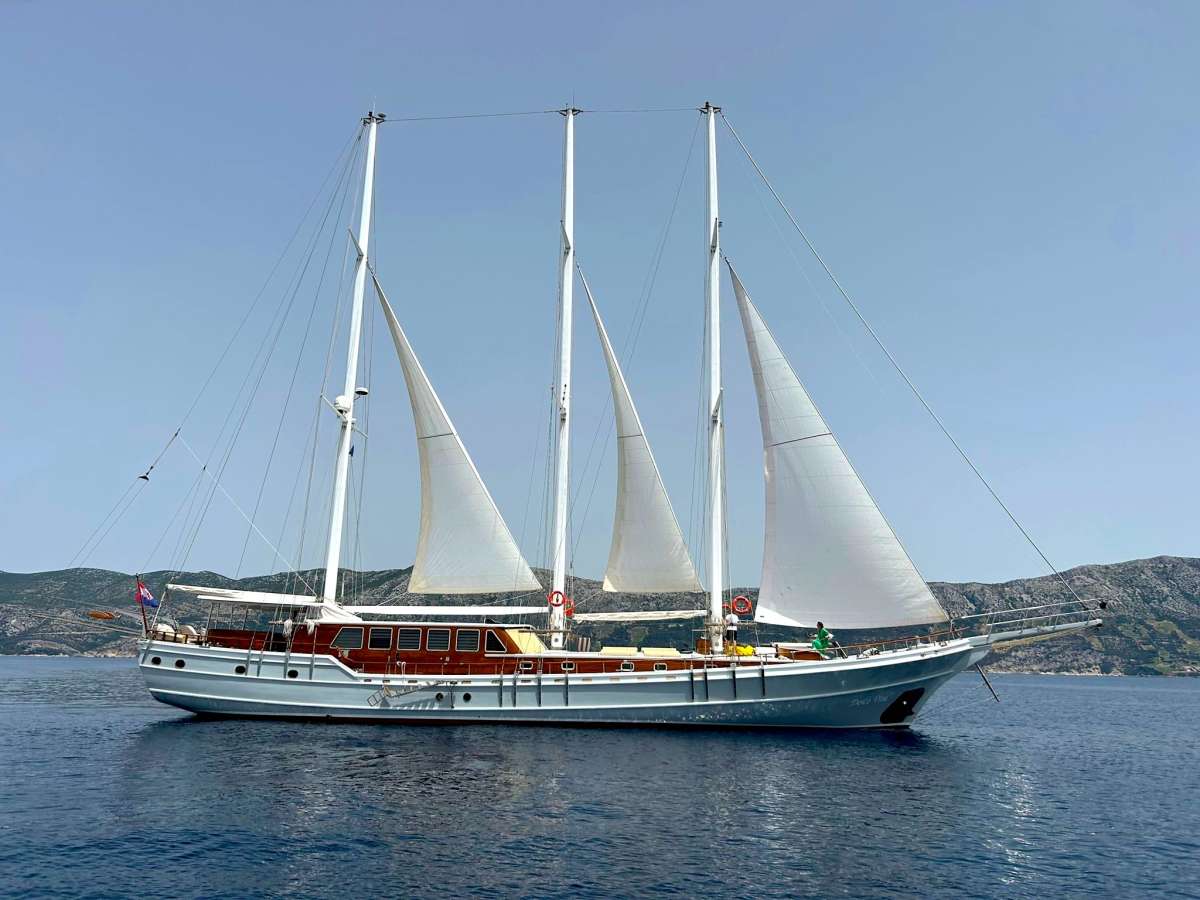 DOLCE VITA
Size: 34.0 m
Sleeps: 10 Guests in 5 cabins
Prices*: €31,000 to €37,000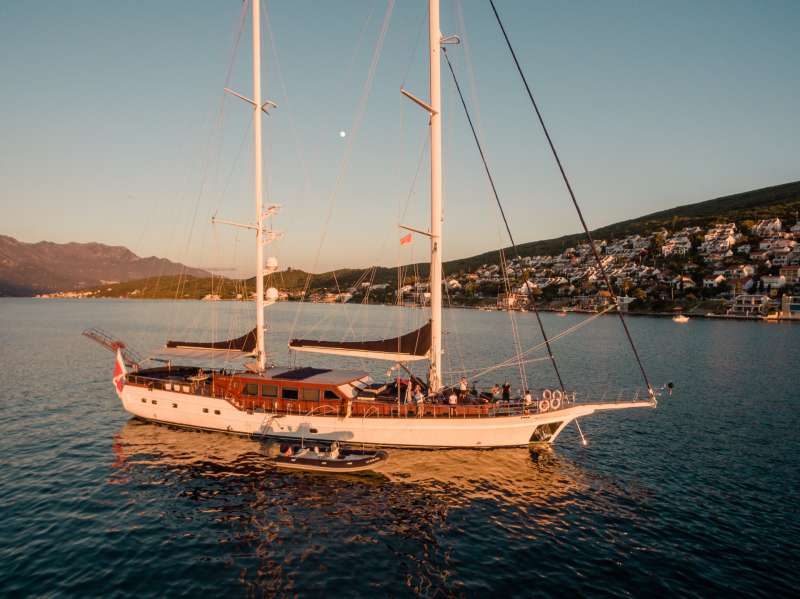 VOYAGE
Size: 33.6 m
Sleeps: 10 Guests in 5 cabins
Prices*: €47,000 to €55,000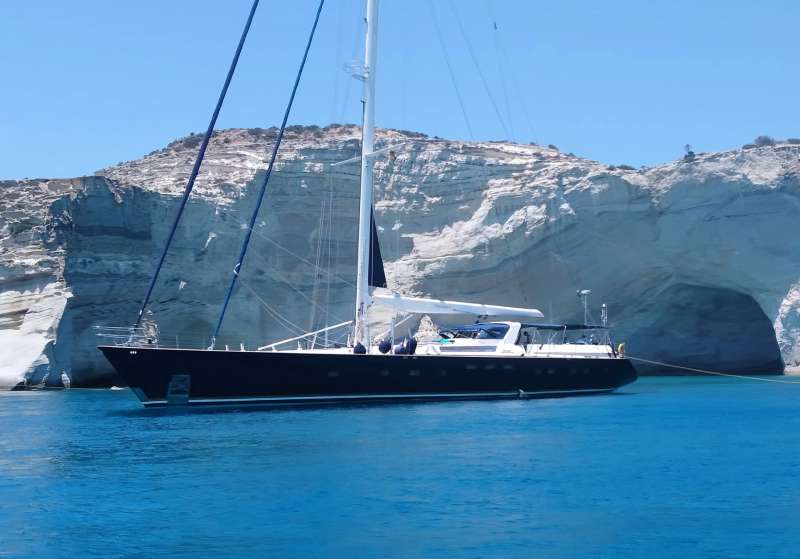 AMADEUS
Size: 110 Ft
Sleeps: 12 Guests in 5 cabins
Prices*: €35,000 to €39,500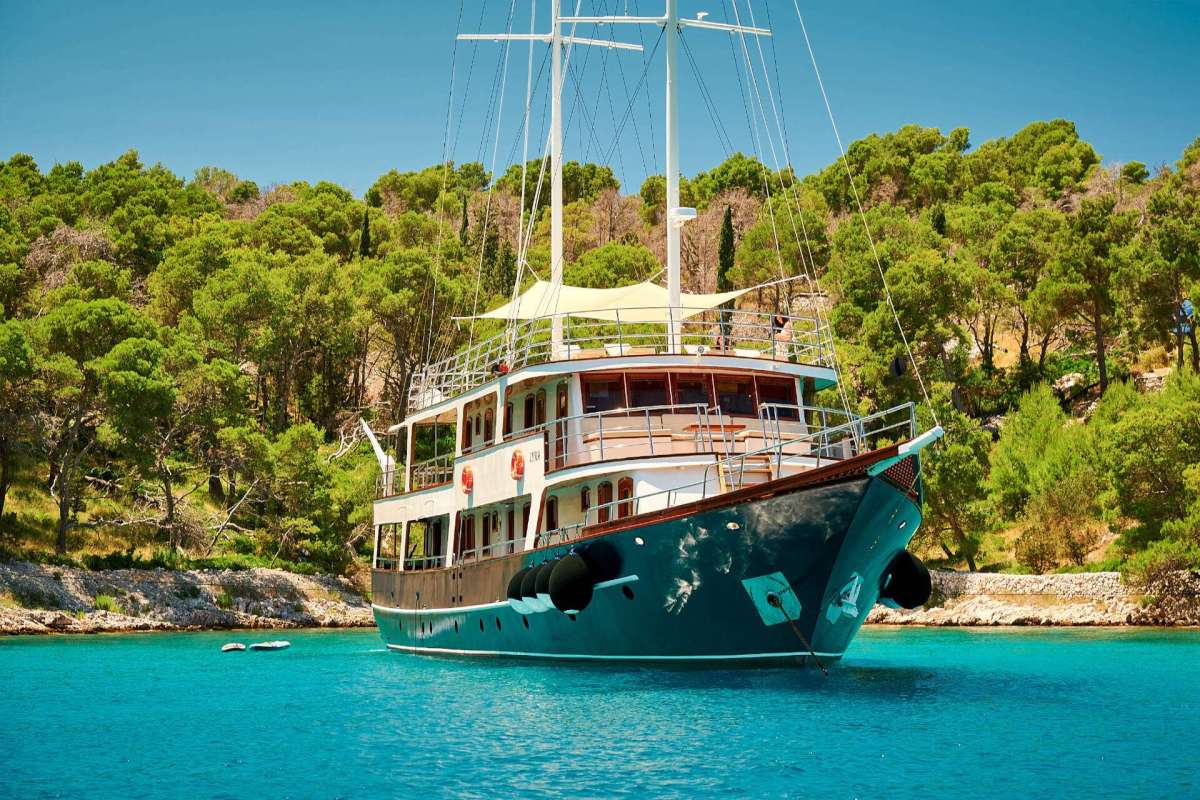 LUNA
Size: 33.0 m
Sleeps: 16 Guests in 8 cabins
Prices*: €23,540 to €29,480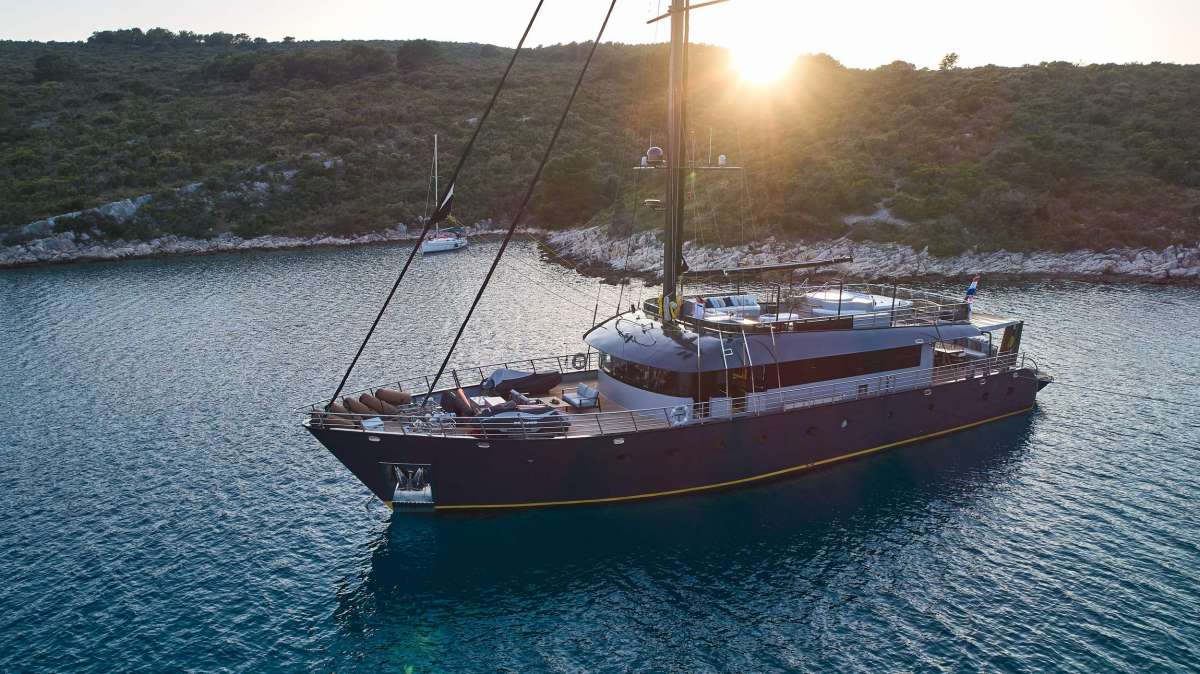 RARA AVIS
Size: 33.0 m
Sleeps: 12 Guests in 6 cabins
Prices*: €55,000 to €55,000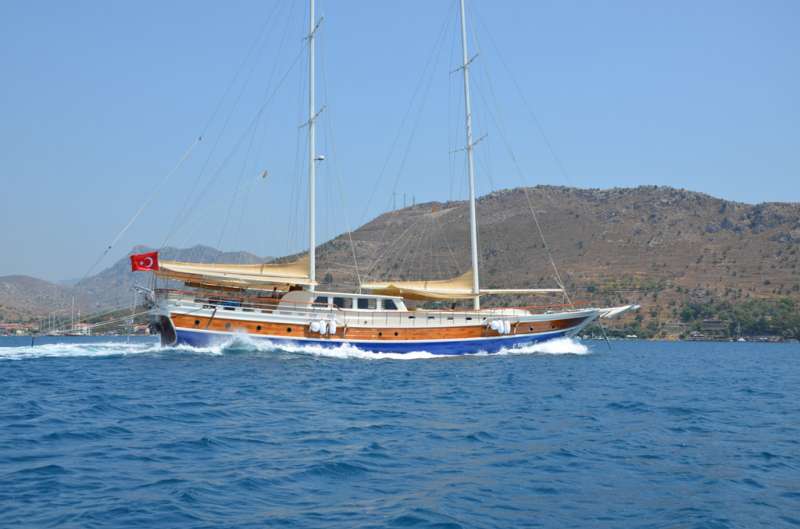 C. TANER 2
Size: 33.0 m
Sleeps: 16 Guests in 8 cabins
Prices*: €9,800 to €16,800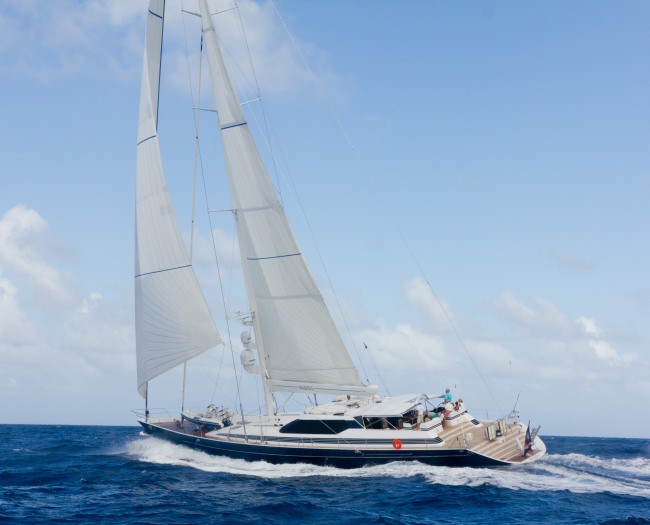 SEAQUELL
Size: 108.0 Ft
Sleeps: 6 Guests in 3 cabins
Prices*: $TBC to $TBC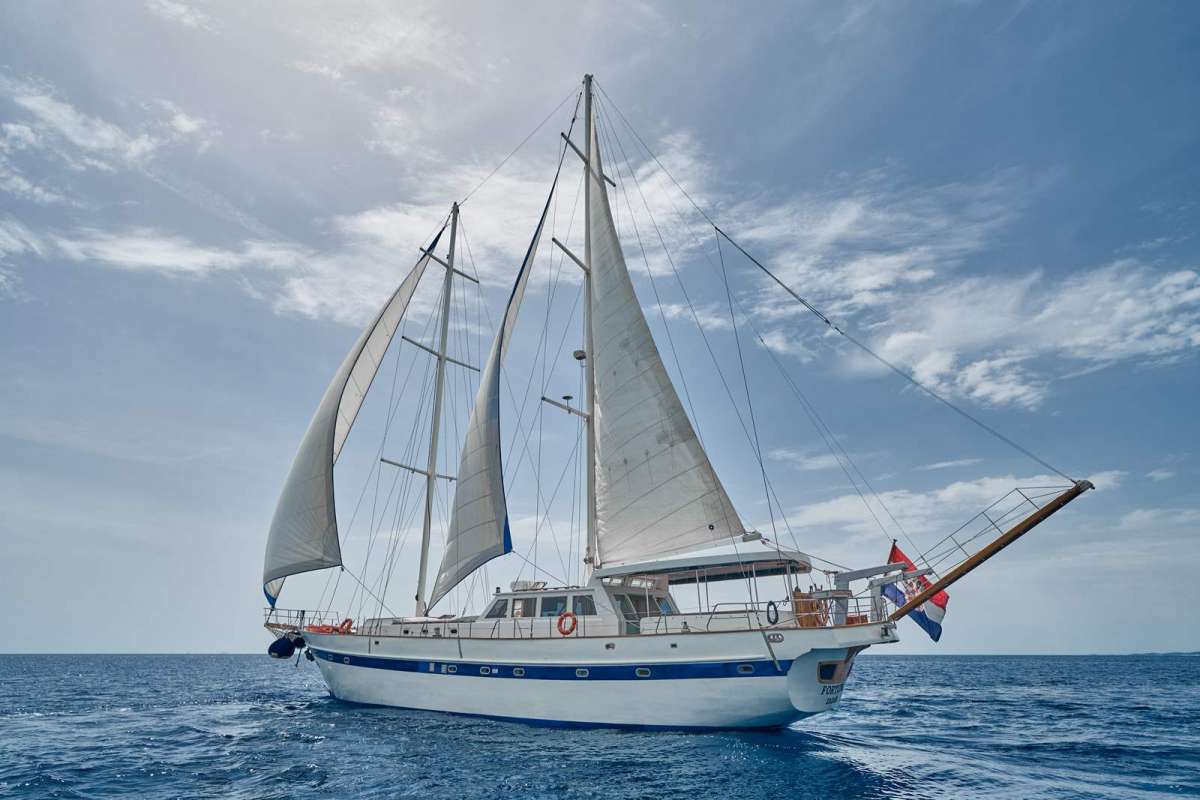 FORTUNA
Size: 33.0 m
Sleeps: 12 Guests in 7 cabins
Prices*: €16,500 to €22,000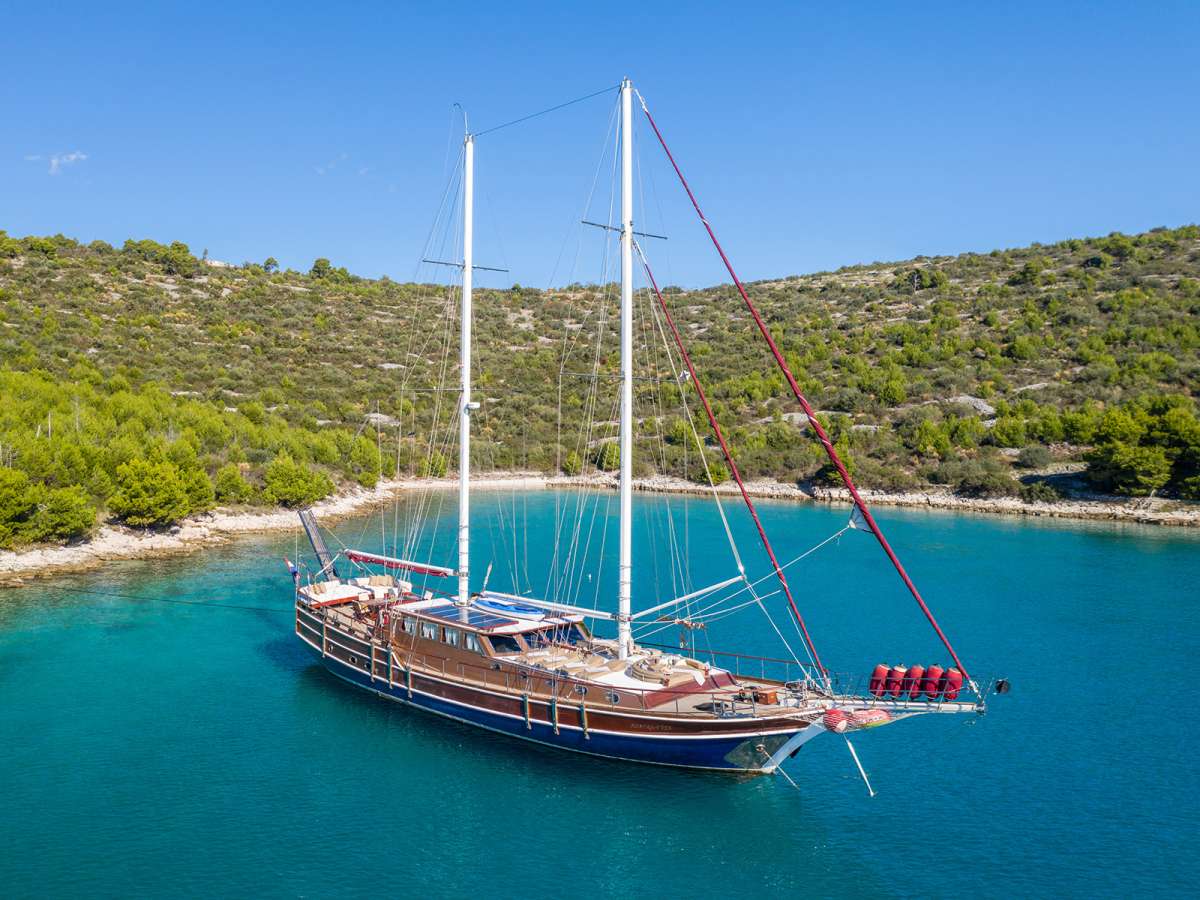 GULET NOSTRA VITA
Size: 32.5 m
Sleeps: 10 Guests in 5 cabins
Prices*: €20,000 to €24,500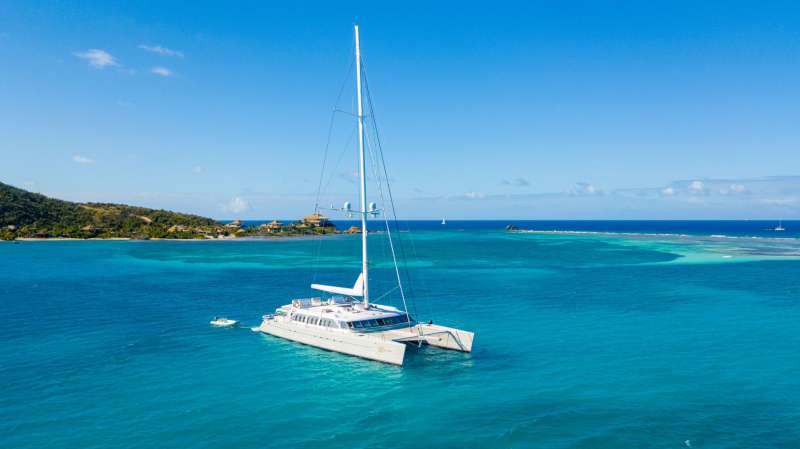 BELLA VITA
Size: 105.0 Ft
Sleeps: 10 Guests in 5 cabins
Prices*: $70,000 to $80,000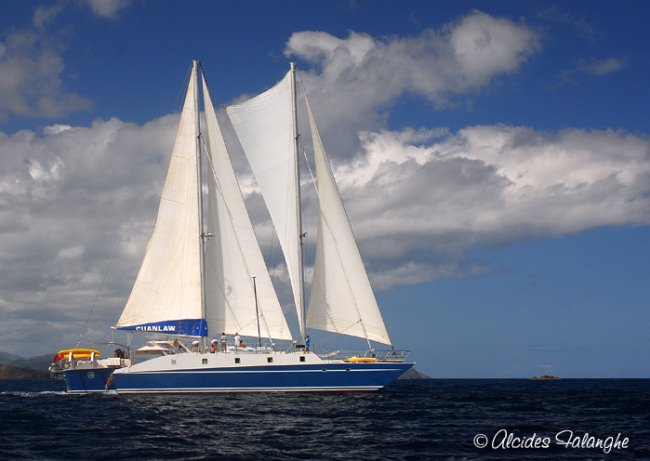 CUAN LAW
Size: 105 Ft
Sleeps: 20 Guests in 10 cabins
Prices*: $56,110 to $61,740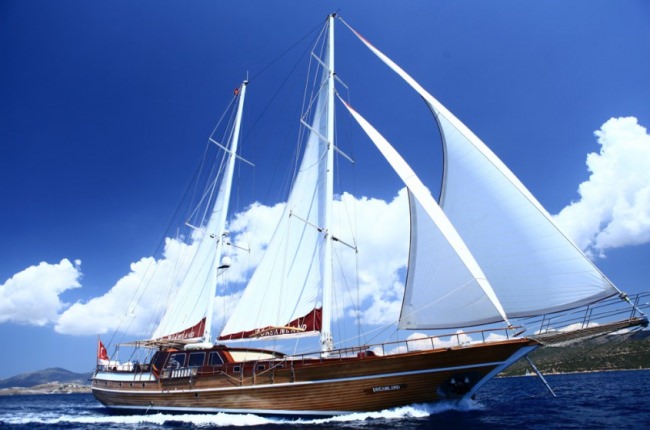 DREAMLAND
Size: 32.0 m
Sleeps: 12 Guests in 6 cabins
Prices*: €12,500 to €23,125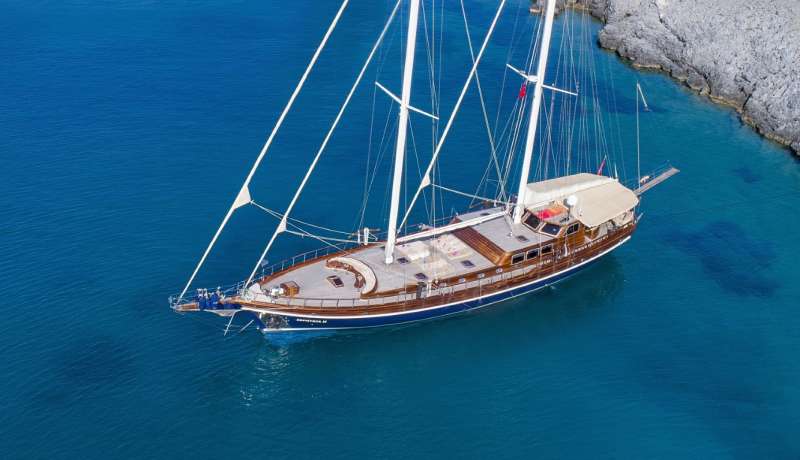 ZEPHYRIA II
Size: 32.0 m
Sleeps: 12 Guests in 6 cabins
Prices*: €24,500 to €31,500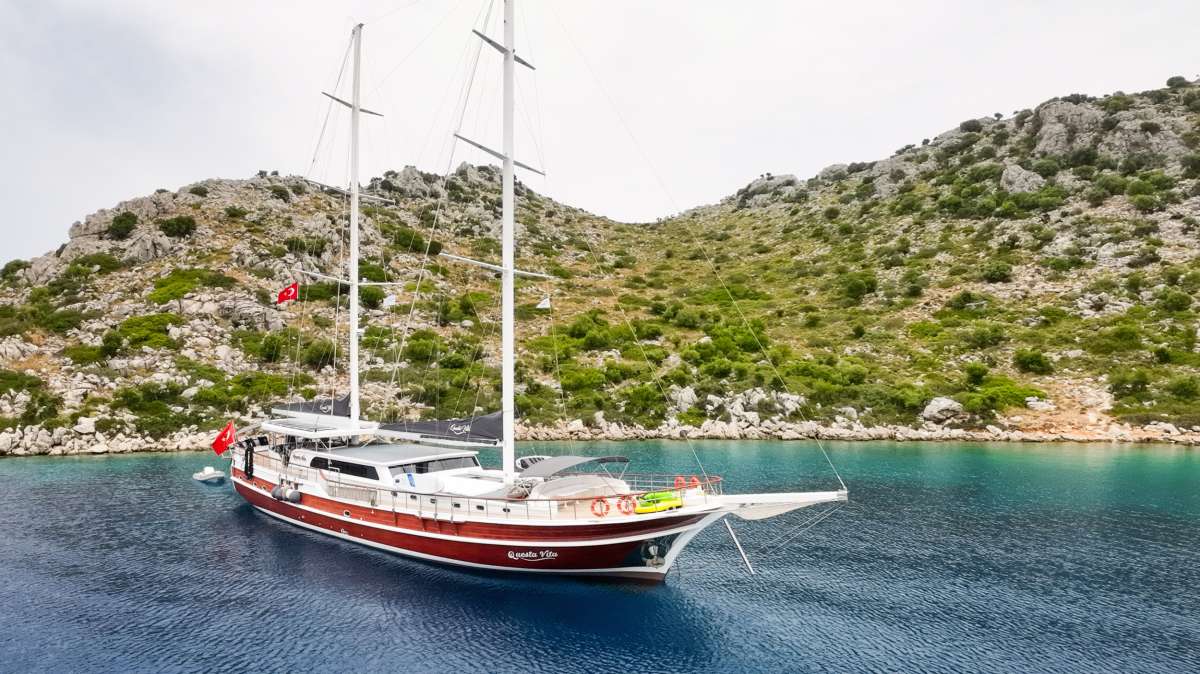 QUESTA VITA
Size: 32.0 m
Sleeps: 12 Guests in 6 cabins
Prices*: €17,500 to €25,000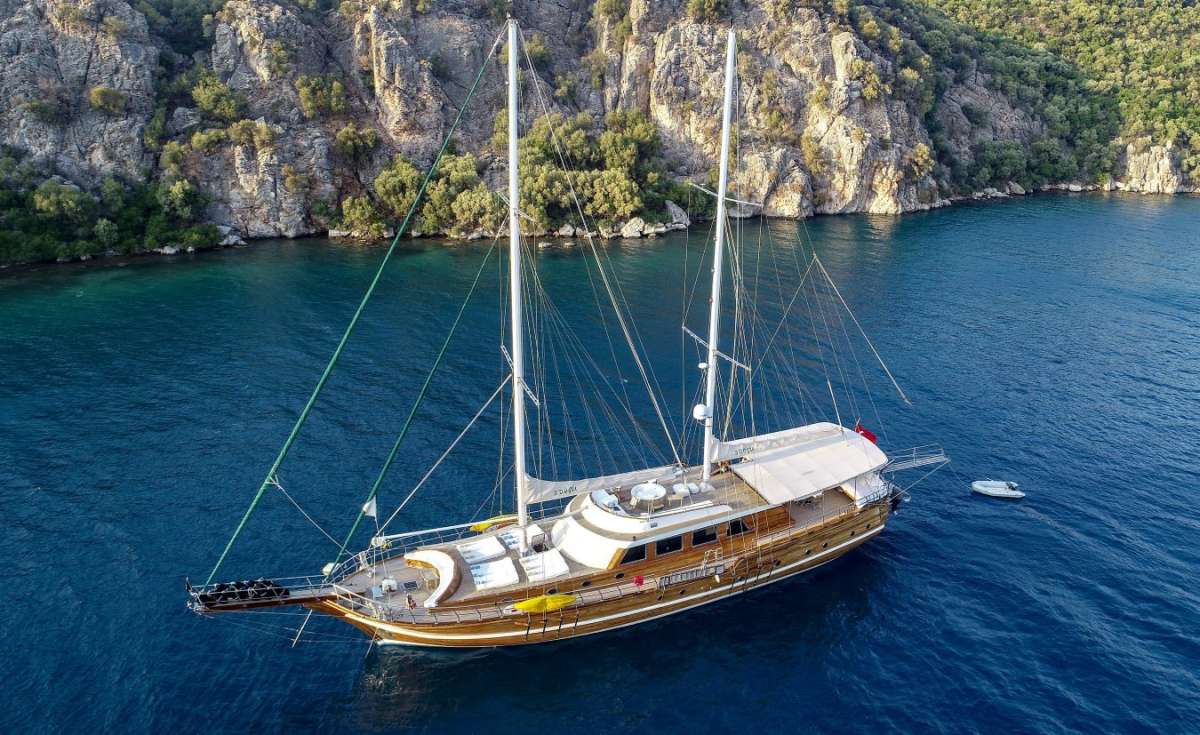 S DOGU
Size: 32.0 m
Sleeps: 12 Guests in 6 cabins
Prices*: €21,000 to €24,500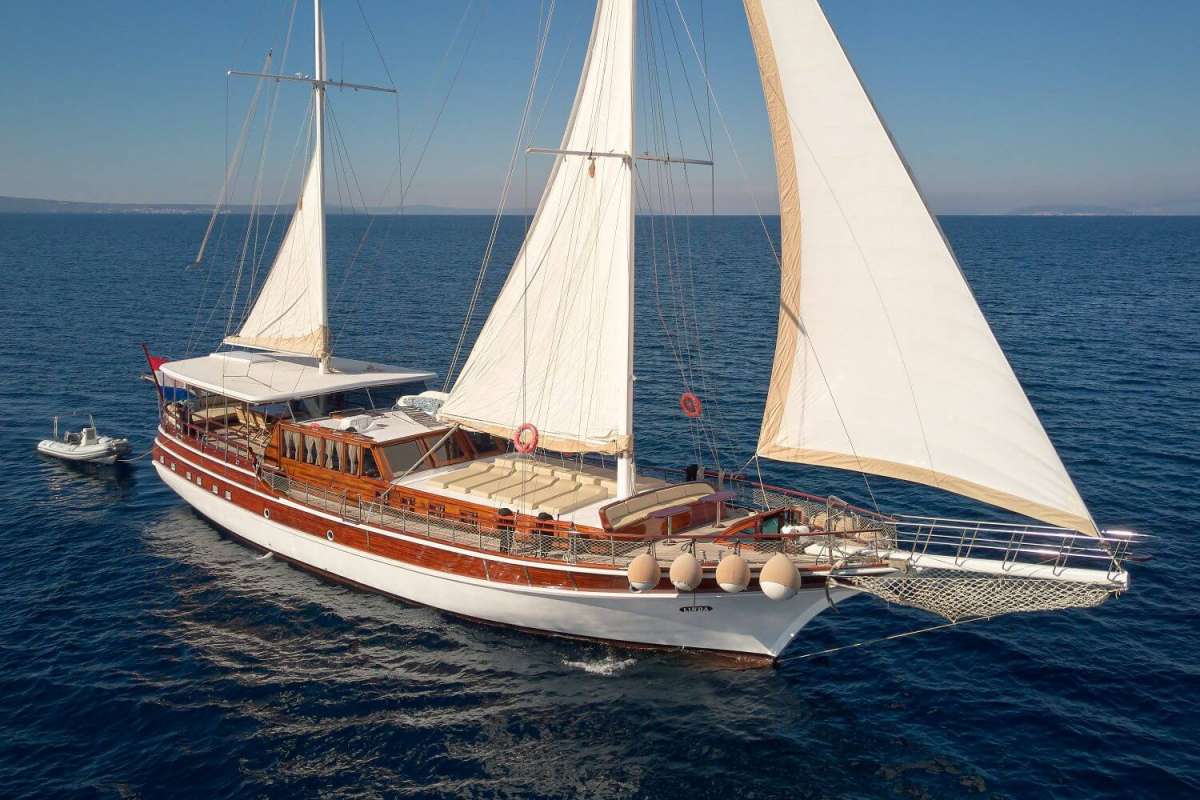 GULET LINDA
Size: 32.0 m
Sleeps: 14 Guests in 7 cabins
Prices*: €16,000 to €22,000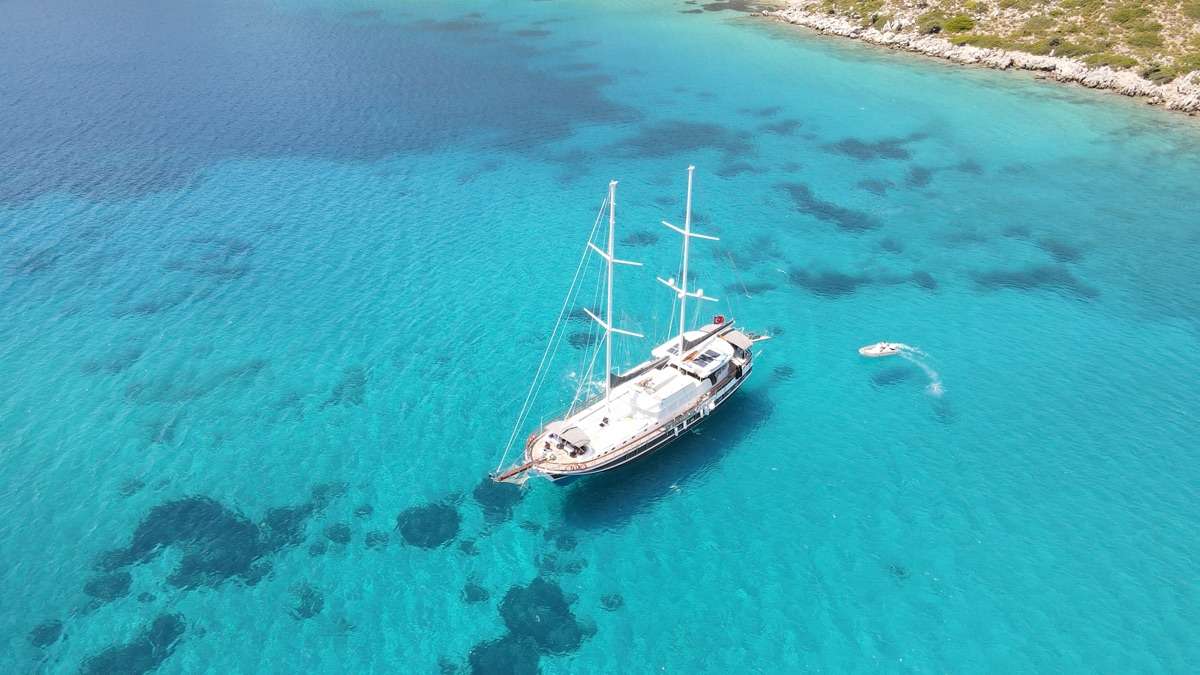 PRENSES ESILA
Size: 32.0 m
Sleeps: 12 Guests in 6 cabins
Prices*: €14,000 to €24,500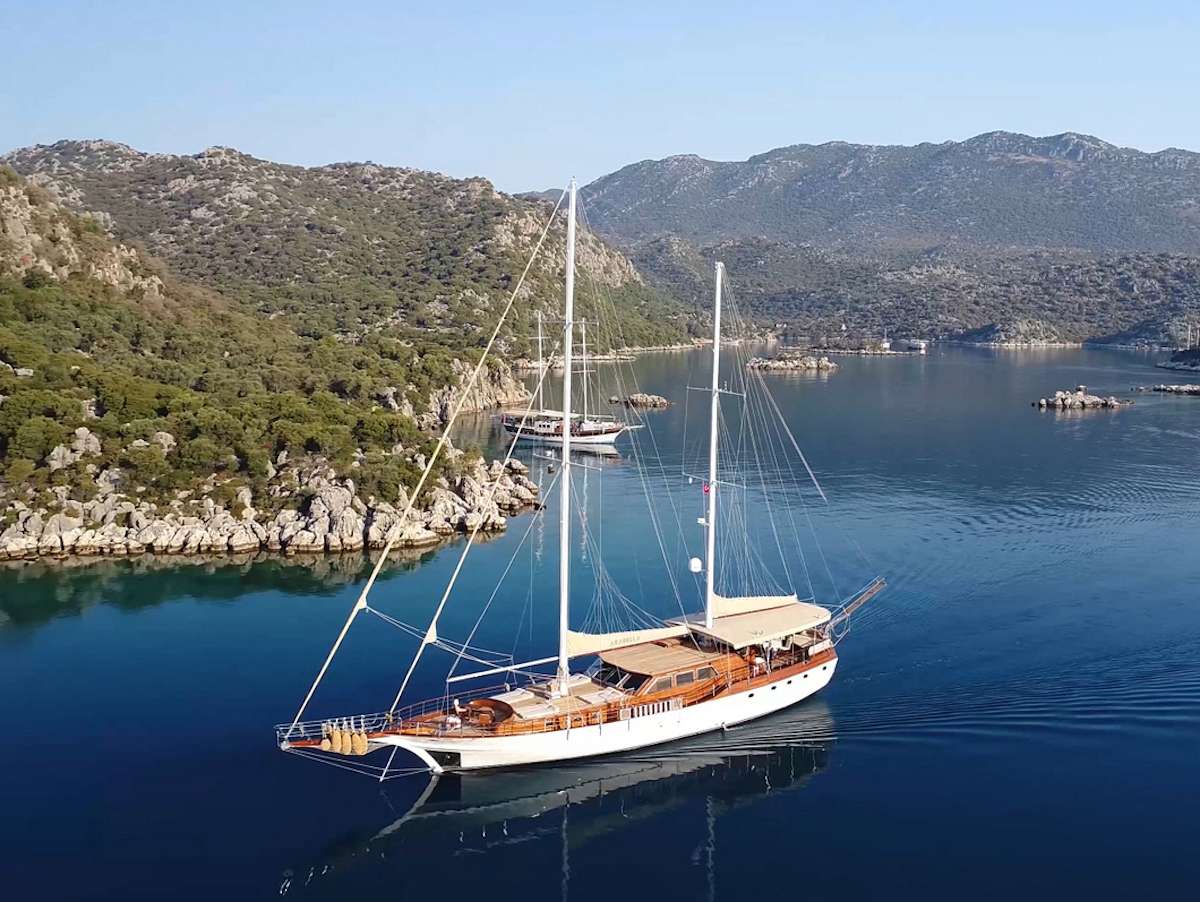 ARABELLA
Size: 32.0 m
Sleeps: 8 Guests in 4 cabins
Prices*: €17,500 to €28,000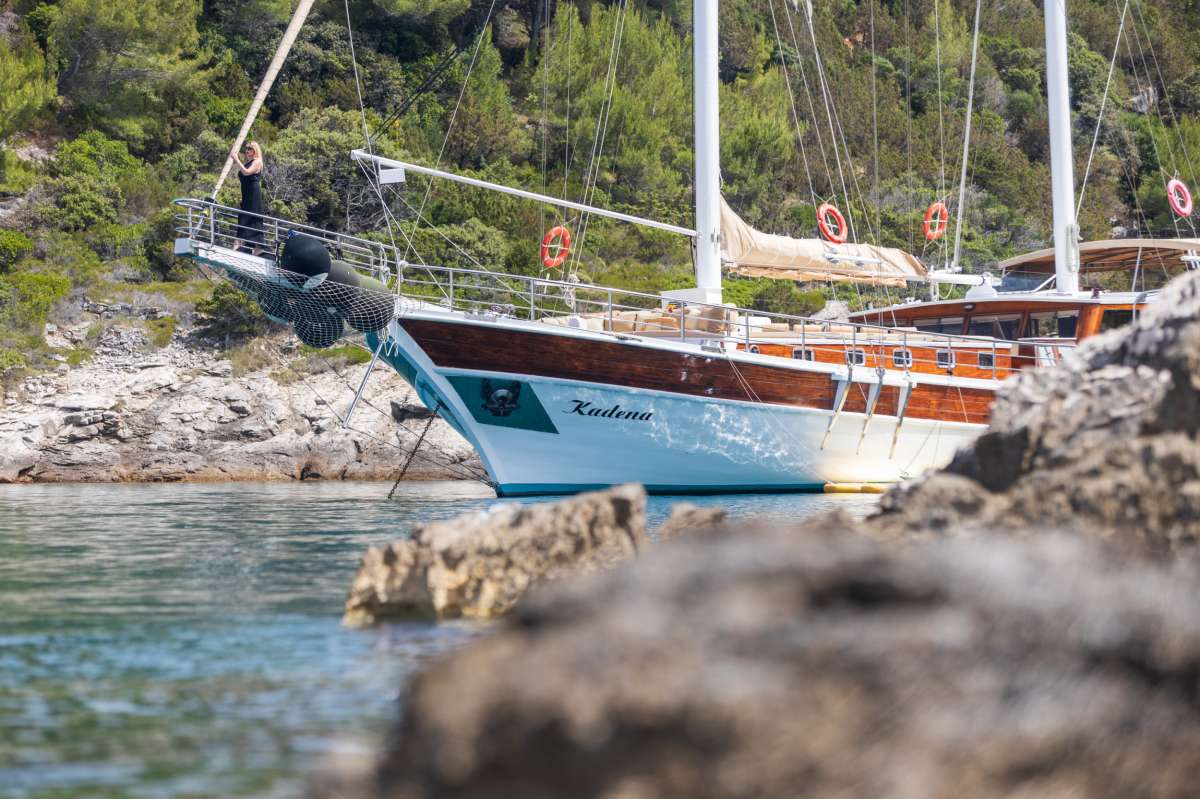 KADENA
Size: 32.0 m
Sleeps: 12 Guests in 6 cabins
Prices*: €20,300 to €24,500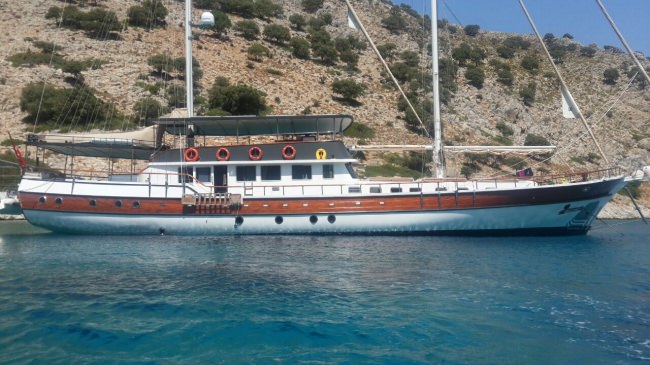 OGUZBEY
Size: 32.0 m
Sleeps: 22 Guests in 8 cabins
Prices*: €18,900 to €26,600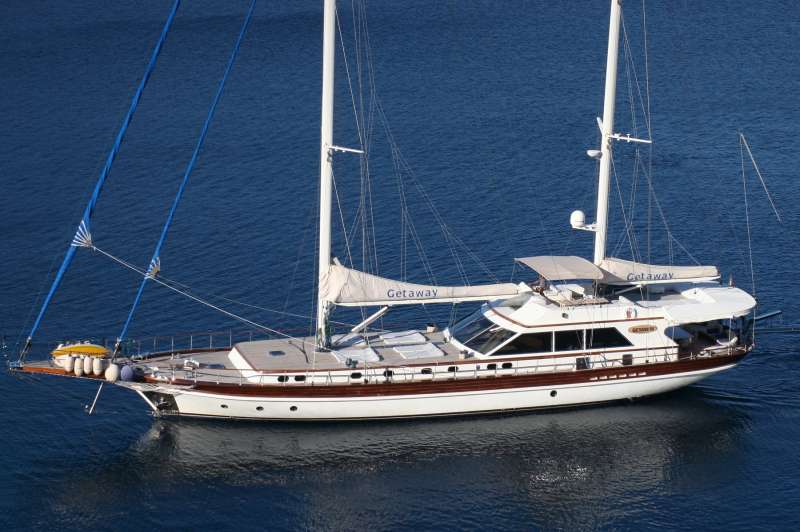 GETAWAY
Size: 31.3 m
Sleeps: 8 Guests in 8 cabins
Prices*: €21,000 to €33,250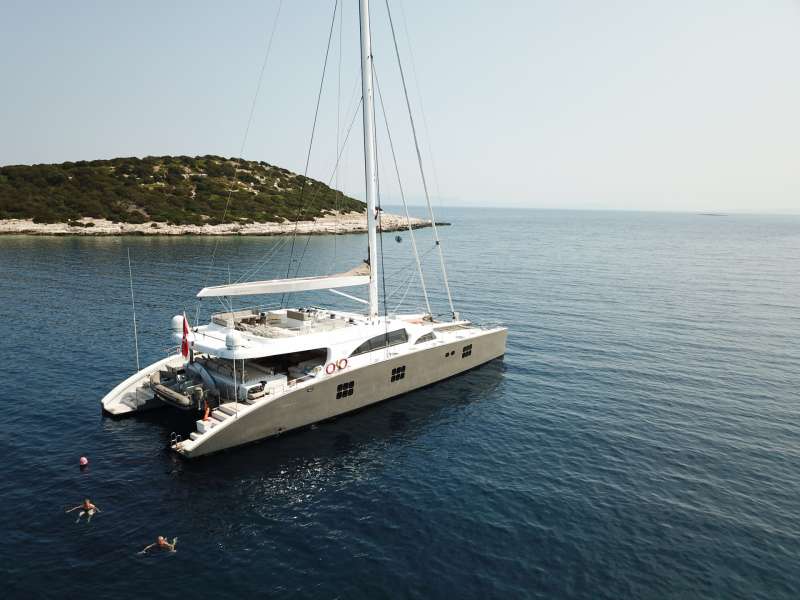 IPHARRA
Size: 102.0 Ft
Sleeps: 10 Guests in 5 cabins
Prices*: €68,000 to €90,000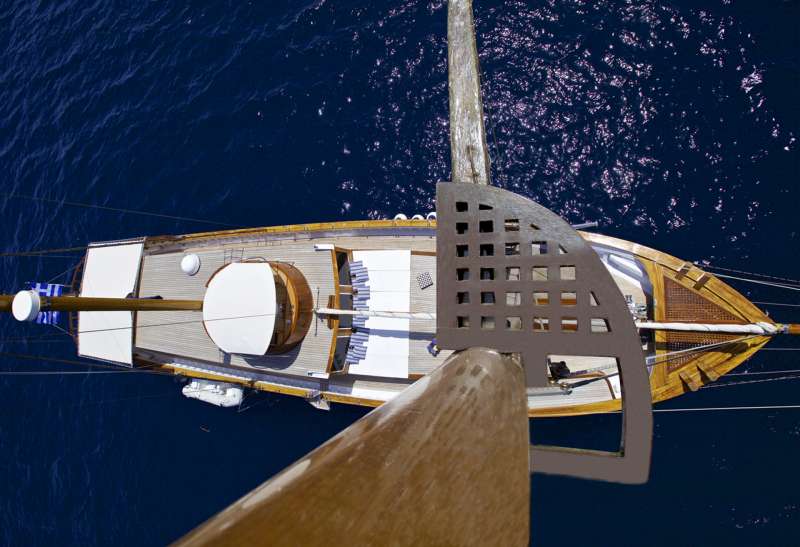 HERMINA
Size: 102 Ft
Sleeps: 10 Guests in 5 cabins
Prices*: €29,400 to €31,500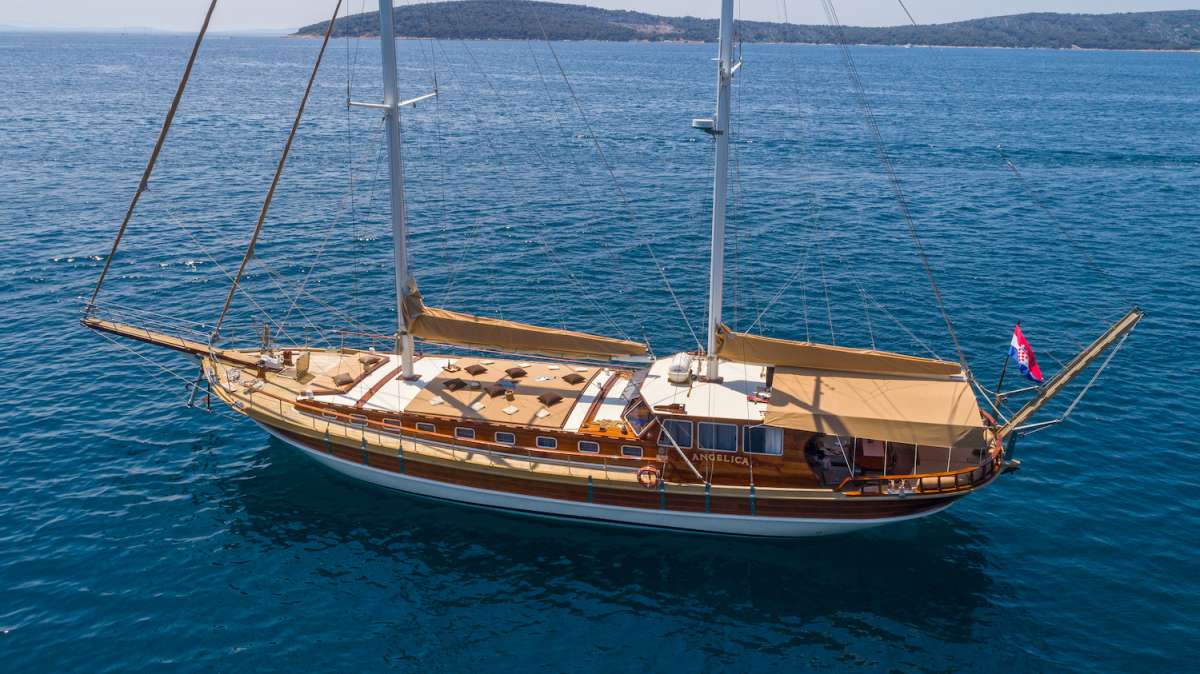 ANGELICA
Size: 30.8 m
Sleeps: 10 Guests in 5 cabins
Prices*: €21,000 to €24,000
SUNSHINE
Size: 31.0 m
Sleeps: 8 Guests in 4 cabins
Prices*: €50,000 to €50,000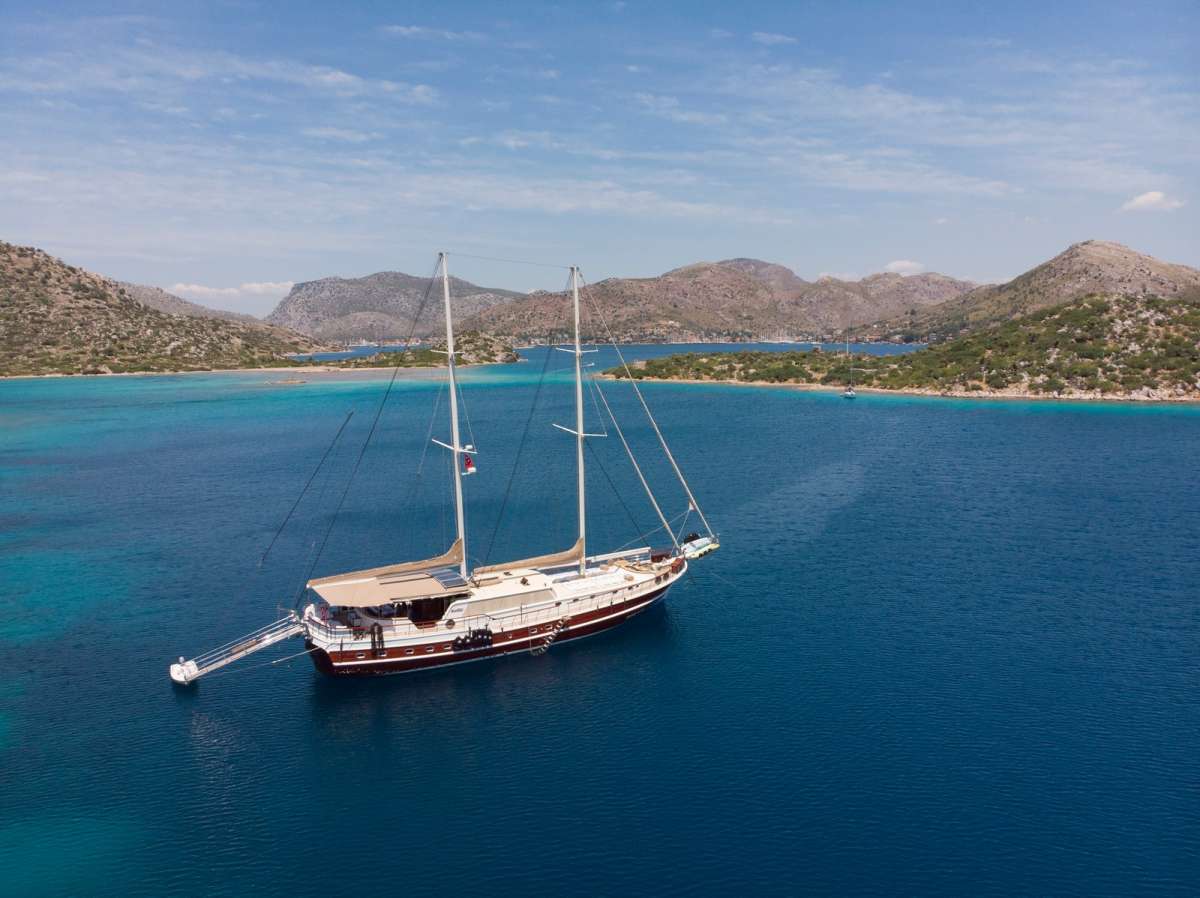 PRENSES BUGCE
Size: 31.0 m
Sleeps: 12 Guests in 6 cabins
Prices*: €14,000 to €24,500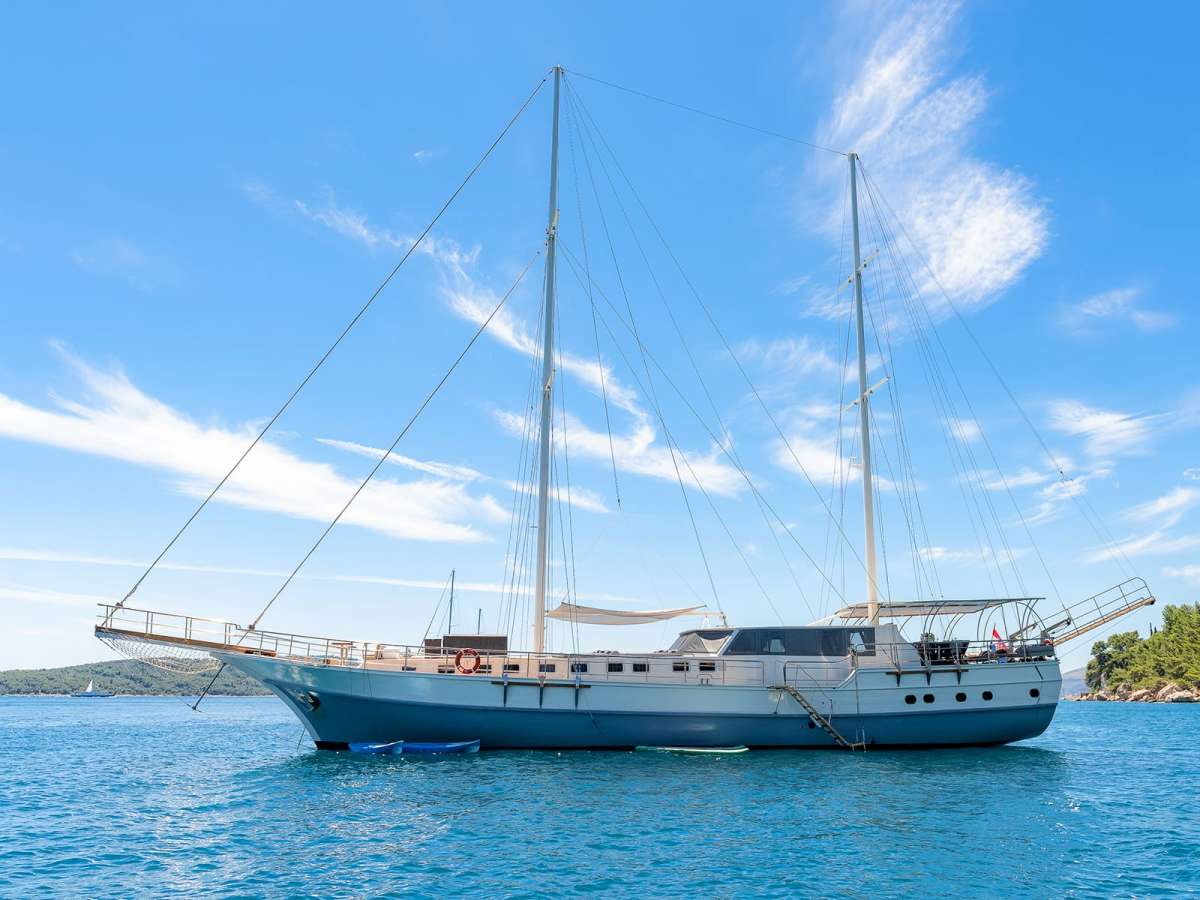 GULET NAUTILUS
Size: 31.0 m
Sleeps: 16 Guests in 8 cabins
Prices*: €16,000 to €22,000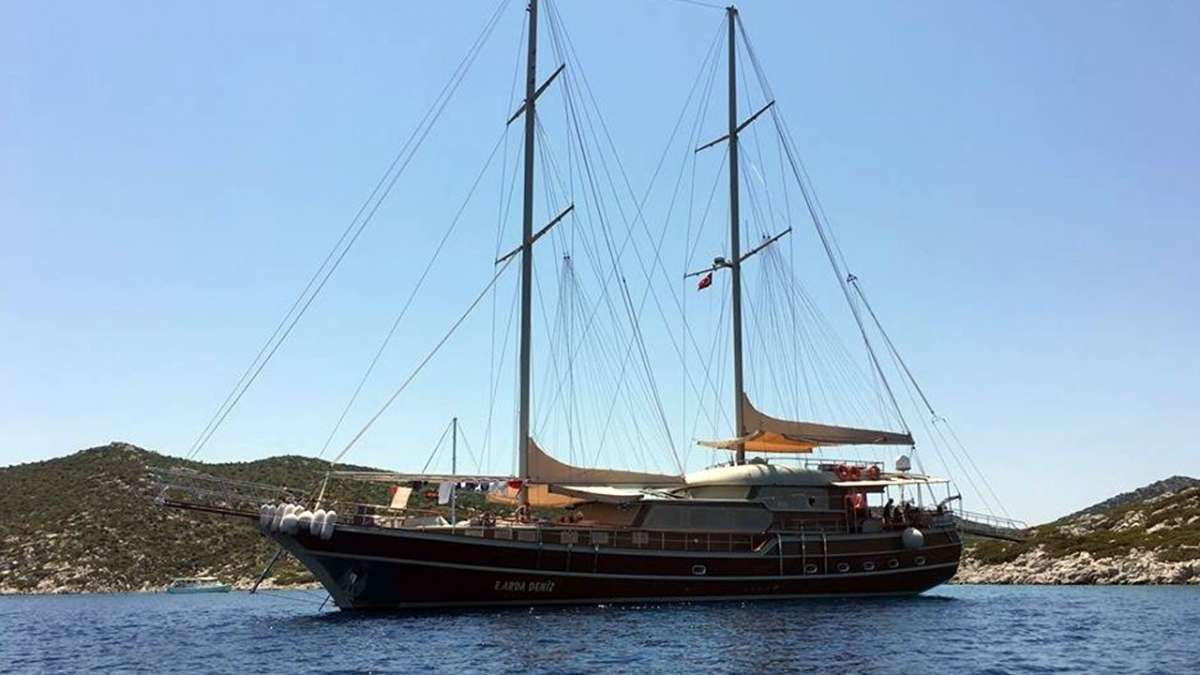 M/S E.ARDA DENIZ
Size: 31.0 m
Sleeps: 12 Guests in 6 cabins
Prices*: €7,000 to €14,000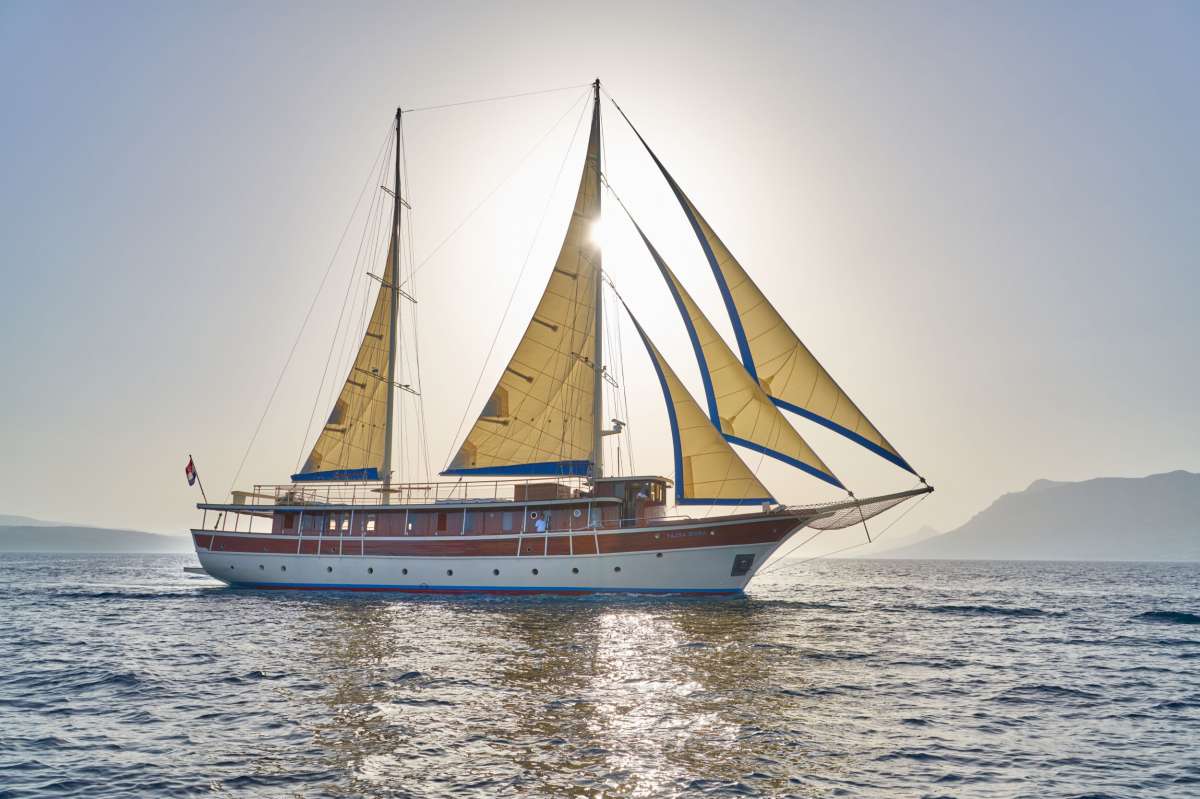 TAJNA MORA
Size: 31.0 m
Sleeps: 18 Guests in 9 cabins
Prices*: €20,000 to €28,000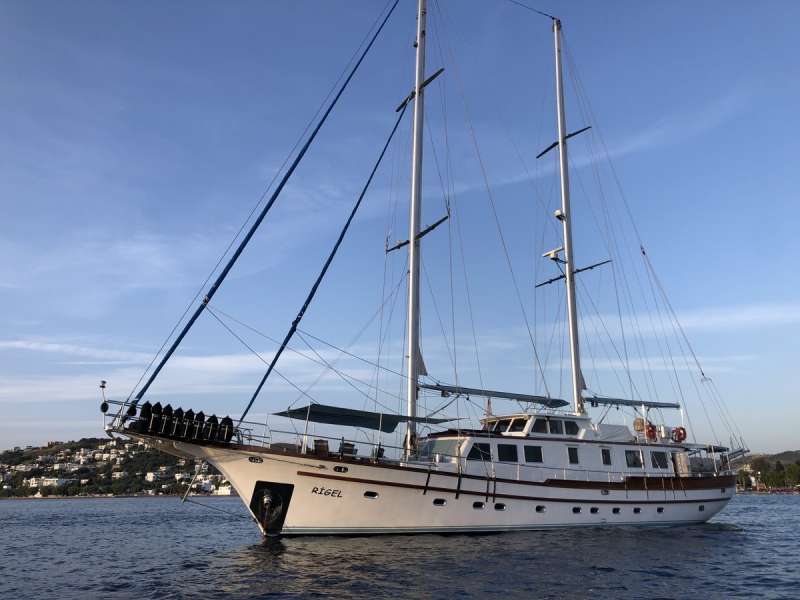 RIGEL
Size: 30.5 m
Sleeps: 10 Guests in 4 cabins
Prices*: €15,400 to €17,500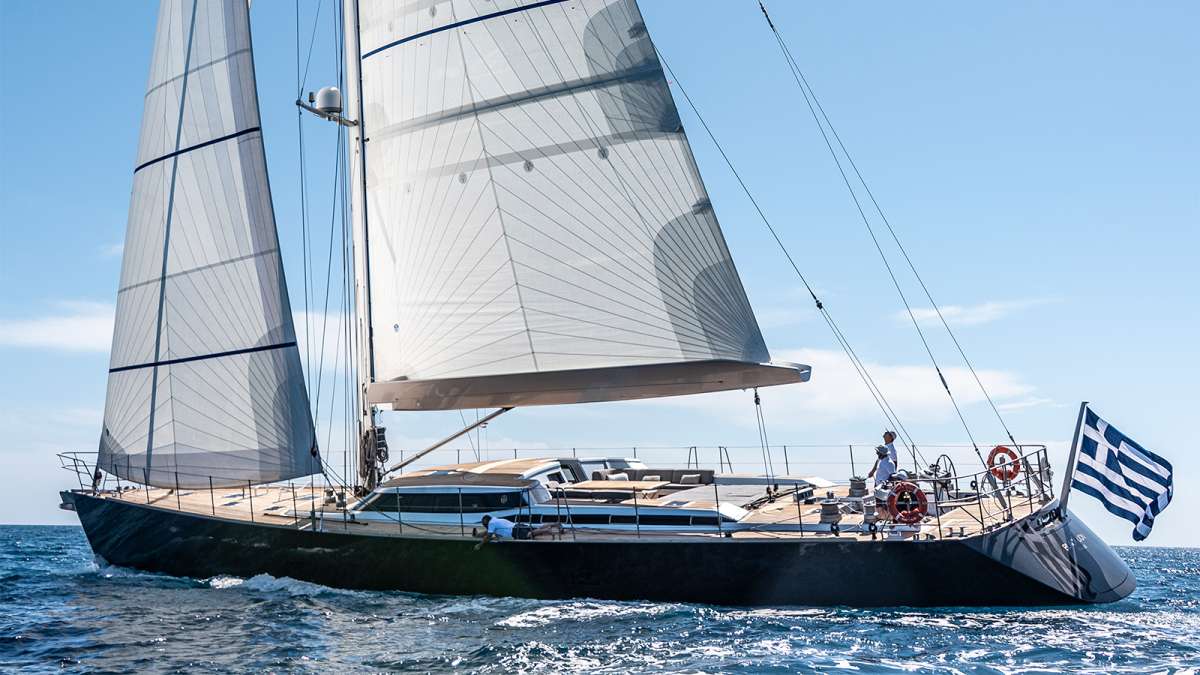 BLACK LION
Size: 30.7 m
Sleeps: 9 Guests in 4 cabins
Prices*: €50,000 to €50,000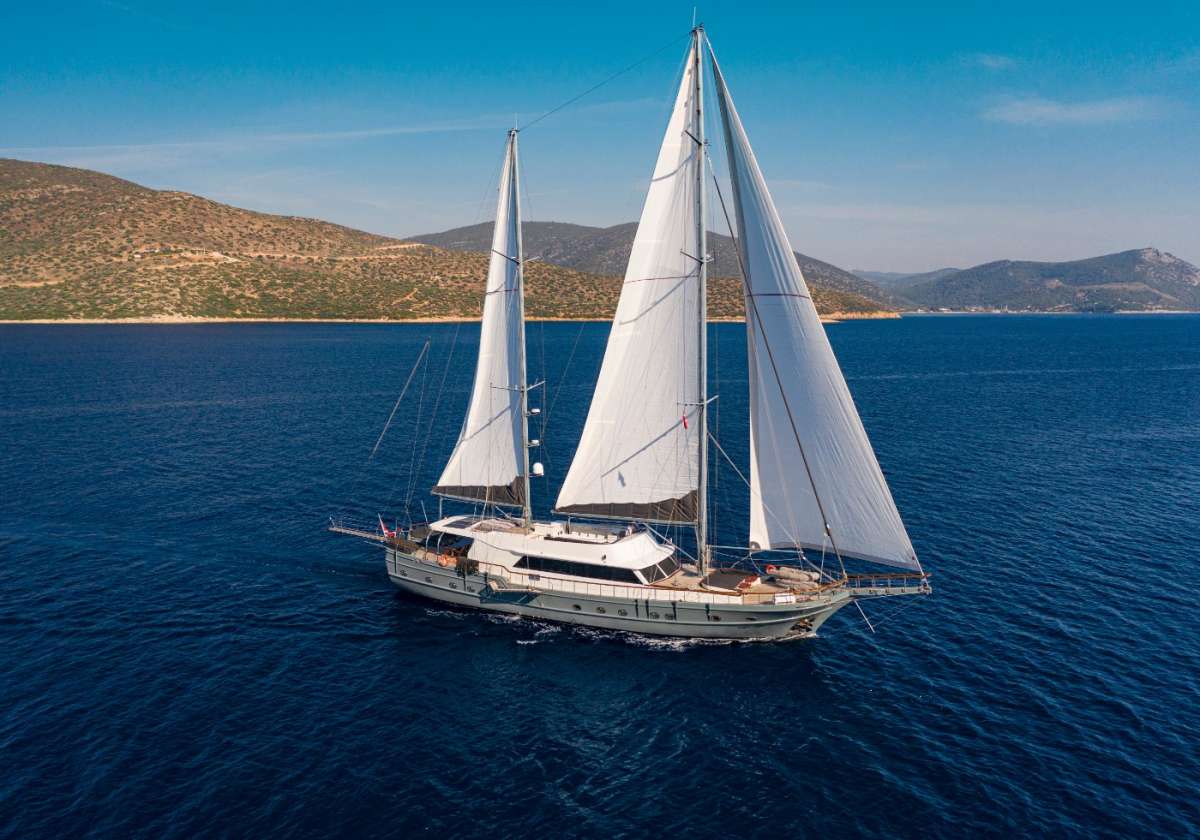 VIRTUOSO
Size: 30.5 m
Sleeps: 12 Guests in 6 cabins
Prices*: €28,000 to €42,000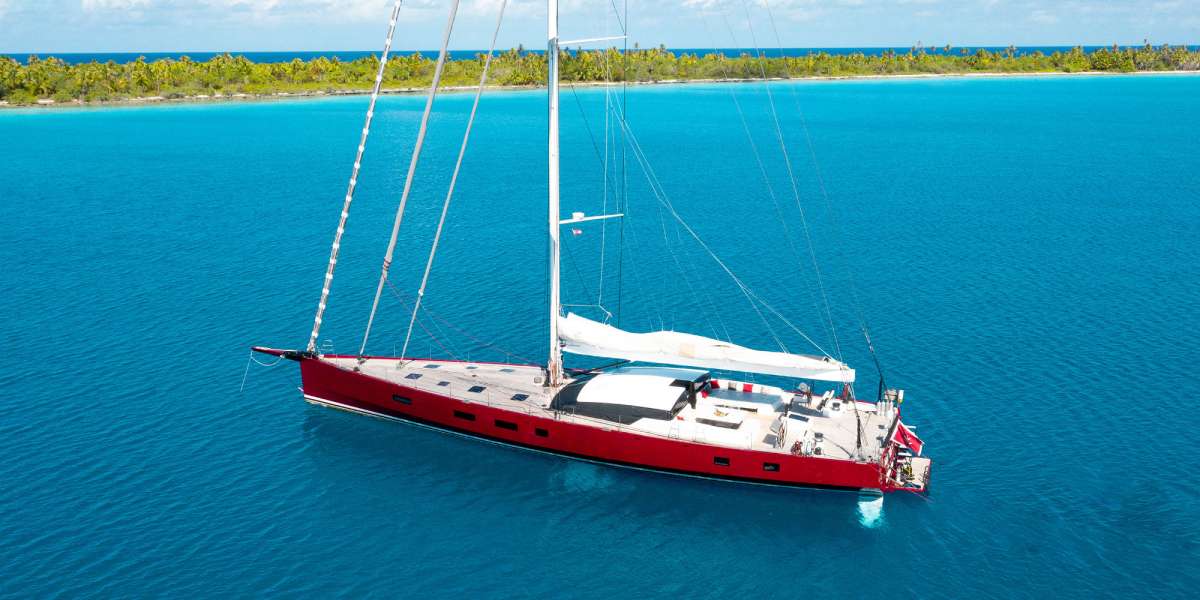 NOMAD IV
Size: 30.5 m
Sleeps: 12 Guests in 5 cabins
Prices*: €56,000 to €56,000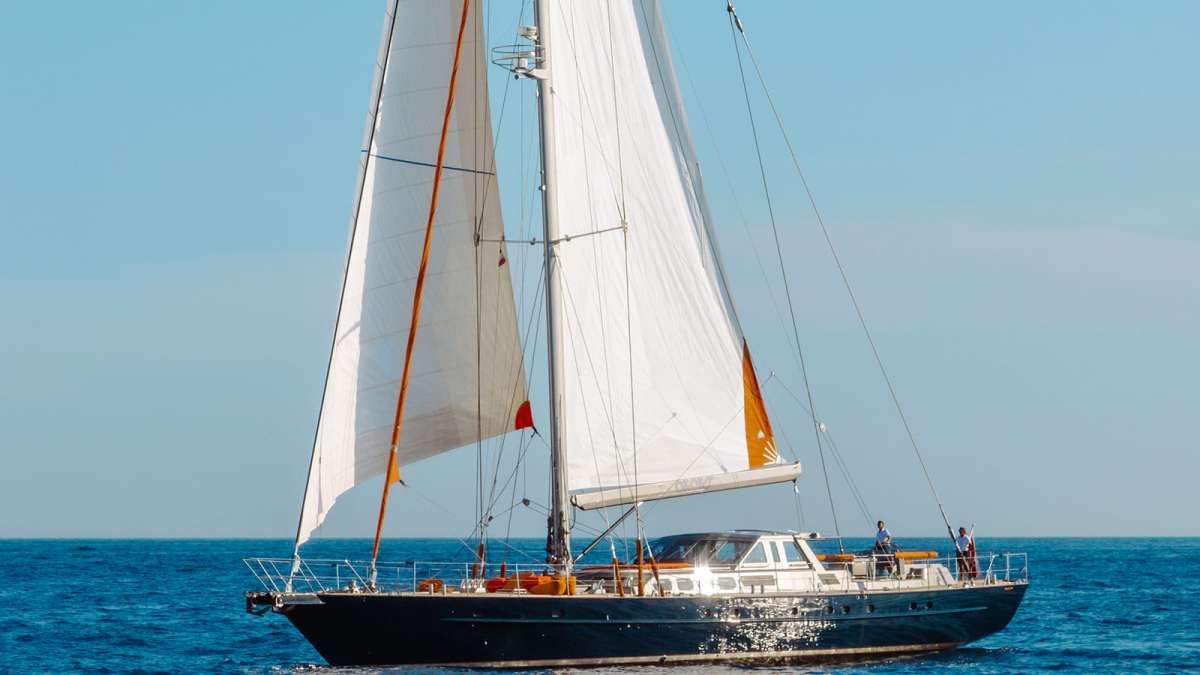 AFAET
Size: 30.5 m
Sleeps: 9 Guests in 4 cabins
Prices*: $39,000 to $42,000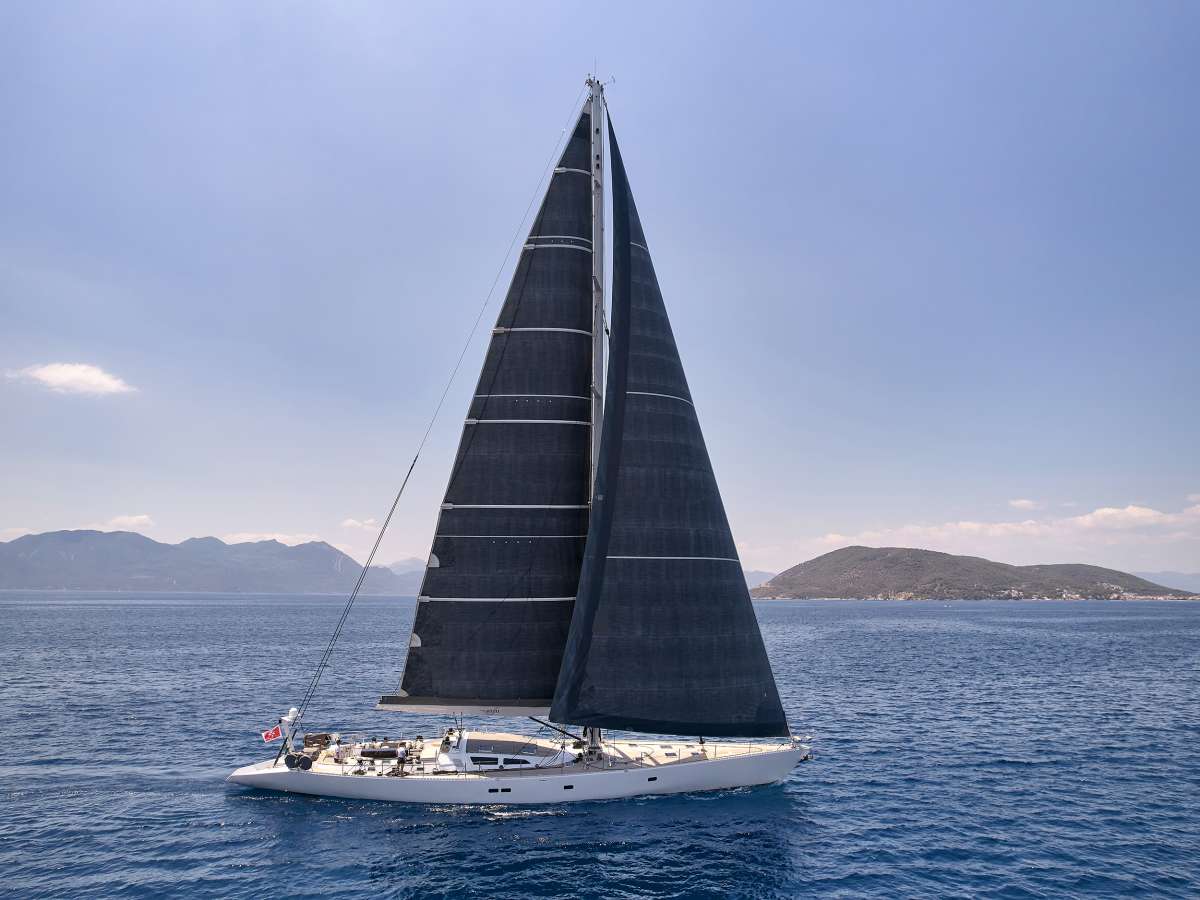 AIZU
Size: 99.0 Ft
Sleeps: 8 Guests in 4 cabins
Prices*: €29,000 to €34,000